'Party's chieftains will end up in prison if they don't pray well,' Galadima says
Galadima made the comment after being asked his opinion on the crisis in the APC during an interview.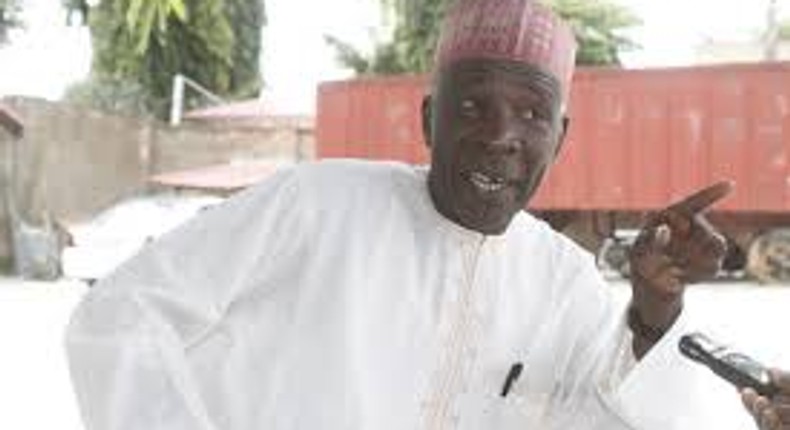 A former associate of President Muhammadu Buhari,
Galadima made the comment after being asked his opinion on the crisis in the APC during an interview with Daily Trust.
Why do you think President Buhari allows certain people around the government despite increasing complaints from various quarters?
I don't know, maybe he's comfortable with those he has now, and it's his prerogative. But for us, Nigerians, we've the right to criticize him because we elected him to do certain things for us and if he's not doing them, we would educate the people to tell him that he's wrong.
Why do you think the chieftains of the APC, such as Tinubu and Oyegun and then Atiku and El-Rufai are trading words in the media?
We're a party that's in government but have you ever in the history of Nigeria seen where in the secretariat of the ruling party water is disconnected, electricity is disconnected, salaries of aides and workers are not paid for six months? It's shameful, it's disgraceful and we claim to be in government. We're not saints.
Don't you think he doesn't trust those at the helm of affairs of the party?
You mean those working for the party do not deserve their wages? Is that what you're telling me? God said you should pay the person that worked for you before his sweat dries up.
The issue of delay in board appointments is generating a lot of disaffection, what do you think is the problem?
That's their grudge, not ours. I'm not looking for any appointment but there're people who suffered and actualized the success of this party (the APC). They deserve recognition.
If the president had dissolved the boards and refused to appoint because he's saving money, may be it would be reasonable. But there're some PDP people functioning on boards. That's why in one of the interviews I granted, I said it's 'APC in government, PDP in power.'
Don't you think the in-fighting in the APC is about 2019?
It serves all those who don't feel well right. They're yet to see until they go to prison.
You mean the chieftains of the APC going to prison?
Yes. Each and every one of them will lose his means of livelihood and end up in prison if he does not pray well.
Because I know the characters and I can read them.
Do you think the president is behaving this way probably because he's less interested in getting a second term?
I wouldn't know. When we reach the bridge we would know. Definitely I know that General Muhammadu Buhari will not want to run on the platform of any party because he has already cast aspersion on party politics and politicians. So, we would try to find out on what platform he would contest if he wants to be president in 2019; on what vehicle he would ride but definitely not on a political party.
JOIN OUR PULSE COMMUNITY!
Recommended articles
Abia lawmaker urges Otti to focus on Aba roads
Ondo state House of Assembly speaker resigns
Uba Sani appoints 29-year-old Jewel Tok Pam as SSA
FRSC warns motorists against indiscriminate parking as amidst fuel scarcity
I will be Speaker come June 13, says Tajudeen Abbas
Army addresses 39 human rights cases in Borno
Groups kick against Buhari's last-minute appointments in aviation agencies
Atiku's Bwala sends warning to president Tinubu
No personal issue with Tinubu, willing to collaborate – Bode George