Why I may not support my husband's re-election - First Lady
The President's wife has expressed frustrations about her husband's government, claiming it has been hijacked.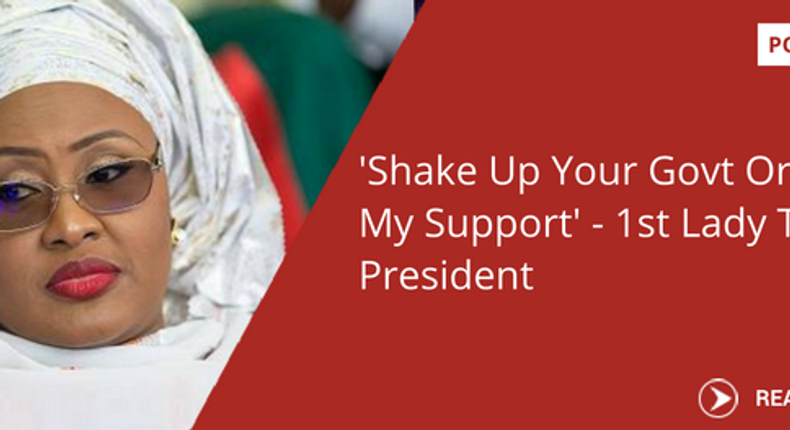 In a shocking revelation, the Presidents wife, Mrs
According to her, the President's government has been hijacked by a "few people."
Speaking in a BBC interview, she revealed that her husband "does not know" most of the top officials in his government, suggesting that a 'powerful caucus' is behind the presidential appointments.
"The president does not know 45 out of 50, for example, of the people he appointed and I don't know them either, despite being his wife of 27 years,"Aisha Buhari said.
She said people who have been appointed to top positions do not even share the vision of the All Progressives Congress (APC) but they got the appointments because of the influence a select few wield.
"Some people are sitting down in their homes folding their arms only for them to be called to come and head an agency or a ministerial position," she said.
When asked to mention names of those who have hijacked the Buhari administration, she said: "You will know them if you watch television."
She noted that although the President has not made his 2019 ambition known to her, she will not campaign for him if he decides to run.
"He is yet to tell me but I have decided as his wife, that if things continue like this up to 2019, I will not go out and campaign again and ask any woman to vote like I did before. I will never do it again," Mrs Buhari vowed.
The President's wife, however, refused to categorically state if her husband is in charge of the affairs of the country. She simply said the people will have to decide that.
JOIN OUR PULSE COMMUNITY!
Recommended articles
My people want a Christian to emerge as Senate President  —  Gbenga Daniel
6 positive news stories from Nigeria in May 2023
Fuel prices will go down after removal of subsidy, says NNPC CEO Kyari
Niger governor sacks political appointees
5 Buhari appointees President Tinubu should retain
New Commander 12 Brigade seeks inter-agency collaboration to enhance security in Kogi
Enugu residents lament increase in transportation fares amidst fuel scarcity
MSport Football Challenge: Road to final 2023
BREAKING: We have not devalued naira to 680/USD - CBN denies report