Nigeria suffers from an identity crisis that a national consensus can fix
From our foreign policy objectives to our internal policy affairs, we leave too much room for human error.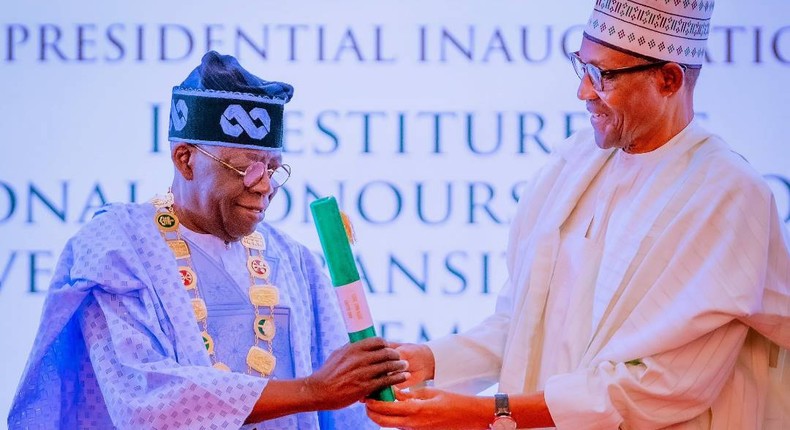 "Ideas outlive individuals. Ideas are the driving force behind institutions. People should merely be the vehicles for these ideas."
Dear Nigerians. I started this piece with the quote above to illustrate the significance of the age-old debate of strong individuals over strong institutions.
This debate, which is ever-present in the Nigerian political discourse, often highlights the positive impact of certain former political office holders during their tenures in various political offices.
As much as we applaud such political office holders for their performance, we must begin to ask ourselves important questions like: What happened to these offices after these people left them? How are we building our institutional capacities to maintain the highest standards? Aren't we shortchanging ourselves by always waiting for technocratic-minded individuals to be appointed into public offices, as opposed to having a system whereby the very institutions are able to also drive processes—regardless of who is appointed to lead various ministries?
Most importantly, we must also ask: how can we ensure that the best ideas and practices are carried over from one administration to the next—regardless of who is in power?
This brings me to the entire point of this piece.
A few weeks ago, I was reading the news when I saw a report that the Algerian government had refused a request from France to fly over its airspace for a military operation in Niger Republic. Before I had even concluded the first paragraph, my immediate reaction was, "As expected."
For some, the French request would have seemed like a no-brainer for several reasons. First, a straight flight from France over the Mediterranean Sea, over Tunisia, then over Algeria, would put the French military right in the northern part of Niger.
Secondly, given their colonial history, many passive observers would have assumed that Algeria would have granted the French request.
However, with just a basic understanding of Algeria's post-independence foreign policy of non-alignment, sitting in my living room in Abuja, I could easily say, "This is how the Algerian government would respond."
Similarly, in September 2014, while celebrating his 90th birthday, Lee Kuan Yew, the revered first Prime Minister of Singapore, visited the nation's parliament to attend a sitting.
After the legislative activities were concluded, the former lawmaker gathered in the Members' Room with Members of Parliament (MPs) from his party, the People's Action Party (PAP), and all other opposition MPs, where he delivered a brief but impactful message.
"Singapore must always remain clean and incorruptible," Lee Kuan Yew said. "And you, the Ministers and Members of Parliament, must set the example."
This story, narrated by his eldest son, Lee Hsien Loong, the current Prime Minister of Singapore, was told just last month at the country's National Day Rally as a reminder to the people of the Southeast Asian country, that the national values that made them transform from a third-world country to a first-world country, were still the driving principles that their leaders adhered to.
Where am I going with this?
Since October 1, 1960, when Nigeria became independent, we have transitioned through various styles of government and multiple administrations, which have been guided by the whims and, many times, capriciousness of the leaders that are in power.
For better or worse, the shape of our national priorities often takes the shape of the strongmen of the day.
From one administration to the other, each leader comes into power pushing new ideas and creating new expectations. However, it is often the case that when these leaders leave office, the priorities of the past become shadows in the present.
Where do we go from here?
In our post-colonial era, Nigeria has had four national conferences to discuss the way forward. Oftentimes, these conferences have been talk shops that have produced bulky reports and recommendations that often go unaddressed.
Nevertheless, with all that is going on both internally and around the African continent, we must all agree that our nation needs to embark on some kind of soul-searching. We have an identity crisis that did not start today.
From our foreign policy objectives to our internal policy affairs, we leave too much room for human error. Nobody can authoritatively say this is where Nigeria stands on anything — like in the case of Algeria. No one can also say these are Nigeria's long-held national values — like in the case of Singapore.
This is why we desperately need a national consensus.
Such a national consensus would come from a painstaking debate on the identity and united values of the Nigerian nation going into the future. It will be a challenging conversation that will address everything, from our expectations of one another to our expectations of the world around us.
Subjects like devolution of powers need sincere examination. Topics like the Exclusive List and Concurrent List should be discussed in light of global advancements—prioritising the current and future needs of our various states over the current expectations of the government that is in power. Additionally, the composition of our national security architecture must be redefined to create a responsive security framework.
From such deliberations, Nigeria's desired global image and non-negotiable principles will emerge. The recommendations that come from it will guide all our future negotiations, associations, and proposals.
By having our long-term priorities agreed upon, enumerated, and endorsed by a credible national body that comprises all political parties, key religious groups and leaders, key stakeholders in the private sector and the academic community, and influential thought leaders from the media and other sectors, we can make Nigeria a nation that is built on common principles that are shared by all our institutions.
Most importantly, by having a national consensus on key issues, we can benchmark our basic expected minimums.
Of course, as with any consensus, there has to be compromise. We are a diverse country with people from different ethnic groups, religions, and cultures; hence, finding common ground will not be easy. In fact, it will be difficult. Nevertheless, it is ultimately possible.
JOIN OUR PULSE COMMUNITY!
Recommended articles
LASU celebrates 2 decades of towering communication scholarship
Nigerian obstetrician showcases research innovations in New York
Yoruba groups mark 137 years post civil war, advocate peaceful co-existence
Jigawa records 91 suspected cases of diphtheria, 10 deaths
My ambition now is supporting Tinubu to succeed – Yahaya Bello
FG contracts Lagos-Calabar coastal highway to Hitech
Adventist Church seals off headquarters in Abia over leadership crisis
Troops rescue captive after gun duel with daredevil Enugu kidnappers
Reps to resume plenary Tuesday after 2-month recess
Anthony Joshua and Burna Boy: Nigerian-born boxer and African giant team up for Boss at Milan Fashion Week
How Nigerians can vote for Osimhen to win FIFA Best Player Award ahead of Messi
I want to 'teach' after football - Lionel Messi opens up on retirement plan
It was a money issue — Jay Jay Okocha on why he snubbed Europe's big clubs
North London Derby: Postecoglou threatens to 'scare the life out' of Arsenal
Super Falcons' Michelle Alozie drops football hot take