Ex minister was very powerful under Jonathan – Sanusi
The former CBN Governor also blamed the current economic situation in the country on the corruption that took place during GEJ's tenure.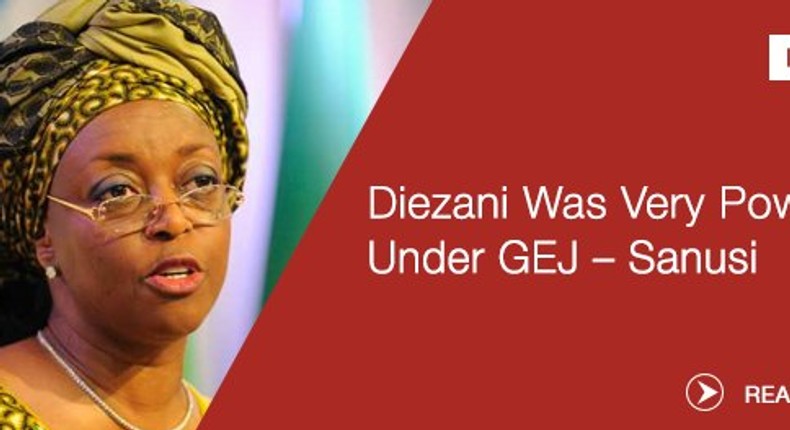 Sanusi, who was referring to Diezani Alison-Madueke, said the ex minister was untouchable during GEJ's tenure.
The monarch said "I knew that taking on the Nigerian National Petroleum Corporaton was taking on the most powerful minister in Jonathan's government, and nobody who had touched Diezani had survived. It was not a question of what would happen, I just didn't care at that time. I did not want to go down in history as having seen this and kept quiet.
"After the first round of reconciliation, there was $29bn that was explained. And how was that explained? Crude that was shipped by NNPC did not entirely belong to NNPC."
Sanusi also revealed that former President Jonathan threatened him for writing a letter to him(GEJ) to explain the missing NNPC funds.
He said "In the middle of all these, the President called me and said I should see him at 3pm. I turned up at 3pm and the entire place had been swept. There was no one apart from security services. I got to his office, it was just me and him. It was as if everybody had been asked to go.
"And so he says to me, he's calling me because he is surprised that the letter I wrote to him got to Obasanjo, I said I'm surprised too. He said he was convinced that the letter went from the CBN to Obasanjo, and I had 24 hours to find who leaked the letter or sack somebody; the director who prepared the letter or my secretary and if I did not sack them, it was proof that I leaked the letter and therefore, I should resign."
Sanusi also said "I said to him that I'm surprised that I'm being asked to resign for raising an alarm over missing funds and the minister in charge of the portfolio is not being asked to resign.
"From then I knew I had signed my equivalent of a death warrant. But I said I was not resigning. He got very angry and said whether you like it or not, you're going to leave that office, I cannot continue to work with you, either you or I will leave government."
Sanusi Lamido Sanusi was suspended as the Central Bank of Nigeria (CBN) Governor, by Goodluck Jonathan 20 February 2014.
See Pulse Photo-News gallery below.
JOIN OUR PULSE COMMUNITY!
Recommended articles
Court remands 2 construction workers for allegedly breaking govt seal
Fire at Lagos hospital, firefighters respond promptly
EFCC testifies against ex-PDP National Chairman's son in fuel subsidy scam trial
Oye bows out as 38-year-old Ezeokenwa emerges APGA national chairman
Inauguration: Police arrest 93 suspected criminals in Kano
50 passengers unhurt as aircraft skids off Lagos airport runway
Ebonyi governor disowns official portrait in circulation
Subsidy removal best, wisest decision - Fayose commends Tinubu
Alex Otti suspends collection of transport levies in Abia State