City installs ground traffic lights for "smombies" [PHOTO]
A German city is making the news for installing ground traffic lights for "smombies", this is a mashup of "smartphone" and "zombie".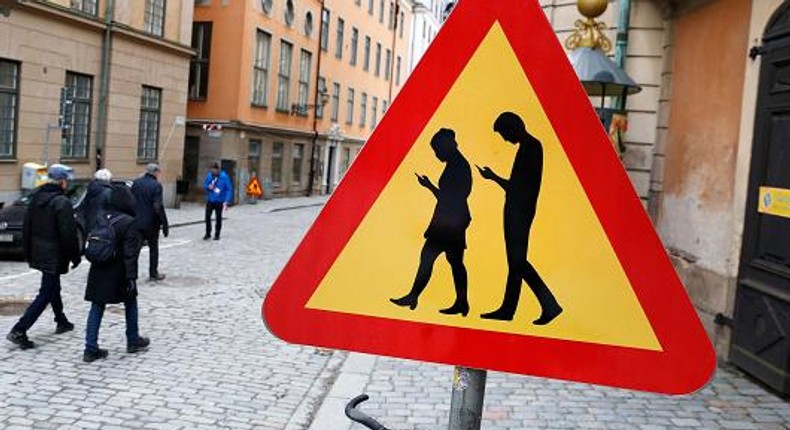 A recent study has revealed something scary.
This research showed that 17% pf pedestrians, ranging from 25 to 35-year-olds, walk with their heads buried in their phones in Amsterdam, Berlin, Brussels, Paris, Rome and Stockholm.
This recent epidemic birthed a new word - "smombie", a mashup of "smartphone" and "zombie", simply referring to pedestrians, who walk around with their heads in their phones.
Augsburg, a German city, has come up with a way to prevent smombies from getting into accidents.
According to
Tobias Hermes, a city administration official said: "We realised that the normal traffic light isn't in the line of sight of many pedestrians these days. So we decided to have an additional set of lights – the more we have, the more people are likely to notice them."
Residents have began to react to this experiment, with most appreciating the innovative idea.
"This is not just about smartphones. The crossing here is so busy and dangerous that we are used to the screeching noise of the tram's emergency breaks. But since the lights were installed last week, there hasn't been a single dangerous incident," says Sebastian Hrabak, owner of the restaurant Schwarze Kiste at Haunstetterstraße station.
Another resident said, "I think it makes sense. One always sees young people these days running over red lights. This makes it more obvious that you need to stop."
These ground traffic lights flash whenever a train approaches.
What do you think about these traffic lights?
JOIN OUR PULSE COMMUNITY!
Recommended articles
Ebonyi boxing fans hail Anthony Joshua over come-back win
INEC appoints 9 SANs to defend Tinubu's election victory
Obi's campaign denies leaked conversation with Oyedepo, accuses APC
Anti-Tinubu passenger's identity unveiled, lawyer says he's mentally ill
IPOB Invitation: DSS to transfer Igbo leader to Abuja facility
Kenneth Okonkwo confirms Obi's conversation with Oyedepo in leaked audio
Gov Adeleke assures of speedy completion of Osun airport
Unknown persons suspended our National Chairman - Labour Party
Businessman wants aggrieved candidates to congratulate, work with Tinubu
Manchester United identify Portuguese goal-machine Goncalo Ramosas Osimhen alternative
Giannis Antetokounmpo outshines Jordan Nwora as Bucks set record against Pacers
NPFL Review: Rangers continue to flirt with relegation, 3SC vs Plateau produce another classic
Arsenal reach first Champions League semi-final in 9 years with victory over Bayern