How "you may kiss the bride" became a wedding custom
It's a popular custom for couples to kiss immediately after tying the knot.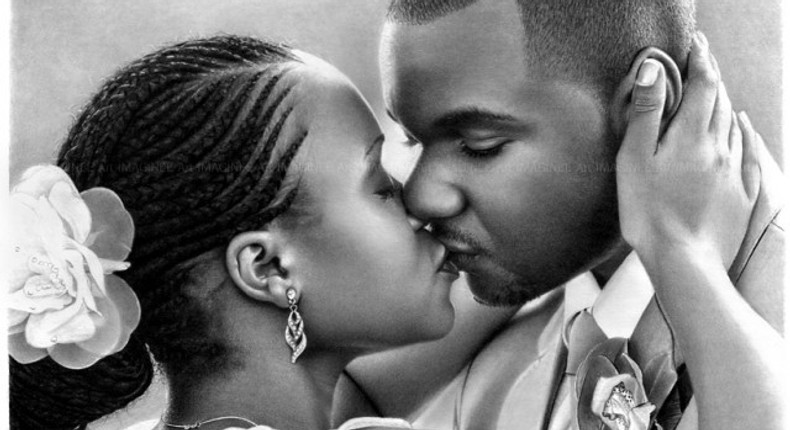 But how did this custom begin?
It is a practice you'll see at so many weddings, alright, but where did it begin from, and why was it necessary to begin it in the first instance.
You may kiss the bride: A brief history
It is claimed by several accounts that back in the day during the reign of the Roman empire, [753 BC to 27 BC and then from 64 AD to 1453 AD.], it is believed that the bride and the groom would not have kissed each other until the time of their wedding.
The kiss after the exchange of vows is seen traditionally as their first kiss ever.
Another reason why kissing after the vows became a thing was because marriages were seen as contracts and in Roman times kissing was a legal bond that sealed all contracts.
So, the couple would kiss as a seal to the marriage contract they concluded.
A kiss of peace
Another account traces it back to the holy kiss given by ancient priests who conduct wedding ceremonies.
Back then, it was customary for the priest to give a holy 'kiss of peace' to the groom, who in return kisses the bride.
Eventually, "you may now kiss the bride," became a common phrase heard at weddings as a result of this.
Religious influence
Some Christians, according to Wikipedia, believe that that first post-wedding kiss symbolizes the exchange of souls between the bride and the groom, fulfilling the part of the bible that says "…the two shall become one flesh." [Genesis 2:24]
However, though many wedding ceremonies would include this action in the wedding program, the kiss is not traditionally a part of the religious ceremony and your wedding remains valid whether or not you and your boo kiss at the altar.
JOIN OUR PULSE COMMUNITY!
Recommended articles
10 ways to keep your clothes wrinkle-free without ironing
Foods that can worsen your acne
Make ketchup at home with ripe tomatoes
The Impact of Steroids on Body Shaping: Achieving the ideal physique
7 advantages of having children in your 30s
If you can't do these 3 things with your ex, you're not ready to move on
5 things a cheating partner says that prove they cheated
Braids by Hilda: 4 simple and stylish braids Hilda Baci loves
The top 10 poorest countries in the world are all in Africa
15 unconventional foods that Nigerians eat
Maternal mortality in Ghana: The sad reality of how women lose their lives in childbirth
5 concert safety tips that should be on your mind for Detty December
Thiago Silva recalls TB fright ahead of Chelsea debut
Brazil vs Argentina: Bloody scenes at the Maracana as Brazilian police and Argentine fans clash
Arda Turan: Ex-Atletico star in hot tears after losing $13 million to 'yahoo yahoo'
Global Soccer Award: Osimhen to battle Messi and Ronaldo
Lionel Messi and Scaloni's Argentina relationship set to end