Celebrations in Daura as President's daughter becomes Gimba's fourth wife
The soft drink and bottled water sellers are receiving high patronage due to the scorching heat in the city.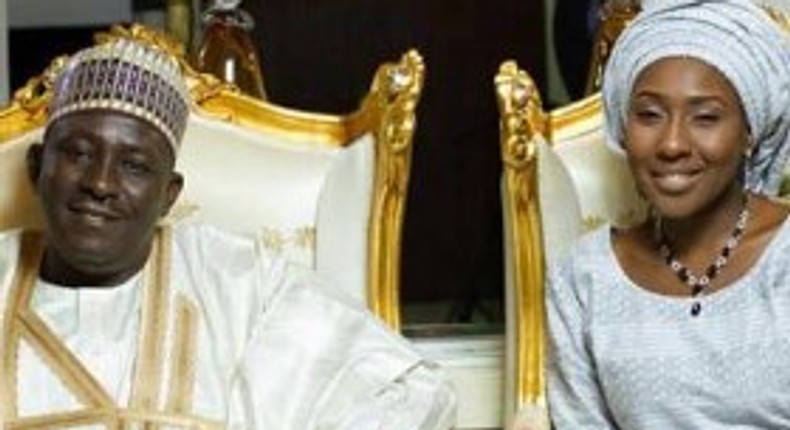 Business boomed in Daura, Katsina State, as the ancient town went agog for President Buhari's daughter wedding on Friday.
Supermarkets, shops, soft drink sellers and commercial motorcyclists recorded a boom in their businesses as visitors and well wishers from across the country were sighted purchasing various traditional wares.
The traders at Daura city market also conducted their businesses without hindrance.
It was observed that there was high vehicular traffic as various brands of assorted cars and jeeps belonging to invitees flooded the town.
Several of the invitees drove straight to the Emir of Daura's palace, Alhaji Umar Farouq, to pay homage before proceeding to the venue of the wedding.
The residents of Daura were also seen in high spirit, receiving and entertaining visitors as well as directing them to various places in appreciation of their presence for the high profile wedding.
The President's daughter, Fatima, is getting married to her heartthrob, Malam Gimba Yau Kumo.
She will become the fourth wife of Gimba, who is a former Managing Director and Chief Executive Officer of the Federal Mortgage Bank of Nigeria.
JOIN OUR PULSE COMMUNITY!
Recommended articles
For women: 4 foreplay tips to drive men wild
5 people share awful and sometimes funny things their bosses have said to them
Ramadan: Six facts about the holy month for non-muslims
These are 5 top signs of fake love in a relationship
5 interesting health benefits of Agbalumo (African star apple)
The best 5 cities in Nigeria
The oldest woman ever to be on a Vogue magazine cover is a Filipino tattoo artist
Why your body suffers when you don't have regular s*x
6 reasons your nipples hurt
5 celebs with face cards that never declines and their makeup techniques
Chicken vs Turkey: Here are 3 nutritional differences
Is less actually more? Five benefits of a more minimalist life
Manchester United identify Portuguese goal-machine Goncalo Ramosas Osimhen alternative
Giannis Antetokounmpo outshines Jordan Nwora as Bucks set record against Pacers
NPFL Review: Rangers continue to flirt with relegation, 3SC vs Plateau produce another classic
Arsenal reach first Champions League semi-final in 9 years with victory over Bayern