What to do when you overcook jollof
While some cooking disasters have no remedy, overcooking your jollof is something that can be fixed.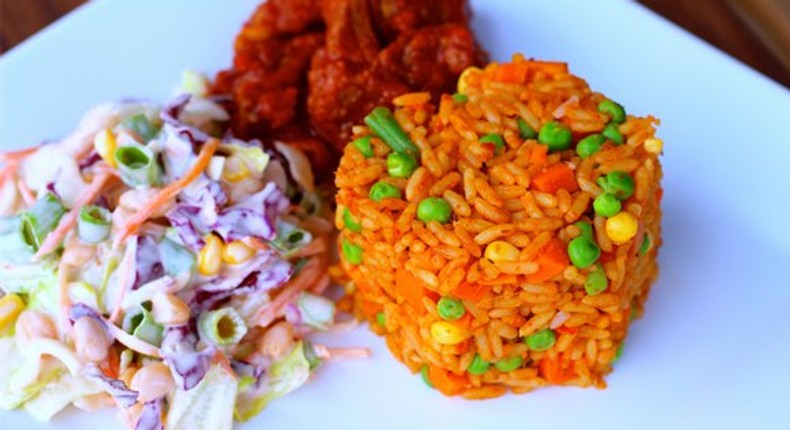 Jollof rice is cooked with both water and steam, making it very easy to overcook.
When you cook your jollof rice, you must use equal parts of rice and water so that steam can play its role in cooking the rice.
However, you can easily overcook your jollof rice, and it won't necessarily be because you put in too much water.
If you leave your rice covered immediately after cooking it, the steam from the pot will further cook it and leave you with a soggy mess.
However, whatever the reason, if you slightly overcook your jollof rice, the situation can be salvaged.
First of all, the moment your rice looks soggy, DON'T leave it in the pot.
You should cool it down as quickly as possible to stop the cooking process. You should immediately spread it out on an a big tray leave to cool.
If you're afraid that it is really soggy, then place it in a cool place such as an open fridge (closing the fridge means that condensation will pull on your food, so don't).
You might want to throw the cooled down rice in the oven so that it completely dries out for good measure.
JOIN OUR PULSE COMMUNITY!
Recommended articles
20 ways people experience unexpected orgasms
Everything you missed at the #TheMeistersExpression Concert in Ibadan
In this Ugandan tribe, the bride's aunt has s*x with the groom to test his sexual prowess
Skinny shaming: 5 things you should never say to a slim person
The importance of boundaries in relationships: Nurturing love and respect
Trace to set the African music scene ablaze with first Trace Awards & Festival in Kigali
Study shows men have been peeing wrong; they ought to sit and not stand
Denola Grey is one of the new faces of Fenty Beauty
How to survive the rising cost of petrol and transport in Nigeria
7 incredible health benefits of bitter kola
5 most fashionable plus-size celebs in Nigeria
See the forest in Ondo where masquerades are forbidden