What to do when you overcook jollof
While some cooking disasters have no remedy, overcooking your jollof is something that can be fixed.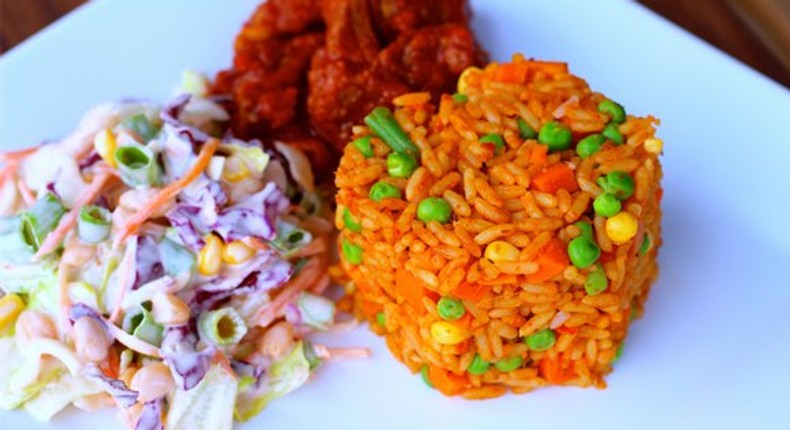 Jollof rice is cooked with both water and steam, making it very easy to overcook.
When you cook your jollof rice, you must use equal parts of rice and water so that steam can play its role in cooking the rice.
However, you can easily overcook your jollof rice, and it won't necessarily be because you put in too much water.
If you leave your rice covered immediately after cooking it, the steam from the pot will further cook it and leave you with a soggy mess.
However, whatever the reason, if you slightly overcook your jollof rice, the situation can be salvaged.
First of all, the moment your rice looks soggy, DON'T leave it in the pot.
You should cool it down as quickly as possible to stop the cooking process. You should immediately spread it out on an a big tray leave to cool.
If you're afraid that it is really soggy, then place it in a cool place such as an open fridge (closing the fridge means that condensation will pull on your food, so don't).
You might want to throw the cooled down rice in the oven so that it completely dries out for good measure.
JOIN OUR PULSE COMMUNITY!
Recommended articles
Ways to spice up your popcorn
Things you should avoid before making love to your partner
Causes of low sex drive in women you should know about
How much do you really know about diabetes?
How to diagnose and manage your high cholesterol
Why do men get so, so angry when they're cheated on?
Boys of this tribe must perform blowjob on older men, drink their semen to "grow properly"
Did you know that chronic neck pain could be a symptom of HIV? Here are the early symptoms!
Inside the beautiful palaces of the most influential kings in Nigeria