5 fascinating centres every art lover in Lagos should visit
Like bookshop, art galleries are collectors of incredibly beautiful crafted art pieces. Here's a list of 5 fascinating art galleries every art lover should visit.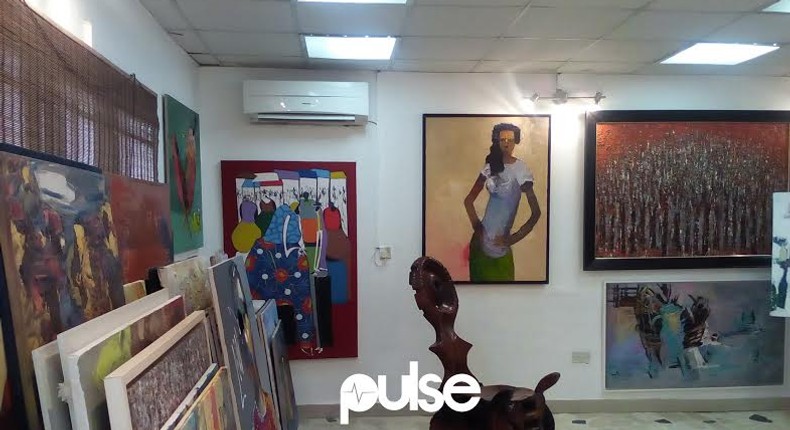 Every art lover knows that there is nothing as fascinating and inspiring as visiting an art gallery.
Art galleries do not only offer beautiful and interesting pieces but fascinate us with the way art is being portrayed, as one of life's luxuries that it really is and besides, we can't ignore the fact that we get inspired, learn a lot and improve our creative and imaginative abilities with every trip to the gallery.
Like a beautiful rose, we get lost in the scent and beauty of art, that we feel like inhaling and sniffing it in every moment of the day. So, even when we don't have our eyes on it, we're lost in the imaginative beauty it builds around us and we just want to drown in it until we come up with the treasures that lie beneath just like those found at the feet of the ocean.
So, here's why every art lover should visit an art gallery. Now, confused which galleries to visit in Lagos? Here are five of the amazing art galleries you should consider.
Owned by Nike Davies-Okundaye and housed in a four-story building somewhere in Lekki is the Nike art gallery which is arguably the largest of its kind in West Africa. This gallery is known for incredible African and contemporary artworks, enough to inspire anyone and enough to almost get anyone confused on which of the pieces to purchase.
Located in Onikan, Lagos and known for showcasing contemporary artworks is Rele gallery, owned by Adenrele Sonariwo. The gallery showcases art in a modern way, so beautiful you can almost not get enough of it.
3. Signature Beyond gallery
Signature beyond gallery located somewhere on Awolowo Road, Ikoyi, Lagos is more than just an art gallery, it's a centre for art education and a home of African art.
4. Biodun Omolayo gallery
Owned by Biodun Omolayo is the Biodun Omolayo art gallery, a popping centre for Nigerian art, giving the Nigerian art a facelift. This gallery is a place for every art lover.
Hourglass gallery, located somewhere on Biaduo street, Ikoyi, Lagos houses not just any other art pieces, but quality art pieces. known for a collection of works of older artist, the gallery resonates the beauty of art in a way that cannot be overlooked.
JOIN OUR PULSE COMMUNITY!
Recommended articles
Fancy Acholonu Nigerian-American model & entrepreneur launches new fragrance line, Simply Fancy
3 reasons you need to start wearing lingerie
9 foods that make your child smart
3 overnight tricks to flatten your bloated stomach
Who wore it better? Nengi Hampson's recreation, or the original outfit on Didi Stone?
Top 5 Nigerian chefs with the best Instagram content
itel celebrates Children's Day 2023 with over 1,000 children In Abuja
What kind of parents are millennials? 5 ways they differ from their own parents
This week's best celebrity pictures on Instagram
Orijin launches 'Deeply Rooted' campaign championing transformative power of Naija roots
5 things adults miss about Children's Day
5 African countries where snow falls