Style Inspiration: The top 5 Fireboy outfits so far
The best looks from Fireboy.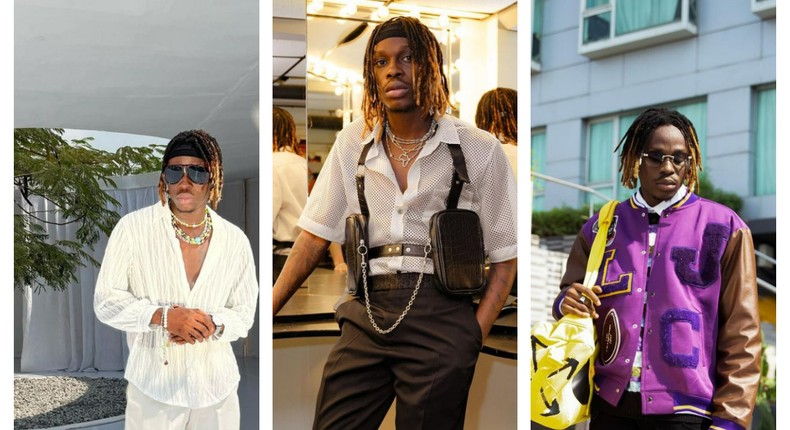 Fireboy is one of the artists at the forefront of the new school Gen Z movement in the music industry.
His latest hit 'Peru' with Ed Sheeran has been taking over airwaves and we are super proud of him.
There is something peculiar about Fireboy's style, from his dreads with brown highlights and his jewellery. Here are the best Fireboy looks so far.
1. Black and white
Fireboy looks amazing in this black and white look. The leather straps and those shoes round up the look perfectly.
2. Two-Piece
This is an all-time favourite Fireboy look. He looks amazing in this white two-piece, and those boots are also spectacular.
3. Cool kid
How would you look if you were a cool Gen Z artist? Fireboy replies in this college bomber jacket in a purple, beautiful colour, and an amazing sweater and boots to die for
4. White and chilled
Fireboy proves he's too cool in this all-white ensemble, the look is so cool and the orange jacket adds a wonderful pop of colour to the outfit.
5. Black and fun
Fireboy also keeps it cool and classy in this all-black look. He keeps it mature, fun and fashionable.
JOIN OUR PULSE COMMUNITY!
Recommended articles
3 reasons relationships that start in December may not last
A Night of Queens, an all-female lineup concert celebrating Nigeria's musical powerhouses
DIY Recipe: How to make African drop doughnuts
One Wellness Centre hosts exclusive brunch and tour event
5 things every young man in a relationship should know about women
Here's why you jerk when sleeping
5 tips to stop drinking alcohol
The truth about feminine wash and perfumes
Chivas Palace: Celebrating the blend of success
7 things your belly button says about your health
Some common causes of coarse palms and how to soften them
Christmas traditions from our childhood that should come back