PlayStation fifa soccer competition to hold this September
Ruggedman to hold event tagged 2017s biggest gaming competition in Nigeria.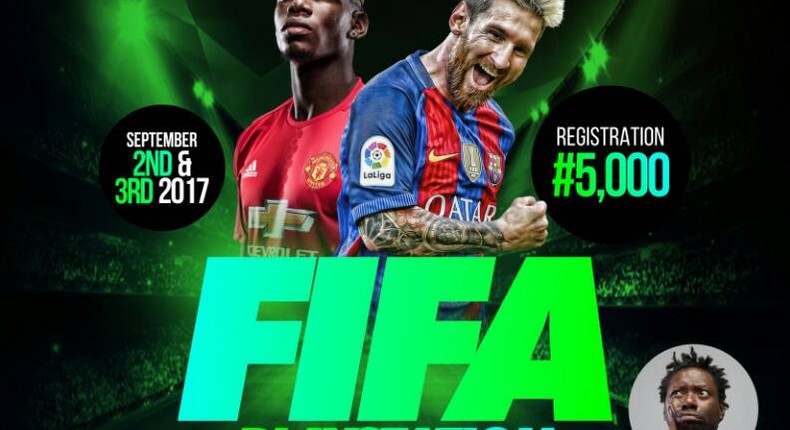 Ruggedmans much talked about PlayStation fifa soccer competition is finally set to take place on September 2, 2017.
It is already being tagged 2017s biggest gaming competition to take place in Nigeria. The annual competition that will see serious gamers come together to battle each other for the prizes.
These include PS4 console, cash, Smart phones, shirts from Twentieth September Wears, dinner at BL Restaurant and more. Especially the RPL 2017 trophy and the bragging rights that come with it.
Klint Da Drunk will be the commentator.
There will be guest  appearances by Jaywon, Efe Money (winner of BBNaija 2017), Marvis of BBNaija 2017 and more.
Venue: Troy Lounge Lagos, Beside Oriental hotel Lekki.
Date: September 2nd and 3rd 2017.
Pay into "Rugged Premier League 2099474975 UBA"
Then send payment confirmation to Ruggedpremierleague@gmail.com to receive your entry.
1st Prize: 2017 RPL Champions Trophy,PS4, N100,000, Smart Phone + Tsw Shirts.
2nd Prize: N50,000,Smart Phone,Dinner for 2 at BL Restaurant + Tsw Shirts.
3rd Prize: 30,000, Smart Phone,Movie tickets + Tsw Shirts.
Supported by Nairabet, Supersport, Lacasera, Wazobia FM,  SLOT, Radio Continental, Cool Fm, Twentieth September Wears by Ruggedman, Nigeria Info Fm, Troy Lagos, BL Restaurant, Affentoonz, Adams Art, Banjeloblog, Yawnaija, 9jareview, SSMGPromotions, Naiaj360Gbedu, Naijabmedia
JOIN OUR PULSE COMMUNITY!
Recommended articles
This week's best celebrity pictures on Instagram
For women: 4 foreplay tips to drive men wild
5 people share awful and sometimes funny things their bosses have said to them
Ramadan: Six facts about the holy month for non-muslims
These are 5 top signs of fake love in a relationship
5 interesting health benefits of Agbalumo (African star apple)
The best 5 cities in Nigeria
The oldest woman ever to be on a Vogue magazine cover is a Filipino tattoo artist
Why your body suffers when you don't have regular s*x
6 reasons your nipples hurt
5 celebs with face cards that never declines and their makeup techniques
Chicken vs Turkey: Here are 3 nutritional differences
Manchester United identify Portuguese goal-machine Goncalo Ramosas Osimhen alternative
Giannis Antetokounmpo outshines Jordan Nwora as Bucks set record against Pacers
NPFL Review: Rangers continue to flirt with relegation, 3SC vs Plateau produce another classic
Arsenal reach first Champions League semi-final in 9 years with victory over Bayern