Veteran Juju artist to be inducted into Hard Rock Cafe Lagos music memorabilia collection today
Veteran Juju music maestro, King Sunny Ade will officially become the first Nigerian to join the Hard Rock Cafe Lagos Music Memorabilia Collection.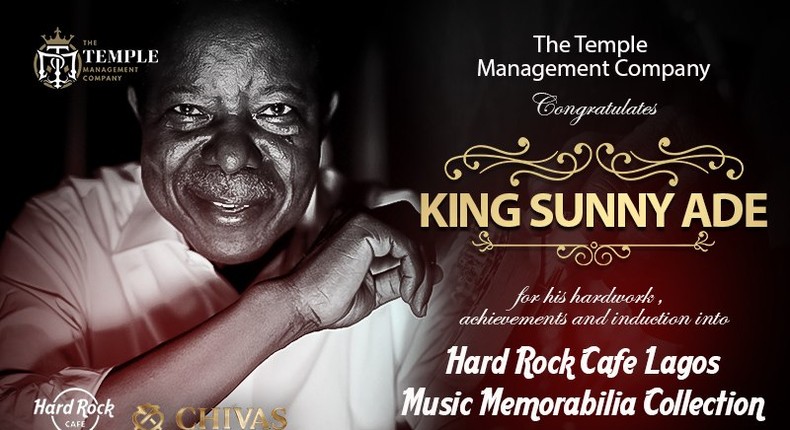 Veteran Juju music maestro,
Scheduled to hold at Hard Rock Cafe, Oniru, KSA as Sunday Adeniyi Adegeye is fondly called will donate rare items from his collections including a vintage Fender Guitar, shoes and album cover.
The first-of-its-kind donation was brokered by leading talent agency and event management company, Temple Management Company who are also putting together the highly-publicised grand concert for King Sunny Ade tagged Sunny On Sunday scheduled for December 11th at Federal Palace Hotel, Lagos.
To commemorate the induction, Chivas will present King Sunny Ade with a Chivas Regal 25 Year Original Blended Whisky; and create a signature drink for KSA, which will debut, and be served as cocktails at the induction.
Temple Management Company's Head of Entertainment, Mark Redguard said, "With the induction, King Sunny Ade will now rank among other Hard Rock world greats whose music paraphernalia dots the walls of the franchise business across the world."
Other greats who are on the Hard Rock showcase include, The Beatles, The Rolling Stones, Jimi Hendrix, Michael Jackson, Elvis Presley, Brian Wilson and Elton John among others.
After he first encountered music at the age of 12 in 1958 at Osogbo, Osun State, KSA has risen to global recognition with two Grammy-Award nominations and three Hollywood movie features and hundreds of recordings, which includes international collaborations.
JOIN OUR PULSE COMMUNITY!
Recommended articles
5 surprising things coconut water can do for skin
6 foods to add to your diet if you want a bigger butt
Chaotic life of an HR: Chaotic reveal (Ep.22)
4 reasons why couples should sleep naked
Chaotic life of an HR: Zainab's little secret (Ep. 20)
Chaotic life of an HR: Crushing on who? (Ep.19)
Do you really need complete honesty to have a happy relationship?
You should not do any of these while visiting the Oba's palace in Benin
7 incredible health benefits of bitter kola