7 signs your child could be experiencing a mental illness
As a young parent in Kenya, it's crucial to be well-informed about the signs of mental illness in children.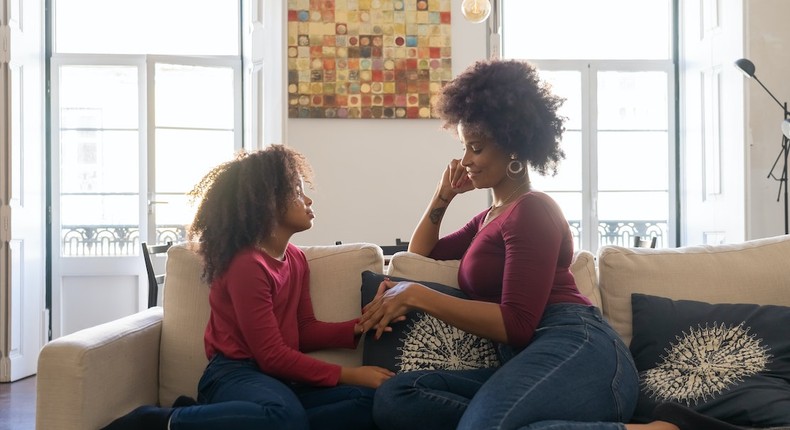 The earlier you detect and address any issues, the better the outcomes for your child.
Here are some of the warning signs to look out for.
1. Changes in academic performance
Just like how the rains at times arrive unexpectedly, a sudden decline in your child's school performance can be an unexpected sign.
If your child, who once loved Kiswahili or Math, now struggles or seems disinterested, it might be worth looking into.
2. Social withdrawal
Remember the joy of playing 'blada' or 'kati' with friends? Social connections are vital for children.
If your child starts avoiding playtime, family gatherings, or becomes more isolated than before, it could be a red flag.
3. Changes in sleep patterns
Whether it's the rooster crowing in the village or the early morning hustle and bustle of Nairobi, our days start early.
If your child has trouble sleeping, has nightmares, or sleeps too much, it could indicate an underlying issue.
4. Drastic mood changes
Imagine the weather transitioning from the sunny beaches of Mombasa to the chilly evenings of Limuru in a day!
If your child's mood swings are just as drastic and frequent, it's essential to address it.
5. Heightened sensitivity
If the hustle of a local market suddenly overwhelms your child, or they become too sensitive to sights, sounds, or feelings, it might indicate heightened anxiety or sensory issues.
6. Behavioural changes
A child who suddenly becomes aggressive, like a provoked buffalo or starts throwing tantrums frequently might be signaling emotional distress.
7. Physical symptoms
Just as our bodies might react with a fever when battling the flu, sometimes mental distress in children can manifest as headaches, stomachaches, or other unexplained aches.
What should a parent do after noticing signs of mental illness in a child?
If you've noticed any of these signs, remember – it's like realizing it's about to rain and you've forgotten your umbrella. Don't panic, instead:
Open Communication: Sit down with your child. Engage them in a friendly chat, perhaps over a cup of warm uji. Listen without judging.
Seek Guidance: Consult school teachers or counselors. Their perspective can offer insights into any behavioral changes they've noticed.
Professional Help: Consider seeking help from a psychologist or therapist. They can provide expert guidance tailored for your child's needs.
Understanding the signs of mental illness and being proactive is a step towards ensuring a healthy life for our young ones.
Remember, like the rich tapestry of our Kenyan culture, every child is unique. Embrace their individuality, and with love and understanding, we can guide them through their challenges.
Editor's Note: Mindful Kenya offers mental health services on short USSD code *702*30#. By following the prompts a person seeking professional mental healthcare is linked with a specialist under a guarantee of anonymity.
JOIN OUR PULSE COMMUNITY!
Recommended articles
Pulse Fiesta 2023 ushers Lagos into Detty December proper
Raising a Toast to the true Orijinals: Orijin unveils new limited edition packs this festive season
8 sperm-killing foods that dads need to avoid!
Why reverse cowgirl is the world's most dangerous sex position
The male G-Spot, where it is and how to stimulate it
5 ways to spot a sex addict or know if you are one
Beyond the runway: Lush hair steals the spotlight at Lagos Fashion Week's 10th edition
Escudo Rojo introduces Luminoso Wine in spectacular launch event
Bikiya Graham-Douglas continues to promote African Arts & Culture with Beeta Arts Festival (BAF)
Spices, Stories and Surprises: Detailed look at vibrant African Food & Drinks Festival Abuja
Make this no-yeast bread with only 3 ingredients
What is a Jacob's ladder piercing? It's pretty extreme
Shelly-Ann Fraser-Pryce: Track legend signs mouthwatering deal with luxurious wristwatch brand
Sha'Carri Richardson: World's fastest woman reportedly bags $20,000,000 endorsement deal
She needs a break - Super Falcons coach explains Ashleigh Plumptre's absence from team
Sergio Ramos makes Champions League history 31 years after Daniel Amokachi
Thiago Silva recalls TB fright ahead of Chelsea debut