"A Trip to Jamaica" tries too hard to amuse
With "A Trip to Jamaica," AY Makun and Robert Peters successfully whip up a predictable plot, dominated by clichés.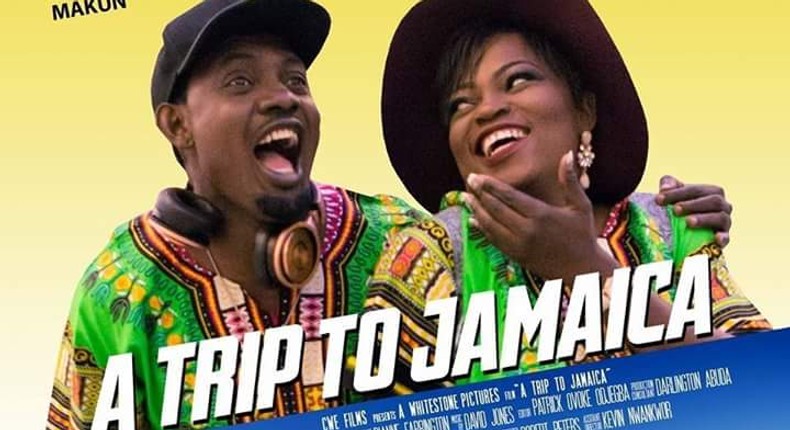 The movie became the highest grossing Nollywood movie ever and
It's 2016, and the duo considered it necessary to gift the world with a new comedy movie, "A trip to Jamaica," with Makun reprising his role as Akpos.
The anticipated movie which debuts in Nigerian cinemas on September 30, 2016, , at the Filmhouse IMAX cinema in Lekki, Lagos.
Shot in Nigeria, America and Jamaica, the film focuses on Akpos and his fiancée Bola, who travel across the Atlantic to visit family, they unexpectedly end up on an adventure they could never imagine.
The movie opens to Akpors proposing to his girlfriend Bola (Funke Akindele) during a live concert. She accepts his proposal, and the couple decides to travel to Atlanta to visit Abigail (Nse Ikpe-Etim) and her wealthy husband, who is referred to as  Big man (Dan Davies). During their visit, an unexpected turn leads to a family trip to Jamaica.
The movie also features Chris Attoh, Eric Roberts, Paul Campbell, Rebecca Silvera, Patoranking, Cynthia Morgan and Ras Kimono.
"A Trip to Jamaica" is a mediocre comedy movie which offered me two moments of laughter, when I should have been losing count. Sadly, the anticipated comedy movie has lots of jokes falling flat - jokes that make it unexciting to watch.
Watching "A Trip to Jamaica" was like sitting through a boring reunion where you find everyone and everything annoying, but still sit through, hoping to find a connect. Unfortunately, the connect didn't come. Not from the cast, not from the story, and certainly not from the few funny scenes. Watching the hilarious scene of a high Akpors screaming 'sawdust' after a taste of the Jamaican weed, didn't offer the connect I desperately needed.
Nse Ikpe-Etim's interpretation of the character Abigail comes off as perfunctory. There is no passion. Despite my understanding of the character and her plight, she still comes off as offhand. Nse's interpretation of the character comes off as a favour to the producer or director.
As expected, AY interprets Akpors with so much exaggeration. Despite the applaudable chemistry between Akpors and Bola, the slapstick performance of Makun is a major flaw of the character and movie. Dan Davies as the villain is just good enough to be acceptable. Most viewers like me are probably depending on Akindele to save the movie. The actress as Bola deserves neither high praise nor condemnation. She simply delivers a passable character that does nothing to save the movie.
I would talk about Patoranking and Cynthia Morgan making an appearance in the movie, except that I don't even understand their characters and its necessity. The comedy movie possesses a terrific cast but fails to take full advantage of its selling point.
The music and arrangement are also passable. It does nothing to appeal to a  viewer's emotion, neither does it enhance the story. The movie doesn't deliver on the promise of its title. Jamaica as a country isn't well represented. "A Trip to Jamaica" could as well be "A Trip to Lagos," as not much is done to effortlessly represent Jamaica.
AY Makun and Robert Peters successfully whip up a predictable plot, dominated by cliches. They also prove the fact that a funny idea does not always make a funny movie.
It is a comedy movie which underestimates the Nigerian audience, as the dialogues were created keeping in mind a particular fraction of intellect. When we asked for a relatable Nollywood movie, we definitely didn't mean the dialogue presented by "A Trip to Jamaica."
Finally, the movie takes an awfully monotonous route to achieve its happily ever after. At the end of it, all I could scream was; "how did I sit through this?"
If "A Trip to Jamaica" had been made by a less popular director, these flaws would be easily forgiven.
If you loved "30 Days to Atlanta,' you would definitely find "A Trip to Jamaica" a lesser intelligent story.
But, one thing is certain - Just because "A Trip to Jamaica" is a comedy movie with the right cast, and this is Nigeria, the movie will certainly break box office records.
JOIN OUR PULSE COMMUNITY!
Recommended articles
Toyin Abraham advises President Tinubu to avoid mistakes of predecessors
What to expect from Kunle Afolayan's new series, 'Anikulapo: Rise of the Spectre'
Go behind the scenes of 'Hijack 93: The Mad Men & The Aircraft'
Nigerian Idol S8: How to vote for your favourite contestants on the show
9 Nollywood titles coming out this June
Mercy Chinwo celebrates husband's birthday, calls him special gift from God
Rema's 'Calm Down' reaches new peak on Billboard Hot 100, closes in on African record
Nedu confesses to supporting cheating in marriage
African superstar Victoria Kimani returns with new single 'How I Do'