Most Nigerian awards are not credible
In a country where everyone wants to be an 'award winner,' it is important to note that winning some awards does not make one an 'award winning actor.'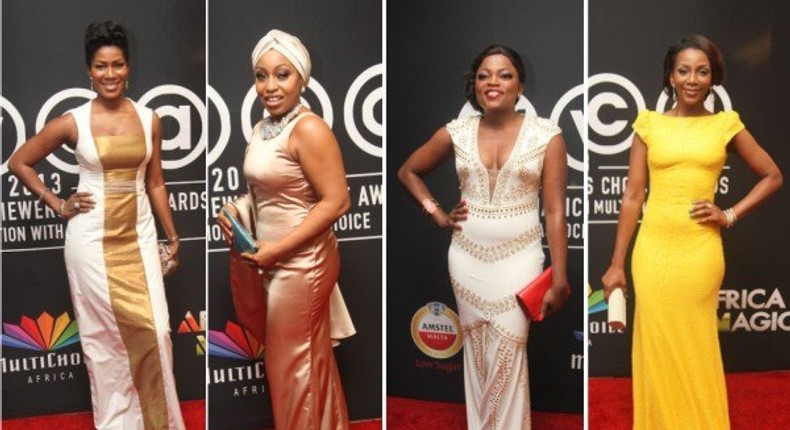 Awards are important and often dictate what we decide to see and who we decide to watch.
As humans, we sometimes thrive on competition and validation, and awards are arguably seen as a great way to recognize those that stand out from the rest.
You probably watched "The Theory of Everything" and "Birdman" after its 2015 Academy Awards win. You probably also became a fan of Daniel K Daniel after he won two prestigious awards in one year for his role in "A Soldier's Story."
In a country where everyone wants to be addressed as an award winning filmmaker, how credible are Nigerian awards?
According to the actor who took to Instagram to make the appeal, he is not interested and considers most of the film awards in Nigeria not credible enough. As expected, his fans came for him and had one or two things to say, with the question "who is he?" the most popular.
I would love to point out that Ibrahim Chatta said 'most' and not 'all,' meaning he would probably embrace an Africa Magic Viewers Award nomination. Let's take a look at the City People Entertainment Awards nominations. With over 50 categories in just the movies section, the list appears as one of the most unbelievable lists ever. You nominate an actor in a 'best actor' category, and the movie that earned him the spot isn't indicated. The nominations seem like one that was put up with thoughts like "oh, we forgot to add fix her," or "everyone has been talking about "Road to Yesterday, fix it in."  It is one of those awards bent on having everyone on the list. How credible does that sound?
The City People Entertainment Awards is not the only Nigerian awards with this sought of less credible reputation. There are several awards with categories like "Face of Nollywood" (is it a beauty pageant)? It is only in Nigeria that a filmmaker like Lisa Omorodion will be nominated alongside Stephanie Linus. It is only a Nigerian award that would repeatedly nominate Daniel K Daniel as 'Revelation of the year" - when would you finally reveal him. I can't get over seeing Kemi Lala Akindoju, Adesua Etomi as nominees in a 'revelation of the year' category.
I would not be surprised if one of these awards nominate veterans like Omotola Jalade Ekeinde, Femi Jacobs or Kate Henshaw as 'revelations of the year.'
Lets talk about the process of choosing these nominees. Apart from awards like Africa Movie Academy Awards, Africa Magic Viewers Choice Awards, In-short International Film Festivals and very few others, you and I cannot explain how they arrive at their long list of nominees. It's almost like a group of people sit together to decide if Alexx Ekubo, Genevieve Nnaji, Teco Benson, IK Ogbonna, Rukky Sanda, Omoni Oboli, Lancelot Imaseun, Mildred Okwo, Queen Nwokoye have been part of anything great, and then decide to nominate them just so their list appears credible or balanced.
Do they even watch the movies they nominate? Do they have a jury or judges or something?
You probably think AMVCA, AMAA, NMA, BON Awards, AFRIFF, IN-Short Film Awards are the only awards in Nigeria. Wait until you follow your favourite celebrities and see them putting up their nominations from awards you have never heard of, and at that moment, you realize you actually know nothing. Sometimes you are embarrassed for them, because even as a fan, you know that not all awards are credible, and winning some awards does not make you an 'award winning actor.'
So I totally agree with Ibrahim Chatta, who said what most actors, actresses, directors and producers think of several awards, but wouldn't say because they don't want to incur the wrath of their fans, and probably because they don't want to come off as controversially opinionated.
JOIN OUR PULSE COMMUNITY!
Recommended articles
Burna Boy releases first single of 2023 'Sittin' On Top Of The World'
Inside the making of Xavier Ighorodje's new series 'Anatomy of a Predator' [Exclusive]
'The Little Mermaid' swims to the top with ₦31 million
Olamide drops new single 'New Religion' featuring Asake, announces date for new album
Dakore Akande recounts struggles with postpartum depression
Official 'The House of Secrets' poster shows off 7 characters
Beauty Tukura describes 'BBNaija' as a toxic reality show
Simi announces her first single of 2023 titled 'Stranger'
What you need to know to about Nollywood/Bollywood series, 'Postcard'