BBNaija 2021: Biggie exposes Saga & Nini's late night gossip about Pere [Video]
Saga and Nini were issued strikes for breaking Biggie's microphone rule.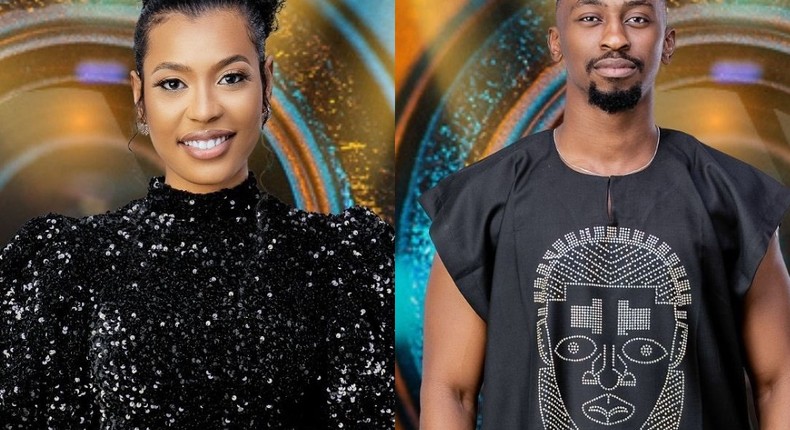 It appears Big Brother is in a payback mood going by his jaw-dropping Thursday evening revelation exposing Saga and Nini.
In a brief meeting with the housemates, Biggie played a video featuring both housemates tittle-tattling about co-housemate Pere. The conversation which was made in hushed tones hinted on Saga and Nini making disparaging comments about Pere.
After the video, Big Brother announced that the housemates had been found guilty of microphone infringement as the late night conversation saw them use hush tones. Shortly after calling out their offence, Biggie issued them strikes.
While this will be Nini's first strike since the show kicked off, Saga has earned his second. A third strike will get the housemates instantly disqualified from the game.
Meanwhile, fans have reacted to Biggie's video revelation, labelling it as his way of getting back at Saga for failing his prank task.
Recall the housemate was quick to rat Biggie out on Wednesday when he confessed to Nini that Biggie had put him up on a prank task.
JOIN OUR PULSE COMMUNITY!
Recommended articles
Soldier takes pregnant wife to hospital for delivery, beats up 2 nurses, breaks one's leg
Socialite Cubana Chief Priest accuses BBNaija's Maria of 'stealing' his sister's husband
7 weird things that happen during sex, and they're normal
Paul Okoye shares Cubana Chief Priest's phone numbers as he continues to defend BBNaija's Maria
10 countries where prostitution is legal
Davido and Chioma spotted together for the first time since rumoured breakup
Pulse Exclusive : New court documents claim BBNaija's Maria's alleged partner is in court to dissolve marriage
Actress Esther Nwanchukwu calls Junior Pope her 'man friend' months after she tattooed his initials on her body
7 things every woman wants to hear during sex