Church evicts man after opening up on his sexuality
Woods Chapel General Baptist Church in Brookland, Arkansas sent him a letter stating that in accordance with God's words they can not associate the church with the lifestyle he has choose.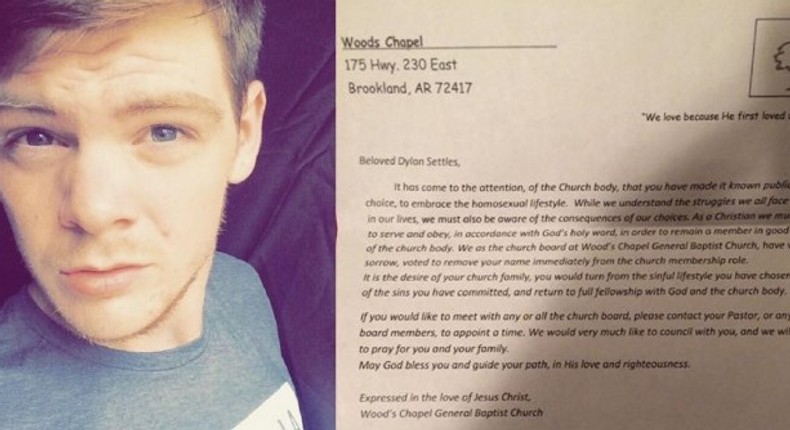 Dylan Settles opened up about his sexuality and the church which he had attended for many years kicked him out.
"It has come to the attention, of the Church body, that you have made it known publicly of your choice to embrace the homosexual lifestyle
While we understand the struggles we all face with sin in our lives, we must also be aware of the consequences of our choices.
As a Christian we must choose to serve and obey, in accordance with God's holy word, in order to remain a member in good standing of the church body.
We as the church board at Wood's Chapel General Baptist Church, have with great sorrow, voted to remove your name immediately from the church membership role.
It is the desire of your church family, you would turn from the sinful lifestyle you have chosen, repent of the sins you have committed, and return to full fellowship with God and the Church body."
Mr Settles told Arkansas Matters of the letter: "I was like in awe. I was in so much shock, I couldn't read like the rest of it."
However, he won't be returning to the church.
He said: "I don't feel comfortable sitting at pew or sitting beside my parents when all I'm going to see is people pointing their fingers at me because of the lifestyle I chose."
JOIN OUR PULSE COMMUNITY!
Recommended articles
South Korea eyes one of Nigeria's precious minerals
List of African countries and how much of their salaries they spend on iPhones
4 highlights from Thursday's pool party on 'BBNaija All Stars'
Top 10 African countries with the highest food inflation rates
Despite $3 billion bailout, Ghana has essentially gone bankrupt
Ghana is looking to supply Nigeria with its electricity needs following power grid shutdown
Burna Boy's South Africa concert has been cancelled, here's why
Africa's food insecurity to be non-existent in the next 5 years - AfDB
Tinubu approves salary increase for Federal Tertiary Institutions