Why people leave the priesthood
See three reasons why people have left the priesthood in recent years.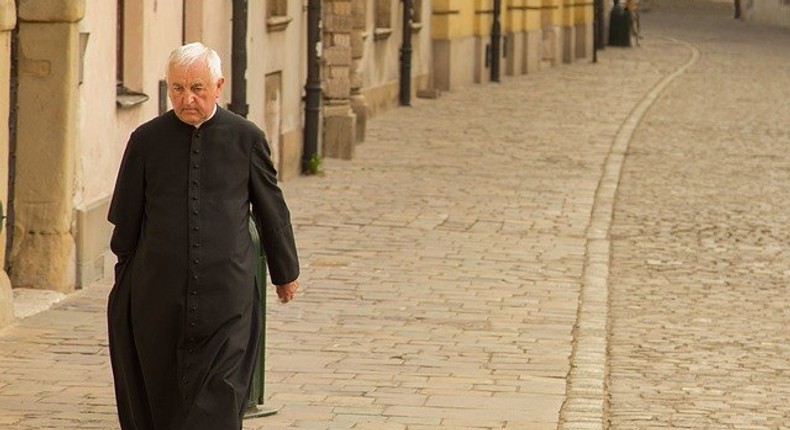 The Catholic priesthood is a sacred office that has been around for centuries.
Its origins can be traced "directly to God," according to a Reverend Fr. Akan Amos.
The Roman Catholic church sees the priesthood as an "apostolic succession" that started with Peter, when Jesus said, "And I tell you that you are Peter, and on this rock, I will build My church, and the gates of Hades will not prevail against it."( Matthew 16:18)
Thus, the Catholic church regards Peter as the first pope of Rome, and the priesthood as a divine calling that is expected to last forever!
Yet, there have been a few cases where priests resigned. The most recent in Nigeria being that of Rev. Fr. Patrick Henry Edet in Akwa Ibom state.
Based on this, Pulse Nigeria has made a list of three reasons why Catholic priests change their minds.
Here are three reasons why priests decide to leave the priesthood.
1. Clerical celibacy: With the priesthood, comes the oath of celibacy. This means that Catholic priests are expected to stay without sexual intercourse for the rest of their lives. It goes without saying that they can not get married or have children.
Clerical celibacy was introduced by The Council of Elvira in the fourth century. They decreed that: "Bishops, presbyters, deacons, and others with a position in the ministry are to abstain completely from sexual intercourse with their wives and from the procreation of children. If anyone disobeys, he shall be removed from the clerical office."
This has become a problem lately as more are rebelling against this. In 2016, 11 priests of celibacy wrote an open letter in which they called on the church to put an end to it. One of the signatories, retired priest Fr Franz Decker, said that people should be allowed to choose, to decide whether they want to get married or not.
He said, "We believe that requiring that every man who becomes a priest to remain celibate is not acceptable. We think every Catholic should be allowed to choose if they would rather be celibate or not, regardless of whether they want to work as priests or not — just like in the Protestant Church or the Orthodox church, really, every church but the Catholic Church."  The Catholic Church has not changed her stance on this subject.
2. Wrong reasons: Rev. Edet's case might just fall under this category if the rumours are to be believed. Allegedly, he was pressured by his parents to become a priest. These claims also say that he only went to the seminary to please them. With this, it makes sense that he would feel tied down and eventually leave like he has just done.
If this is true, then his case is clearly one where a person goes into the priesthood for the wrong reason. Whenever anyone goes into priesthood because he is pressured by his parents, he thinks he is what he takes, all without an actual divine calling, they leave eventually.
3. No biblical support for the priesthood: Richard Bennet and Martin Buckingham published an interesting book in 1997. The book is called "Far from Rome, Near to God: Testimonies of 50 Converted Roman Catholic Priests." As the name implies, it is a compilation of testimonies from priests who left Catholicism to find salvation in Jesus. Like the video above shows, they do not believe that the Bible encourages priesthood although the Catholic church backs the priesthood with Matthew 16:18.
In the book, Alexander Carson, who was the priest of Sacred Heart Catholic Church, Rayville, Louisiana states his reason for leaving the priesthood. He wrote, "Bible or Tradition. " . . . the Holy Spirit led me to judge Roman Catholic theology by the standard of the Bible. Previously, I had always judged the Bible by Roman Catholic doctrine and theology."
He was supported by Henry Gregory Adams, who served five parishes in the Lemont, Alberta area. Adams wrote, "The monastic life and the sacraments prescribed by the Roman Catholic Church did not help me to come to know Christ personally and find salvation . . . I realized that the man-made sacraments of my church and my good works were in vain for salvation. They lead to a false security."
The book was originally published in 1994.
If the reports are to be believed, people like the former Rev. Edet go to show that no one should become a priest without the right reasons.
A divine calling remains the only reason to consider the priesthood.
JOIN OUR PULSE COMMUNITY!
Recommended articles
10 African countries with the highest debts to the IMF
Meet the Sapeurs, Congolese who wear expensive outfits though they live in poor communities
Dangote refinery finally receives its first shipment of crude after years of delay
10 African countries with the largest population lacking electricity
Top 10 African cities with the highest purchasing power
Egypt's richest man joins trending billionaire migration to UAE
10 African countries with the highest fertility rate in 2023
World Bank to provide electricity for 100 million Africans by 2030
5 ways to spot a sex addict or know if you are one