A Changing Tide: Providus Bank's 'REGAL' product launch empowers women entrepreneurs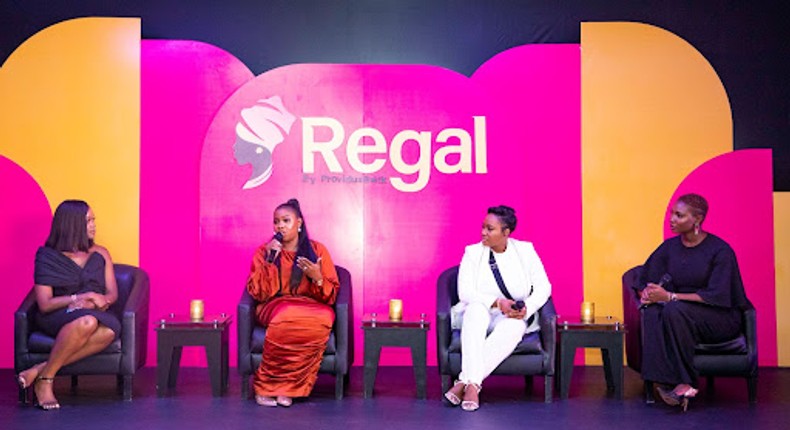 "REGAL" by Providus Bank is a commitment to recognizing the invaluable role women play in shaping the economy.
This groundbreaking product offers comprehensive support to women entrepreneurs, opening doors to capital, knowledge, training, mentorship, and markets.
It's a journey towards empowering women to scale their businesses and fulfilling their dreams. At its core, the Providus Woman Empowerment scheme simplifies access to finance, making the path to success smoother and more accessible.
"REGAL" by ProvidusBank is designed for the modern woman, whether salary earner or business owner, with income ranging from N3,000,000 to N100,000,000. Account holders are granted exclusive access to:
Career Development Programs
Women Empowerment Programs (Mentorship)
Business Development Programs
Lifestyle Activities
Access to Loans at a Competitive Rate
Pulse Nigeria
The Grand Unveiling - An Evening to Remember
The "REGAL" launch event was nothing short of spectacular, a testament to the power and resilience of women.
On a transformative evening, Friday, September 15, 2023, at the Sky Restaurant, Eko Hotel & Suites, Victoria Island, Lagos, Nigeria witnessed a monumental shift in the paradigm that promises to bring women entrepreneurs one step closer to financial freedom.
The event marked the grand introduction of "REGAL" by ProvidusBank—a banking product that celebrates women, their achievements, aspirations, joy, lifestyle, and power.
Under the theme "A Changing Tide," the event was graced by stunning attendees who came to witness the unveiling of "REGAL" and its potential to empower women in modern Nigerian society.
Pulse Nigeria
The evening commenced with an engaging introduction by the remarkable host, Ifedayo Agoro,the founder and creative director of DANG Network popularly known as @diaryofanaijagirl.
She eloquently presented the product and underscored its impact on the modern woman, with a special emphasis on two key features: access to loans for women and mentorships.
Pulse Nigeria
Walter Akpani, the Managing Director and CEO of ProvidusBank, took the stage to deliver a warm welcome address to the esteemed guests. He emphasized ProvidusBank's commitment to providing women with a robust support system to help them reach their highest potential.
Akpani assured the audience that "REGAL" would empower women to create value and foster mutually beneficial relationships.
Pulse Nigeria
Dr. Ibijoke Sanwo-Olu, the First Lady of Lagos State, expressed her appreciation for ProvidusBank's efforts in creating a reliable space for women in Nigeria. She also acknowledged the profound impact of Dame Winnie Akpani's speech, which had shifted her perspective. Dr. Sanwo-Olu commended the initiative's potential to uplift women across the nation.
Pulse Nigeria
H.E Bamidele Abiodun, the First Lady of Ogun State, expressed her heartfelt gratitude for the invitation and revealed her enthusiasm for the initiative. She proclaimed herself a staunch supporter and emphasized her eagerness to witness the product fulfill its purpose.
Pulse Nigeria
Dame Winnie Akpani, the Managing Director and CEO of Northwest Petroleum Oil and Gas Company LTD, delivered a powerful keynote address that resonated with every woman in attendance.
She spoke passionately about entrepreneurship and encouraged women to take control of their futures, emphasizing that there is always a bigger picture to aspire to. Dame Winnie Akpani quoted, "Where women work, economies grow," leaving the audience inspired and motivated.
Pulse Nigeria
The event transitioned into an insightful Fireside Chat session focusing on essential considerations when launching a business. Panelists stressed the importance of a well-structured business and encouraged attendees to take their entrepreneurial endeavors seriously.
Pulse Nigeria
They urged women to have confidence in themselves and their business ideas while emphasizing the necessity of identifying a target market.
Pulse Nigeria
Bimbo Alashe, CEO of Leather World LTD, shared her inspiring testimonial about her experience with ProvidusBank, highlighting the simplicity of accessing a loan. Her story resonated with many, demonstrating how "REGAL by ProvidusBank'' can transform the trajectory of women entrepreneurs.
Yinka Davies captivated the audience with an exceptional musical performance, adding a delightful touch of artistry to the evening.
Pulse Nigeria
The culmination of the event was the grand unveiling of "REGAL" by ProvidusBank—a moment that symbolized the bank's dedication to empowering women.
Pulse Nigeria
The evening concluded with a networking session and a commemorative photography session, allowing women to connect, share experiences, and strengthen their bonds.
Pulse Nigeria
Pulse Nigeria
Pulse Nigeria
Pulse Nigeria
Pulse Nigeria
ProvidusBank is dedicated to celebrating the achievements, aspirations, and power of women through innovative banking solutions and unwavering support.
JOIN OUR PULSE COMMUNITY!
Recommended articles
Hero Motocorp partners with Tolaram group to bolster presence in Nigeria
World Bank to provide electricity for 100 million Africans by 2030
₦50 million up for grabs as MTN Best of the Streets unveils top 20
Bloc revolutionizes business banking for the tech-savvy African era
Mobile money agents seek extension of CBN deadline for NIN, BVN registration
YouTube Music and YouTube Premium launches in Kenya [Prices]
Egypt's richest man joins trending billionaire migration to UAE
Analyst predicts 60% Polygon price surge as Binance Coin drops: Meme Moguls shakes up meme coin
Life's Good: LG's promise of a better life through quality products and innovative service