OPINION: Joao Felix is the latest of Todd Boehly's many expensive mistakes
Chelsea have agreed to pay €11 million for a five-month loan while also covering Joao Felix's full €280k-a-week salary without an option to buy.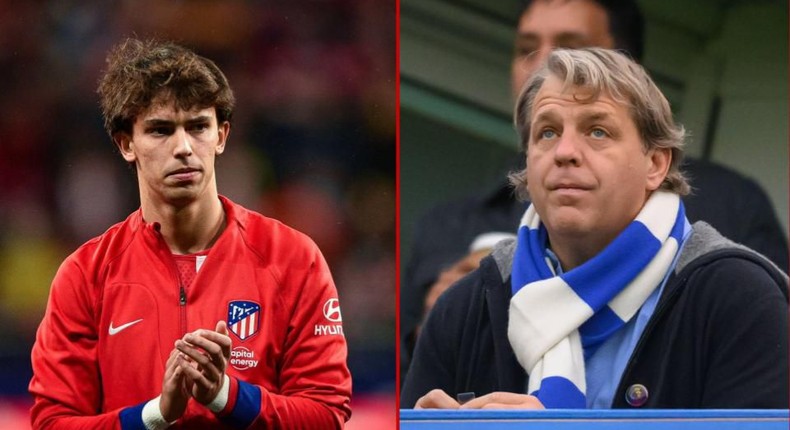 Chelsea are reportedly set to beat Arsenal and Manchester United to the loan signing of Portuguese forward, Joao Felix.
The London-based club reportedly reached an agreement with Atletico Madrid to pay €11 million to sign Felix on loan for the rest of the season while also covering his full wages without an option to buy.
The move is a testament to Chelsea's financial muscle under free-spending owner Todd Boehly but perhaps more importantly, shows the American's ineptitude in football transfer dealings.
Todd Boehly the bumbling American
The start of the Todd Boehly era at Stamford Bridge was met with scepticism which -to be fair- is almost always the case with Americans buying European clubs, fueled by the perceived notion of their lack of requisite knowledge.
Boehly has tried to counter that line of thought by being overtly involved in the day-to-day running of his newly-purchased club but that strategy has only so far exposed his lack of knowledge the more.
The bumbling American narrative was reinforced when he appointed himself club chairman and interim sporting director on June 20, 2022, and his naive posture in the transfer window has not done much to change that.
Turns out the only thing worse than an uninvolved, uncaring and profit-driven American owner (i.e the Glazers, Stan Kroenke, FSG) is a profligate American owner who is too involved.
Boehly has now sanctioned the signing of a 23-year-old Atletico Madrid flop, for whom the club will now pay €11 million while also covering his entire €280k-a-week salary within all for a measly five months and no option to buy.
AFP
There's a reason neither Arsenal nor Manchester United made an offer to sign Felix despite eyeing the player for so long but Atletico's demands were just too steep and bordered on unreasonable
AFP
It's hard to imagine anyone with actual football knowledge and know-how of the football transfer market would have agreed to those terms but that is where Todd Boehly comes in, the inept American with a long list of transfer mistakes.
Todd Boehly's transfer mistakes
The mistakes Chelsea have made so far in the transfer window do not necessarily refer to the performance of the players signed, this purely considers the nuance in the transfer negotiations.
There's a reason Chelsea looks this bad as a team despite spending well over €300 million in the summer and winter windows so far and that is entirely on Boehly.
The first mistake was the devaluation of Romelu Lukaku, letting the club-record signing join Inter Milan on a season-long loan for an €8 million fee (€3 million less than they are now paying to loan Joao Felix for five months).
Boehly, as Chelsea's sporting director, negotiated a €38 million transfer fee for the signing of Kalidou Koulibaly, a 31-year-old defender who had just one year left on his Napoli contract at the time.
All of those factors surrounding Koulibaly at the time put Chelsea in a position of leverage to sign him for significantly cheaper but Boehly's ineptitude in the European transfer market saw him bullied by Napoli president Aurelio Di Laurentis.
AFP
Brighton reportedly wanted around €55 million to part ways with Marc Cucurella (which Manchester City were reluctant to pay) but Boehly somehow found a way to pay €65 million plus a Levi Colwill loan the other way to bring the Spanish left-back to Stamford Bridge.
The signings of teenage midfielders Carney Chukwuemeka and Cesare Casadei for over €30 million combined also raised eyebrows.
They are both obviously more for the future but that hefty transfer fee for Chukwuemeka with three starts for Aston Villa and Casadei who had never even played for Inter Milan's first team is another one in the Boehly blunder folder.
Todd Boehly is fast becoming known for paying over the odds in his Chelsea reign so far and the Joao Felix loan deal transfer follows that pattern.
The views and opinions expressed in this article are those of the author(s) and do not necessarily reflect the official position of Pulse Sports
More from category
OPINION: Martin Odegaard finally delivers on teenage potential

OPINION: Trossard should have been Arsenal's first choice all along

OPINION: Jurgen Klopp and FSG are responsible for Liverpool's woes