EXPLAINED
The Pulse Sports Super Eagles Player Ratings system
How exactly do we arrive at the scores we assign to individual players during Nigeria national team matches?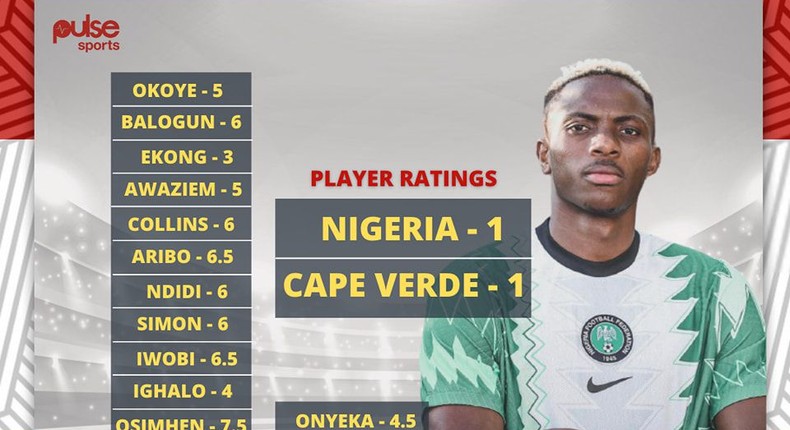 Over the last six months, the Pulse Sports Super Eagles player ratings were the subject of much controversy.
So here, if anyone is interested, is an explainer. What considerations go into the ratings? Why am I so difficult to please? And what would it take for anyone to score a 10?
Scale
This is perhaps the biggest departure from other player rating systems. The Pulse Sports Super Eagles player ratings operate on a different scale, one which goes roughly something like this.
1: Disastrous; 2: Very poor; 3: Poor; 4: Average; 5: Good; 6: Very good; 7: Decisive; 8: Excellent; 9: Dominant; 10: Once-in-a-lifetime
As you will notice, it's a scale that slides up and down from 4, which is where everyone starts from when the game kicks off.
Now, these are not simply random adjectives. A player can be decisive (in a positive sense) to the outcome without necessarily having been excellent overall. Dominance is used here to refer to consistent excellence through the course of the entire match, so the grading does penalise players whose performance level is not sustained throughout the duration.
So, as an instance, despite scoring twice, Kanu's performance against Brazil at the 1996 Atlanta Olympics would be graded 8.5, as he turned up his performance level later in the game; his performance against Tunisia at the 2000 Africa Cup of Nations, however, would earn a 9.
For a more contemporary example, Ahmed Musa against Iceland at the 2018 World Cup would grade 9. Why is that different from Kanu's against Brazil? Because the scale provided above is not absolute, but is dependent on...
Context
The context in which the game was played matters.
To use the Musa v Kanu example, even aside from the fact Kanu was not consistently excellent through the course of the game (while Musa was), there is the fact of the occasion: the World Cup is simply a bigger stage. The Olympics men's football event, for all that it's heralded here on account of that great success in 1996, is fundamentally an age-grade competition.
ece-auto-gen
In the same vein, performances in friendlies are necessarily marked down. Alex Iwobi's monstrous performance against Argentina in Krasnodar in 2017 would grade about 7.5 on account of the game being a friendly, whereas if it was, say, a World Cup meeting, it would get a higher rating (probably 8.5).
But why should that matter? Shouldn't it be sufficient to take a performance on its own merit, ignoring everything else? Well, no, because...
History (also matters)
The grades are not only relevant to the game in which they are given, but also to history. This is important for the sake of consistency: if the only context is that particular performance, how would one be able to compare outings across different matches?
So, for instance, if a player is awarded a 7 in one game and an 8 in another, it would be appropriate to conclude that he played better in the latter than in the former; the grades tell us not just how the player performed in the game for which he is being rated, but how that performance relates to and compares with other games as well.
All that is well and good then, but how is the final rating determined?
Mostly science, but also art
While the exact details would be too boring to recount here, let it suffice to say that everything is taken into account.
The players' actions obviously play a huge part, with their core positional functions (e.g. defensive actions for defenders) given a stronger weighting in terms of impacting their final score. However, their contribution to the interpretation of the team's overall tactical balance and approach is important as well.
Pulse Nigeria
For example, while Jay-Jay Okocha had an eye-catching individual performance against Denmark at the 1998 World Cup, his movement and decision-making left the Super Eagles severely handicapped in midfield. His rating would reflect that.
Not to say it is all cold, hard number-crunching, of course. There is room for feeling in there, believe it or not. However, in the interest of fairness, these emotional reactions are kept to a minimum.
It is important to state here that the ratings are neither perfect nor intended to be read as a dig at other grading methodologies. This is simply the way the Pulse Sports model works.
Topics:
More from category
Solace: Osimhen snub proves CAF need to sort Footballer of the Year criteria

CAF Awards 2022: 4 players who have no business being nominated for CAF Player of the year

Thiago Silva says Neymar "has to" join Chelsea - but here's why it is a bad idea
Recommended articles
Solace: Osimhen snub proves CAF need to sort Footballer of the Year criteria
Super Eagles star Chidera Ejuke set to leave CSKA Moscow for the Bundesliga
WAFCON 2021: Profiling Nigeria's 25-woman squad to Morocco
'It felt like he was kind of sizing me up'- Jared Cannonier reflects in his first meeting with Israel Adesanya
Abigail, Angel Michael and Valour lead Bayelsa State to Milo Basketball Championship clean sweep
Israel Adesanya offers ₦1.2 billion to anybody that can prove use of steroids