He is the only player in league history to average at least 27 points, 12 rebounds, and six assists per game since Oscar Robertson's second year in 1961-62. This season also, he has been the best defender in the best defence in the NBA. 
His versatility is why they call him the 'Greek Freak'. The 6-foot-11 power forward is the type of the two-way dominant player that is gradually waning in the NBA. 
"Giannis is the closest thing to me since me," four-time NBA champions and one-time Finals MVP Shaquille O'Neal recently said. 
His overall skill set has made him a front-runner for the 2018-2019 MVP award and among the four, five players deserving of the Defensive Player of the Year prize. 
A candidate for both MVP and DPOY awards, Antetokounmpo could become the first player since 1994 to take both prizes. In fact, only two players have managed that feat; Michael Jordan in the 1987-88 season and Hakeem Olajuwon in the 1993-94 season.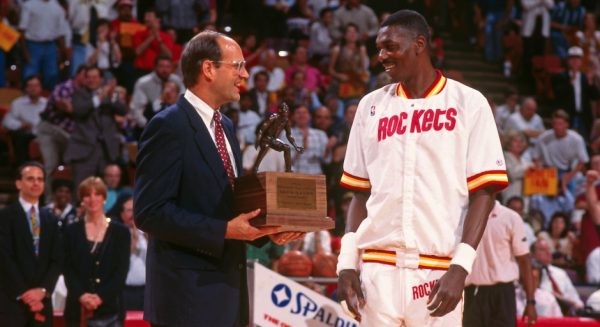 Nigerian basketball star Hakeem Olajuwon won the MVP and DPOY awards in the 1993/1994 season (Getty Images)
It will be very fitting for Antetokounmpo to achieve the double feat after Olajuwon whose legacy to the game should be the path that the Greek Freak wishes to thread. 
Coincidentally, Antetokounmpo does have a couple of things he shares with Olajuwon.
They both started playing basketball before moving to the United States. Olajuwon first played University basketball in Nigeria before he was drafted while Antetokounmpo was drafted straight from the second division in Greece. 
The most striking thing they share is their Nigerian root which Antetokounmpo has become more open about in recent weeks.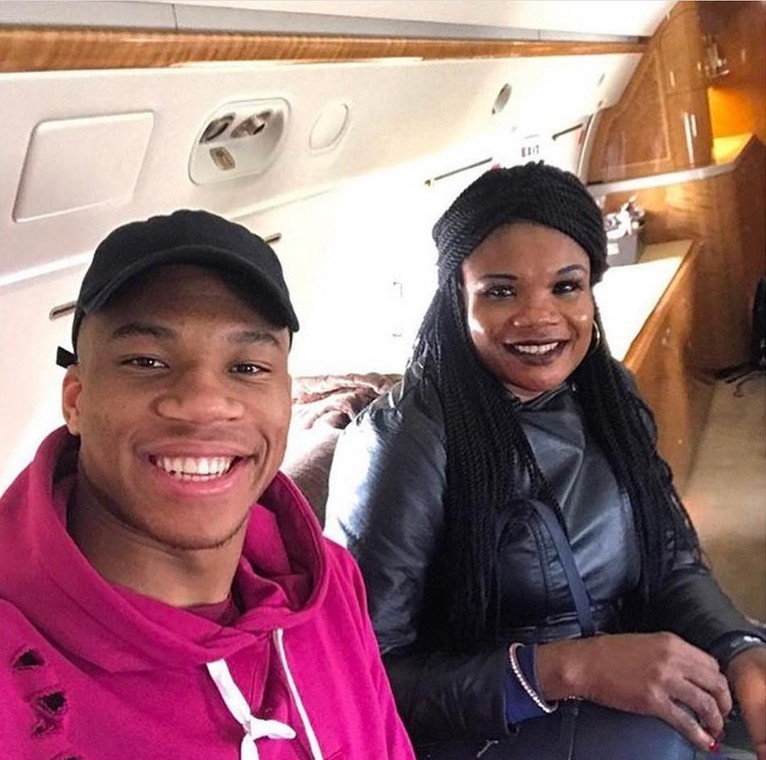 Giannis Antetokounmpo was born in Greece to Nigerian parents. Pictured here with him is his mum Veronica Adetokunbo (Instagram/Giannis Antetokounmpo)
"Obviously, a lot of people don't know where I'm from," Milwaukee Bucks All-Star told The Undefeated. 
"A lot of people think my mom or my dad is from Greece, but no. Both of my parents are black. Both of my parents are Nigerian."
Despite his swelling status in the United States, the 24-year-old remains a largely unknown figure to Nigerians who love to relish the successes of anyone of Nigerian descent. 
Nigerians were in full glare of Olajuwon's exploits in the NBA back in the 80s and 90s just as they have followed Anthony Joshua's successes in boxing so far. 
Nigerians haven't been able to connect with the name Giannis Antetokounmpo (The first name is a Greek name while the second came from a misspelt of the Yoruba name Adetokunbo on his Greek passport).
Also, unlike in the 80s and 90s, basketball is not as widely followed in Nigeria these days when football follower-ship has skyrocketed. 
Antetokounmpo plays in Milwaukee which is still a relatively small market and the media attention is nothing compared to LA Lakers in Los Angeles, New York Knicks in New York or NBA super-team Golden State Warriors. 
But ultimately an NBA championship with the Milwaukee Bucks will be too special for anyone to ignore, including football crazy Nigerian fans and if Antetokounmpo manages that, he will be the name on everyone's lips.