SEASON REVIEW
Top 5 transfer flops of the 2021/22 Bundesliga season
A ranking of the top five transfer flops of the 2021/22 German Bundesliga season.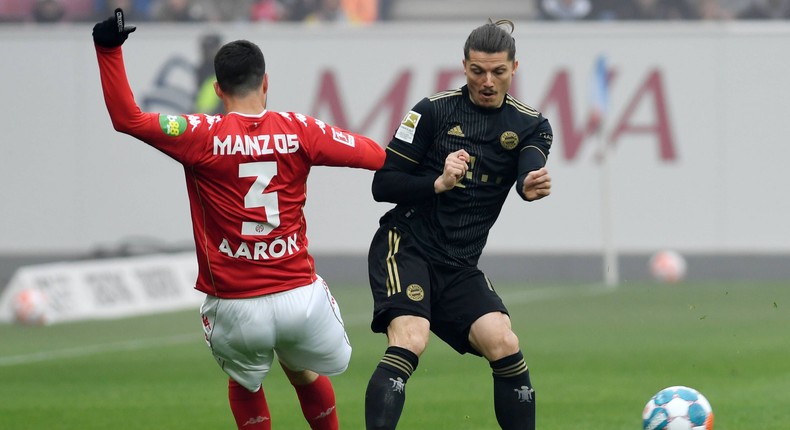 The just-concluded Bundesliga season culminated in a familiar outcome, as Bayern Munich claimed yet another championship.
While there is little scope for any proper, sustained challenge in the coming season, it will not be for the lack of trying. Come the opening of the transfer window, there will be furious raft of transfer activity, with the rest of the pack jostling for position to inch up the table and take that next step.
With that in mind, it is important they recognise where they went wrong previously. So here are the top five worst-performing signings of this past Bundesliga season. Loans and January tranfers have been exempted.
ALSO READ
5. Ilaix Moriba
It feels a little mean to be picking on the Guinean youngster so soon after his transfer from Barcelona. However, consider the excitement around his potential when he broke into the first team at Camp Nou less than two years ago.
A protracted contract stand-off led to his departure from Spain, but it was expected that a move to RB Leipzig, with their emphasis on promising youth and high-tempo style, would be to his benefit. That hope has not come off, however,
Moriba struggled to get into the team, and was eventually loaned to Spanish side Valencia.
4. Rafael Borre
Surprised to see him here? After all, he did score in every round of the Europa League from the quarter-final on, including that famous howitzer against Barcelona and the equaliser int the final, right?
Pulse Live Kenya
Well, this is about league play. While Borre was not completely hapless, he was clearly far less impressive in the Bundesliga for Eintracht Frankfurt.
Eight goals is a weak return, considering he only missed three matches in the league season. A "big game player" he may be, but he is far from a consistently reliable one, especially in terms of getting into goalscoring positions.
3. Kevin-Prince Boateng
AFP
To worsen matters, he managed no goals or assists over the course of the entire campaign; finishing with a relegation playoff indicates the club did not have a good season anyway, but the whole point of his signing was that he was supposed to do something about it.
As it happens, the only thing Boateng managed to confirm was his status: finished at any respectable level at 36.
2. Marcel Sabitzer
AFP
The reality, however, has been even more of a letdown. The Austria international only started eight matches for the Bundedsliga champions, and this in a season when they often fielded Jamal Musiala, an attacking midfielder, in the centre of midfield.
It all seemed like a bit of a waste signing him in the first place, and buttresses the notion that Bayern make signings primarily to weaken their domestic rivals.
1. Donyell Malen
Borussia Dortmund made a quite healthy return on Jadon Sancho's transfer to Manchester United last summer, and set about reinvesting that windfall to get the squad into shape for incoming boss Marco Rose. Part of that strategy was the recruitment of Donyell Malen from PSV Eindhoven.
Pulse Nigeria
It has not been a success by any stretch.
Malen has underwhelmed, scoring a modest five goals and often finding himself named among the substitutes. His inability to rise to the challenge proved a key reason for Dortmund's underwhelming title challenge, as the club struggled for cutting edge whenever Erling Haaland was unavailable.
More from category
Now that Ronaldo is available again, it is time for PSG to make every football fan's dream come true

Osimhen could partner with Ronaldo next season as Man Utd face a battle to keep Portugal's captain

Carragher calls Gary Neville a clown, mocks him for Ronaldo's decision to leave Manchester United
Recommended articles
Alex Pereira brutally knocks out Sean Strickland, calls out Adesanya
Asisat for Ballon d'Or: Profiling Oshoala's quest for global recognition at WAFCON 2022
Now that Ronaldo is available again, it is time for PSG to make every football fan's dream come true
Osimhen could partner with Ronaldo next season as Man Utd face a battle to keep Portugal's captain
Carragher calls Gary Neville a clown, mocks him for Ronaldo's decision to leave Manchester United
Manchester United risks falling for another transfer scam if they target Scamacca as Ronaldo's replacement