Victor Anichebe strangely denies calling for Everton to sack Frank Lampard
The former Super Eagles and Everton striker has taken to his Instagram story in a brief rant to deny that he called for the club to sack manager Frank Lampard after he claimed the Toffees would be relegated 'unless a change is made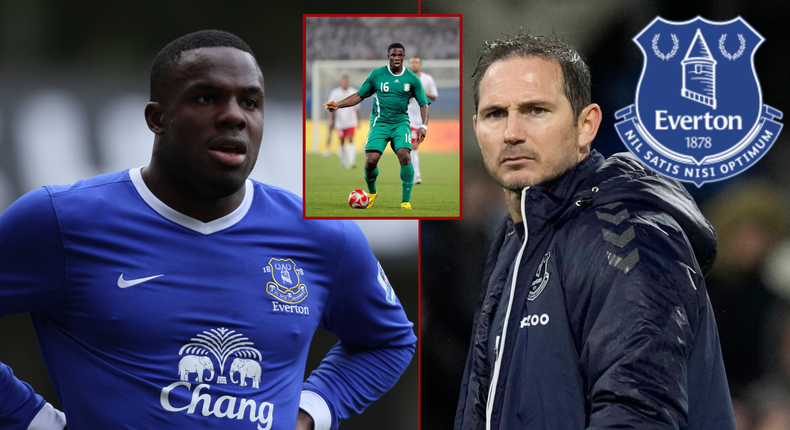 Former Super Eagles star Victor Anichebe has denied calling for the Merseyside club to sack current manager Frank Lampard.
Anichebe had previously claimed that the Toffees would be relegated 'unless a change is made following the latest 2-1 loss to Burnley.
The former Toffees striker Anichebe then wrote on Instagram saying, Everton would '100 per cent' go down if Everton did not make a change.
The former Everton striker has now stated that he was only referring to a change of tactics or mentality.
Former Chelsea boss and legend Frank Lampard is currently under huge pressure after slumping to yet another defeat to Burnley on Wednesday night in the Premier League.
Imago
The 43-year-old Everton coach now faces a huge challenge to ensure the Toffees stay in the Premier League.
However, Anichebe (33) has now taken to his Instagram story in an exclusive rant to clarify his previous comments, claiming the decision to appoint Lampard was absurd.
Victor Anichebe/Instagram
''I wasn't even gonna speak on this but I genuinely can't stand some media,' the 33-year-old wrote on his social media account.
'I didn't call for Lampard to be sacked. Also let's think about this for a moment... who the f*** am I to call for anyone to get sacked? I have no influence. Nor does my opinion matter.
Imago
'I posted the same Allardyce picture weeks ago as I find him funny because any team that's in trouble he gets linked to (those who follow me know this already).
'Anyway the reactions were funny so I posted it again.
'Then I said something needs to change... how does that mean Lamps should be sacked? Change of mentality, training change, change of style, I'm not a manager - how do I know? Not once did I say sack him!' Anichebe wrote via his Instagram story.
ece-auto-gen
The 33-year-old former Nigerian International had critcized Everton this week, criticising Lampard's decision to bring on Salomon Rondon so late in the game and had said that neither the players not the manager were good enough.
Everton are just one point above the Premier League drop zone with ten games left to play.
Frank Lampard has also stayed positive after the defeat to Burnley, telling his players to 'keep fighting and look forward'.
Everton welcome Manchester United to Goodison Park in a crunch early fixture on Saturday, April 9 as the Toffees look to launch a survival race in the Premier league.
Topics:
More from category
'Great pride and joy' - Jose Peseiro finally reacts to Super Eagles role, eyes AFCON title

Osimhen, Ighalo and Ndidi headline the top 10 most fashionable African players

Arsenal suffer a blow as Osimhen makes his transfer decision
Recommended articles
'Great pride and joy' - Jose Peseiro finally reacts to Super Eagles role, eyes AFCON title
Watch Barcelona beat A-League All-Stars 3-2 in Sydney Australia [Video]
Britain's No. 1 Emma Raducanu suffers a second round exit at the French Open
Liverpool vs Real Madrid - Top 10 Richest Players
Maduka Okoye pulls out of Nigeria's squad but Francis Uzoho denies break rumours
FestivalofTT2022: 42-year-old Egyptian star in love with Lagos reveals Quadri Aruna fears