Former Man United manager says he thought of signing Mario Balotelli
Sir Alex Ferguson in his new book revealed that he thought about signing Mario Balotelli but pulled out because of his personality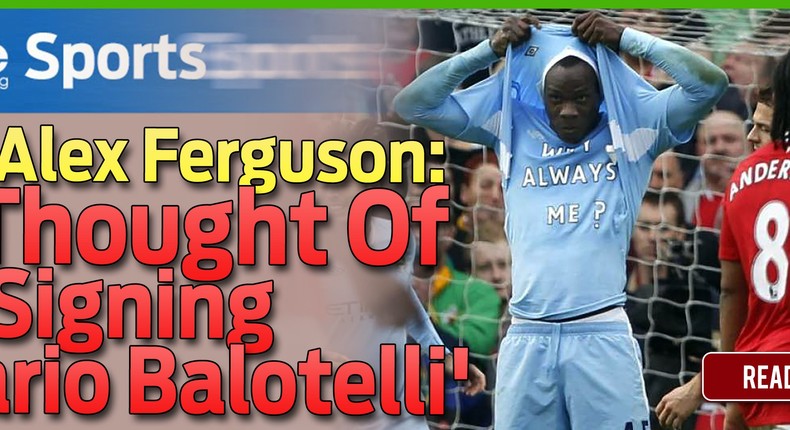 Former Manchester United manager Sir Alex Ferguson has revealed that he once though of signing controversial striker Mario Balotelli.
Ferguson said he was made aware of the striker after he broke through the ranks at Inter Milan but pulled out after he learnt about his personality.
"In 2010 I briefly flirted with the idea of signing Mario Balotelli, the talented but controversial Italian striker," Ferguson wrote in his new book 'Leading' which is co-authored by 'Leading' Michael Morit.
'I did my homework on him, speaking to a few Italian contacts, but the feedback I got confirmed it was too big a risk.
"I don't know whether this sort of candid professional courtesy exists in other fields, but for me it was a Godsend."
Balotelli joined United rivals Manchester City in August 2010, where he won the FA Cup and the Manchester City.
The striker was however trailed with controversies and has since been sold to AC Milan from here he joined Liverpool before going back to the Italian club on a season long loan.
Ferguson also revealed that he never liked Balotelli's agent Mino Raiola who was also the agent of former Manchester United midfielder Paul Pogba.
"There are one or two football agents I simply do not like and Mino Raiola is one of them," Fergie said.
"He and I were like oil and water. I distrusted him from the moment I met him."
JOIN OUR PULSE COMMUNITY!
Recommended articles
Champions League: Milan will risk it all against Liverpool - Stefano Pioli
Champions League: Inter in Madrid to play with character and do well - Simone Inzaghi
Reality bites again for Barca ahead of rescue mission away at Bayern
Premier League riches sow fear among Champions League rivals
Matchwinner Fred hails Ronaldo and Fernandes dressing room impact
Arteta labels Arsenal 'not good enough' as Everton end barren run
5 decisive UCL group matches to watch this week
Man Utd to face Gerrard's Villa in FA Cup third round
I am only four out of ten - Partey reflects on poor first season