Nigerian Players' Review: Ndidi, Amoo, Simon, Osimhen
There was plenty of interest to get into with respect to Nigerian players in Europe at the weekend.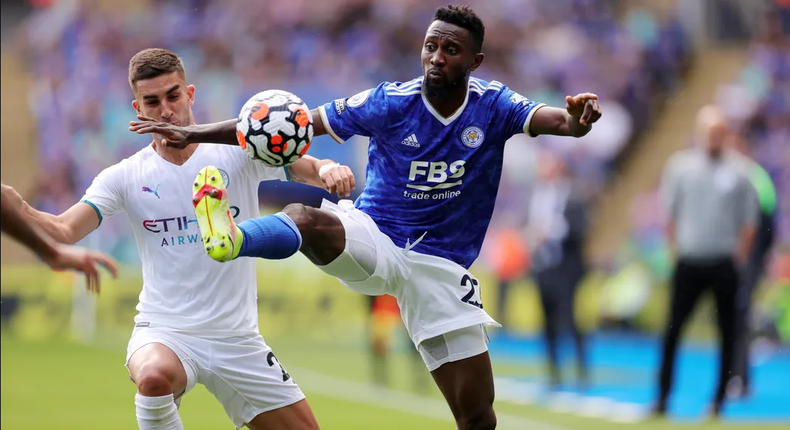 Nigerian Players' Review is a weekly series evaluating the performances of Nigerian players in Europe.
The return of Ndidi makes Iheanacho more expendable
Let's face it: if Brendan Rodgers could have picked a fixture to have Wilfred Ndidi back fit for, it would have been Sunday's trip to Leeds United.
"He covers a lot of space," Rodgers said on the eve of the game. "In those defensive moments, you need that player to get back in."
As it turns out, Leicester City did need their Nigerian hoover, as the hosts turned in perhaps their most effervescent performance of the season: harrying, running and besieging the Foxes' goalmouth for the duration of the game at Elland Road. However, it is in such circumstances that Ndidi typically thrives. At his core, the 25-year-old is a firefighter, and it is in more reactive scenarios that his best qualities emerge.
Faced with a Leeds side that seemed switched on from the off, it is not a stretch to imagine the visitors could have been overwhelmed in much the same way as they were early on by Arsenal the week before. "You see what we're like when he's in the team," Rodgers said afterward. "We're a different animal."
However, the upshot of his return is that it emboldened Rodgers to return to a back four, which in turn kept Kelechi Iheanacho on the bench. "With (Ndidi) in the team, we're always a better team no matter what system we play. It allows me to play much more comfortably with a back four (and) my preference always is to play with a back four."
You would not go so far as to say it's either or when it comes to Ndidi and Iheanacho, but it might very well be how it shakes out going forward.
Amoo is doing it big in Sweden, but let him grow
A while back, I sparked a mini-riot on Twitter by stating I did not think Akinkunmi Amoo should be in Super Eagles conversations yet.
Alright, it wasn't quite so dramatic. But you get the point.
The crux of the disagreement seemed to be that many envision him as that mythical creature Nigerian football has been looking for since the days of Jay-Jay Okocha - a pure number 10. It's easy to see why: he's small, has good close control and we can all agree everything on the pitch looks better when a leftie does it.
Pulse Nigeria
However, I'm a little less convinced. At the moment, what I see is a 19-year-old who is explosive from a standing start, who plays with great intensity, who has solid technique when striking the ball and who times his runs into the box brilliantly - his goal at the weekend against Orebro, as well as the majority of his tally, demonstrate that latter observation quite aptly.
That is already a lot to work with for a young player, especially one who is doing his developing away from the public eye and seems to have a steady head on his shoulders. The rest will come, as will international consideration.
Simon's school of assists is once again in session
Nigeria's most influential winger in Europe's major leagues took a near-two month break, but was back among the assists at the weekend for Nantes.
Moses Simon's peach of a delivery for Kalifa Coulibaly's opener was his sixth assist of the Ligue 1 season, and although his cross for Nantes' second took a deflection that sent it looping into the air, thereby depriving him of the acclaim, he still far outstripped everyone else on the pitch both in terms of Expected Assists (xA), progressive carries (carries that move the ball toward the opposing goal at least five yards, excluding those originating from the defensive third) and distance, and shot-creating actions (the final two offensive actions directly preceding a shot.
If this stat nerdery isn't your cup of tea, the easy version is that Simon was the game's most dangerous player, and it is deeply unfortunate his performance was not enough to secure maximum points for Nantes. He is also one of Europe's: only Thomas Muller (eight), Kylian Mbappe, Karim Benzema, Mohamed Salah and Paul Pogba (seven) have managed more assists so far this season in Europe's major leagues. That is not shabby company.
There is a nice repeatability (and consistency) to his output too. Notice the cluster?
Pulse Nigeria
This is all the more relevant with leagues breaking for the international window. Invariably, the subject of quite why the Nigerian's output is so vastly different with the national team will arise over the course of the next fortnight. If the above tells us anything, it is that there is merit in looking beyond the player himself.
Verona put on a clinic on how to stop Napoli - and Osimhen
Ahead of their meeting with league leaders Napoli, Hellas Verona manager Igor Tudor was pretty bullish, backing his players to get a handle on one of the most feared marksmen in all of Europe and challenge on a ground where they had not won in almost 40 years.
At the time, it seemed like famous last words, considering the fact that Verona had only managed one clean sheet all season. However, come kick-off, it was clear the Croatian manager had - pardon the cliche - done his homework.
They will have to wait till after the international break for that second clean sheet, but the visitors restricted Napoli to their lowest Expected Goals (xG) figure of the season in all competitions - 0.8. They also restricted the returning Victor Osimhen to just five touches inside their penalty area all game (his average per 90 for the season is seven) and three shots in total - again below his per 90 average for the season. None of those strikes were on target, by the way (although he did hit the post just before half-time).
AFP
Well, they deployed a very aggressive, man-oriented pressing system high up the pitch, but unlike Fiorentina, who went with a similar strategy earlier in the season, they did not push their defensive line up in tandem. It was a calculated risk: the high press forced both Lorenzo Insigne and Matteo Politano into deeper areas to get on the ball, isolating Osimhen upfront. When Napoli played direct into the striker dropping off the front, Verona were therefore able to have a man stay tight to him (the 22-year-old miscontrolled the ball five times, his second-worst performance in that regard this season) and still maintain a safety net in behind.
It was a plan that worked, right down to getting Osimhen booked for moaning at the referee. The good news for him - and Napoli - is that few will be able to pull it off quite so perfectly.
More from category
VIDEO: Crystal Palace boss Patrick Vieira kicks Everton fan during pitch invasion

SUPER 6: FC Robo 'slap' over N415m on red-hot Monday Gift after brace vs Edo Queens

Ihenacho struggles as Leicester City hold Chelsea to a draw
Recommended articles
VIDEO: Crystal Palace boss Patrick Vieira kicks Everton fan during pitch invasion
SUPER 6: FC Robo 'slap' over N415m on red-hot Monday Gift after brace vs Edo Queens
Ihenacho struggles as Leicester City hold Chelsea to a draw
Iwobi, Lampard survive relegation battle after Everton comeback victory over Crystal Palace
'How much can we get for Iheanacho' - Reactions as Leicester City force draw against Chelsea at Stamford Bridge
Calvin Bassey's UEL masterclass a humbling lesson for Super Eagles fans