Super Eagles striker honoured by his former club, Granada FC
Granada FC last weekend named one of the entrances to their new stadium after Jude Ighalo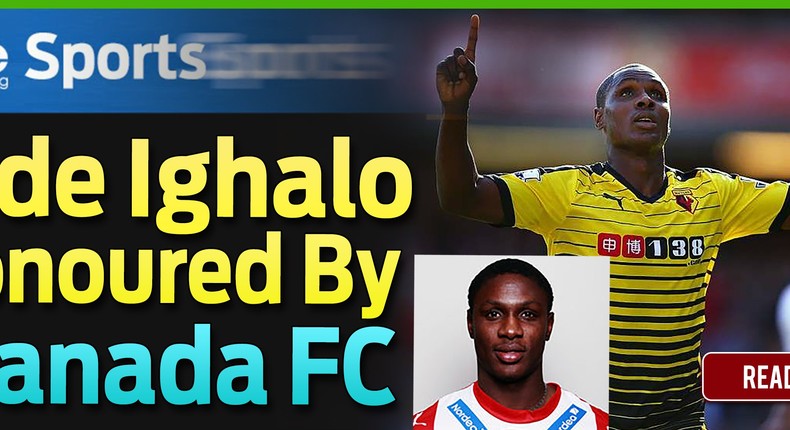 Super Eagles striker Jude Ighalo has been honoured by his former club, Granada.
The Spanish La Liga side last weekend named one of the entrances to their new stadium after Ighalo.
Ighalo played for the La Liga side from 2009  to 2014 before joining his current clubside Watford.
The Nigerian international alongside, Diego Mainz, Roberto Fernandez and Allan Nyom were the people that had gates at the stadium.
The club said that they found it easy to name four of their stadium entrances after these players for helping them progress to the Spanish La Liga in 2011.
The entrance was decorated with the picture of Ighalo and one other player and was named 'Heroes' Ascent' in the New Stadium Los Carmenes.
"It was an easy decision to sponsor the gate, first because our organisation is clearly grenadine, and also by reason of the heroes of the ascent, because they refer to a historic feat, as more than a sports achievement it is a social achievement for the whole city," Jose Aurelio Hernandez, Director of Business Development of Caja Rural de Granada, said.
"After so many years without being in First and Second Division, was right to recall an important moment as was the 2009/2010 and 2010/2011 season when we got the two promotions," Vice President of the organisation, Javier Jimenez, also said.
"The four players are the example of those who have made possible the Granada CF is in the First Division, but we must also thank and acknowledge this team and Enrique Pina Gino Pozzo and especially the fans of Granada CF," Mayor of Granada José Torres Hurtado said.
Ighalo himself took to his Instagram to express his delight at the honour.
After the game, Ighalo took to Instagram to celebrate his successes that week.
"A gate in granada Stadium was name after me, I signed a new 5 years contract with Watford FC And score My 2nd EPL goal today," he wrote.
"A Perfect week for me and who say God don't exist? I vow to give him Back all The Glory ," the striker wrote on Instagram.
Watch this Jude Ighlao video, below:
JOIN OUR PULSE COMMUNITY!
Recommended articles
Pele celebrates 81st birthday as tributes roll in
Milan beat nine-man Bologna to go top of Serie A
Milan beat nine-man Bologna to move top of Serie A
Dennis goes 'PoP!' To inspire Watford to Ranieri's first win.
Iwobi could not save Everton from late capitulation.
Match Preview: Enyimba vs Diambars FC
Ghana vs Nigeria: It is time for Oshoala to break her goal drought.
Top 5 Super Eagles players with five-star performance in Europe on Thursday
Slick Man City blow away Brighton