Chelsea manager denies calling Eva Carneiro 'daughter of a whore'
Jose Mourinho has denied allegations that he called Eva Carneiro 'daughter of a whore' during Chelsea 2-2 draw with Swansea in August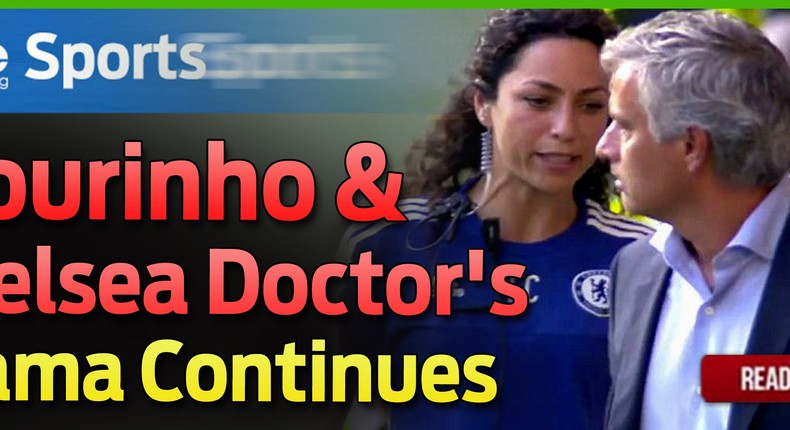 Mourinho fumed at Carneiro and another Chelsea doctor for going on to the pitch to attend to Eden Hazard without knowing the extent of his injury in Chelsea 2-2 draw with Swansea in August.
In a  footage released by Sky Sports,  Mourinho can be heard saying 'son of a bitch' in Portuguese as Carneiro and Fearn walked back to the bench.
After the incident, Carneiro according to reports had her role in the club change and will no longer be working during Chelsea's games.
The Chelsea manager was later accused of saying  'filha da puta' to Carneiro but he has denied it saying he said  'filho da puta' -which mean 'son of a bitch'-instead.
The complainant provided video footage and with the help of a a 'native Portuguese speaker' who alleged that Mourinho has directed the feminine version of the insult at Gibraltar-born Carneiro.
According to Daily Mail, the complainant has called for the FA to investigate what it regards as a clear breach of FA regulations.
Under the FA rule E3, players and coaches can be punished for using 'offensive, insulting or abusive language and/or gestures'.
An aggravated breach, in this case possibly with reference to gender, a five-match ban is the minimum sanction.
"We understand that the manager allegedly calls Eva 'Filha da Puta' at pitchside,'"says the complaint.
"The abuse is allegedly directed to her because 'Filha' is feminine and singular in Portuguese and to be directed at a man or at a group of people would have to be 'Filho' or 'Filhos'.
"Additonally it could be considered that the offensive comment was aimed at the club doctor specifically as she speaks Portuguese. By all accounts, the equivalent to this expression in English would be 'son of a bitch' in the masculine, but 'daughter of a whore' in the feminine.
"We have been advised by a native Portuguese speaker that when directed to a man, it is usually taken to mean that he is a person without scruples.
"However, in Portugal a woman would take this as being compared to a prostitute or being the daughter of one. Therefore it is considered an extremely offensive insult to be directed to a woman."
Watch the video of the incident, below:
JOIN OUR PULSE COMMUNITY!
Recommended articles
Partey ends goal drought as Arsenal beat Villa
Saint-Etienne salvage precious point after angry fans delay kick off
Arteta salutes Smith Rowe for lifestyle chance
Salah tells Liverpool he wants to stay but it 'doesn't depend on me'
Hats off to Qatar: fifth World Cup stadium opens
Evra says he was sexually abused as a teenager
Jones takes charge of Newcastle games during new manager search
1xBet becomes a regional partner of Lyon
Guardiola shows sympathy for ex-Newcastle boss Bruce after abuse