Chelsea star welcomes twins
The Chelsea midfielder shared a photo of himself holding the twins on his Instagram page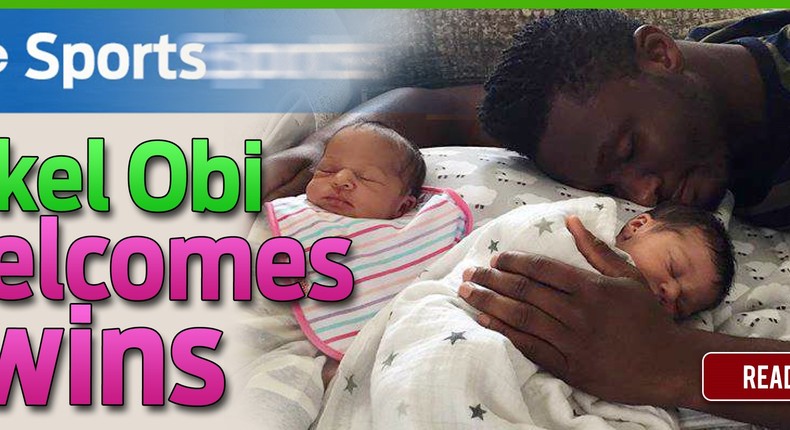 It seems John Obi Mikel has just announced that he has welcomed a set of twins.
The Chelsea midfielder shared a photo of himself holding a cute set of twins with the captain, "My whole world in my arms Welcome to the world my angels."
Details like the gender of the twins or the mother have not been revealed.
It is expected that his Russian girlfriend, Olga Diyachenko is the mother of the kids, though it was never revealed that she was pregnant.
Olga Diyachenko and Mikel started dating in 2013 after reportedly meeting him in London where her millionaire father runs a chain of businesses.
She is also reportedly related to Chelsea's Russian billionaire owner, Roman Abramovich.
According to the UK Sun, the Chelsea midfielder has a four-year-old son and a one-year-old daughter with two women he briefly dated.
Mikel, the report revealed, is very much involved in the lives of his son and daughter, splashing the whooping sum of N153m (£500,000) for a house in 2013 for the mother of his boy child
"John also agreed to give her tens of thousands a year in upkeep and, I think, agreed to give her a new car every three to five years," a source told the UK Sun.
"John has provided for her and the girl. She seems to have come into money since having the baby and is keeping a low profile," a friend of Mikel's daughter's mum also said.
The identity of the women have not been revealed but Mikel reportedly met the mother of his one-year-old daughter at a London nightclub in 2013.
His reps did not deny the reports instead telling the UK Sun that the midfielder is taking care of his kids and would want the issue to remain private.
"This is an entirely private matter," a spokesperson for Mikel said.
"John provides for and cares for his children and will continue to do so. He asks that their privacy is respected."
Watch this video of Mikel, below:
More from category
What not going to Qatar 2022 meant for Nigeria?

Super Eagles stars, Oshoala, others celebrate Orlando Pirates star Olisa Ndah on 25th birthday

BETTING TIPS: La Lia betting tips and odds for this weekend