Meet the Nigerian artist who dazzles us with his incredibly realistic 3D drawings
In an exclusive interview with the Pulse team, let' get to know a bit more of this fascinating artist, Ayo Filade.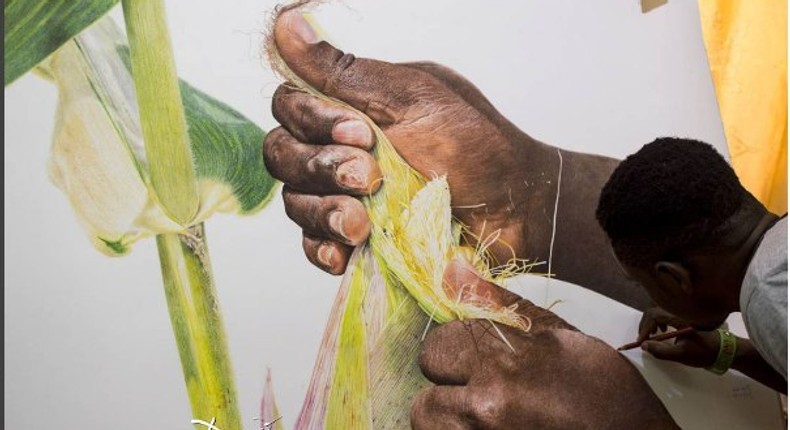 26-year-old, Ayo Filade, is an incredibly talented artist who keeps dazzling us with his hyper-realistic 3D drawings.
Filade refers to his style as a mixture of the art movements and he uses only pencil to create  this hyper-realistic drawings that look almost too real and alive than not.
In an exclusive interview with the Pulse team, Filade tells the team that his major challenge is thinking of how much I have to draw as an artist.
How did you start as an artist?
I remember I started holding on to a pencil and drawing right from a tender age. My father was an artist and I grew up learning several skills as I grew up.
What sort of work do you represent and what themes do you pursue?
I pursue themes that explore the state of mind, human interactions, and many themes which try to bring to life the deep ideas that are surreal. My aim is to make the viewer see them as though they were right in front of them. I call it Surrealistic Hyper-realism.
What does art mean to you?
Art means life to me. I have always felt the need to bring my imaginations to life. There has always been a void within me which I thank God I was able to fill with my works.
What/who inspires you as an artist?
I have been inspired by many things, nature, life, events, and culture.
What's your goal as an artist?
My goal is to explore the unexplored and to share as many ideas as I physically can through my artworks in my lifetime.
What big plans do you have as an artist?
I plan to hold several exhibitions  Also I want to be able to show other upcoming artists that there is no limit to what you can create, no matter the medium. You just have to put mind to task.
What challenges are you constantly faced with?
Short supply of materials. But then again, that is really not much of an excuse. Materials are everywhere.
What do you think about art in Nigeria?
I think we have beautifully talented artists that create great artworks. Sad that most of them and their works will probably go undiscovered.
What inspires each artwork? How do you decide what next to create?
There are always several ideas at any given time. However I create with demand, meaning how inclined I am to the theme.
Does the Nigerian economy support a creative like you/ is it a lucrative business?
It is a lucrative business when you are discovered. To blame the economy will be a waste of time in this digital age.
How do you source for materials used
Most of my materials come from online stores across the world (UK, US, China, Italy etc). It is a worthy investment.
How affordable are your finished artworks?
They are quite affordable for the right audience.
Have you shown your works/exhibition anywhere?
Yes, I have many years ago but I recently exhibited at Omenka Gallery, Ikoyi, Lagos with several other artists as part of the Insanity Exhibition (Sponsored by FROT Foundation).
Challenges faced as an artist?
I cannot list them all! The major challenge I face is usually thinking of how much I have to draw! But I chose this, so I have to do the work. I always say "there are no valid excuses for not doing the work you are made to do"
Where do you see yourself five years from now?
I see myself as a happy artist and an established Godly man.
JOIN OUR PULSE COMMUNITY!
Recommended articles
How music can transform a bland s*xual experience into an enjoyable one
Original name of Africa and how it got its current name
3 mistakes to avoid when cooking fried rice
How unmarried people in Nigeria will be affected by fuel subsidy removal
Inauguration fashion: 5 highlights from across Nigeria
Fancy Acholonu Nigerian-American model & entrepreneur launches new fragrance line, Simply Fancy
3 reasons you need to start wearing lingerie
9 foods that make your child smart
3 overnight tricks to flatten your bloated stomach
Who wore it better? Nengi Hampson's recreation, or the original outfit on Didi Stone?
Top 5 Nigerian chefs with the best Instagram content
itel celebrates Children's Day 2023 with over 1,000 children In Abuja