The elders in the Opuedebubor Community of Delta State, were left to ponder on the fate of a man, Yerin, alleged to have defiled 13-year-old
An IG caption by Instablog9ja on Thursday, May 10, 2018, expressed that the father was caught pants down in the act of having sex with his child.
He was reportedly paraded around the community while its leaders thought of ways to correct the behaviour.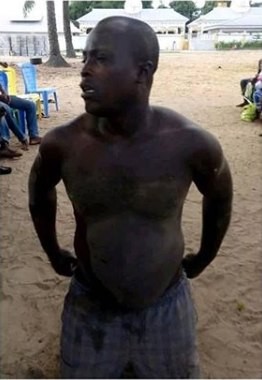 Yerin's bare chest hindered with sand and dirt offered proof of this.
For the accused who was captured on his knees, it appeared the end having expressed a look similar to guilt and regret.
Dad gives daughter to pals as gift, but joins them to rape her
An Indian dad has reportedly offered his daughter to his friends as gift but joins them in taking turns to rape her.
This is according to a report by The Sun UK, which stated that the sexual assault lasted for a period of 18 hours.
ALSO READ: Teen raped by Imam offered to him in marriage
The father, who is in his 50s had introduced the lady, 35 years old, to a pal in Kamlapur while attending a fair.
She was successfully convinced to embark on a trip with the duo to the residence of one other company in the Indian city of Lucklow.
At this location, the trio reportedly took turns to rape the victim who soon managed to escape to her mother's house.
The dad who was earlier arrested in February 2018, was granted bail, confirms police rep, Sureshrao Kulkarni.