NBA
D'Tigers star Chimezie Metu lights the beam for Sacramento Kings after victory against San Antonio Spurs.
Metu lights the beam for Sacramento Kings after they defeated the Spurs for their fifth straight victory.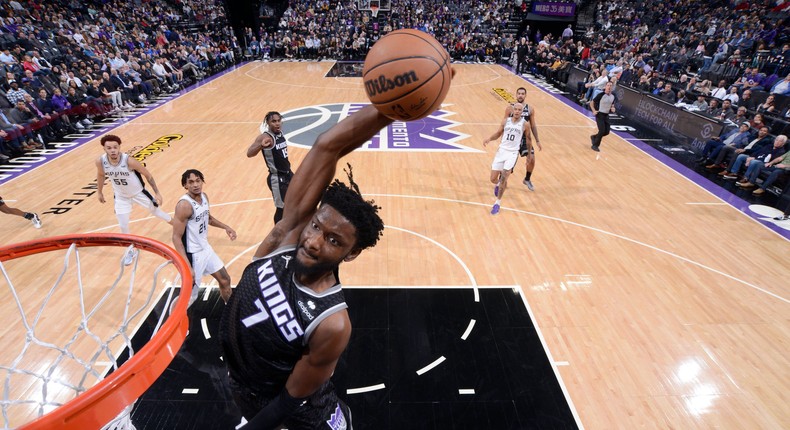 Metu lights the beam for Sacramento after they defeated the Spurs for their fifth straight victory.
The Sacramento Kings recorded a 130-112 victory against the SDan Antonio Spurs in a Western Conference NBA fixture played in the early hours of Friday, November 18, 2022.
The Kings led by Nigeria's senior basketball team head coach Mike Brown dominated their opponents from start to finish.
The Kings took the first quarter 37-28 and although the Spurs bounced back to take the second quarter 28-26 it was the home team that would go the halftime break with a seven-point lead.
The third quarter was tied at 26-26 while the Kings produced a dominant run to take the fourth quarter 41-30 to end the game.
Leading the Kings again was point guard DeAaron Fox with 28 points and eight assists.
Malik Monk added 26 points, while Domontas Sabonis and Harrison Barnes contributed 16 points and eight rebounds each.
Sacramento Kings winning streak
The Sacramento Kings are described as perennial underachievers in the NBA as they have failed to make the playoffs since 2006.
There has been a cultural reset in Sacramento after luring Mike Brown from the Golden State Warriors to be their new head coach.
The Kings started off slow but have since developed the right chemistry in their starting lineup. There is consistency as they have now won five games in a row.
They have won eight of their last 10 games becoming setting a record for scoring 120+ points in five straight games for the first time since the 1969-70 season.
Chimezie Metu lights beam for Sacramento Kings
D'Tigers star Chimezie Metu came off the bench and featured for 14 minutes. He contributed 10 points three rebounds an assist and a steal.
He made all four shots he took with a 100% field goal percentage and continues to establish himself as an integral player on the team.
Following the victory, Metu was interviewed by the broadcast team and afterward charged with the responsibility of lighting the beam.
The Sacramento Kings light the beam after every victory and this time Metu took on the responsibility to do so.
Metu and the Sacramento Kings return to action when they welcome the Detroit Pistons in their next fixture scheduled for Sunday, November 20, 2022.
More from category
Messi, Argentina celebrate World Cup victory with 1-minute silence for Mbappe [Video]

VIDEO: Watch emotional tribute to Fernando Santos as Portugal confirm exit

NBA: 'Port Harcourt Boys' - Burna Boy teams up with Precious Achiuwa in Orlando [Photos]