Why Arsenal signed Nwankwo Kanu at a Car Park not Highbury
Find out why Kanu's signing for Arsenal was low-profile.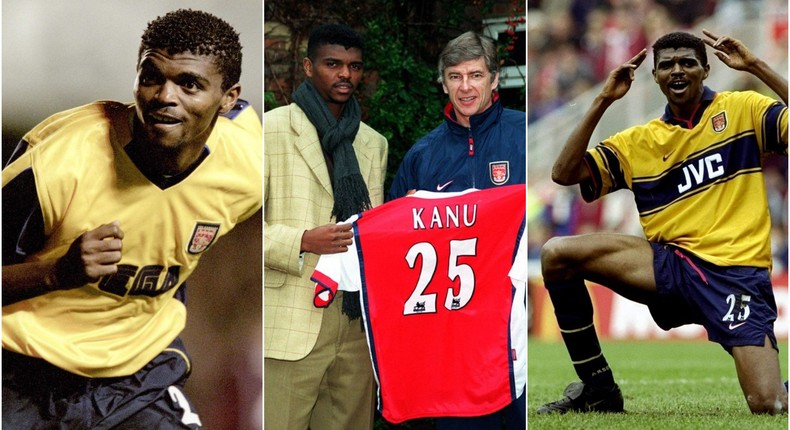 Nigerian football legend Nwankwo Kanu made a name for himself at Arsenal.
The former Super Eagles captain joined the Gunners from Italian Serie A giants Inter Milan back in 1999.
He spent five years with Arsenal where he was a fan favorite before departing for West Bromwich Albion.
In a recent video, Kanu has explained why his signing for the Gunners was low profile.
Already an established player as part of the Ajax team that won the UEFA Champions League in 1995, Kanu did not join the club the way most signings are introduced.
Big names such as Dennis Bergkamp and Patrick Viera were presented at a press conference and later at Highbury.
In Kanu's case, he was signed in a car park with the picture now iconic.
Explaining how he joined Arsenal, Kanu said, "When I was playing for Inter Milan about five big clubs came over.
"I wanted to make a move then. I had a call from Arsene telling me that he wants me to come and play for Arsenal. I was like okay that's good.
"I know truly he wanted me it was much easy for me to make my decision.
"Because of my heart issues, there was doubt here and there."
Former Arsenal boss Arsene Wenger also detailed the consideration before signing Kanu.
He said, "Kanu was a gamble, but I have known him for a long time and I was after Kanu for over a year."
Kanu's signing was low profile compared to most players at the time. He did not have a home when he arrived and was staying at Sopwell house.
The hotel which is about two miles from the training ground where Kanu was staying.
Wearing a scarf and jacket, Kanu's signing took place at the car park and not at Highbury without a press conference.
Kanu explained in the video how the signing at the hotel's car park all went down.
He added, "My signing was not a secret, the media have already put it out that Arsenal is about signing a player from Inter Milan.
"I came with my manager and agent, we went to the hotel, met the players and chatted with them, they welcomed me and were happy to see me and everybody was in the same direction.
The Nigerian went on to have a successful career with the Gunners with over 30 goals in five seasons.
With the Gunners, he went on to win the Premier League and FA Cup twice and is considered a cult hero by the fans.
Topics:
More from category
Giannis Antetokounmpo teams up with Marcus Rashford at premiere of biopic Rise

'Cruel and Sad' - US Women's star 'tearfully' condemns ruling against Abortion

Mixed reactions trail Nottingham Forest's all time record-signing
Recommended articles
Youngster who rejected Nigeria is about to reject Manchester United for Crystal Palace
VIDEO: Top 5 Premier League goals scored by Nigerian players (Part 3)
VIDEO: Top 5 Premier League goals scored by Nigerian players (Part 2)
Rivers United become Nigerian league champions as Plateau United served Uyo heartbreak
Troost-Ekong picks Enyeama, battles with Messi and Ronaldo in ultimate 5-a-side team
Super Eagles stars prepare for Qatar despite missing out on World Cup ticket