Revealed: Eminem rejected a $9 million offer to perform at 2022 FIFA World Cup
Afrobeats superstar Davido was among the line-up of performers at the 2022 FIFA World Cup Closing Ceremony.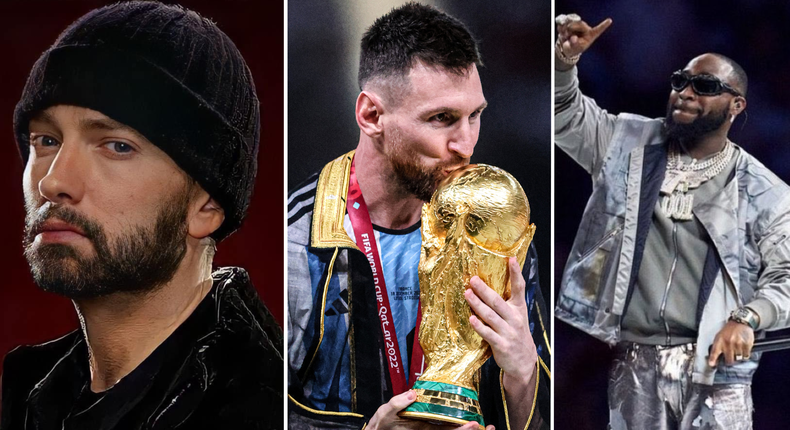 The last edition, which was hosted by Qatar, surpassed expectations despite its timing in the year. Argentina eventually dethroned France as world champions after the latter lost 4-2 on penalties following a 3-3 draw and 120 minutes of action.
Last year's showpiece event featured some of the most colorful opening and closing ceremonies ever in the history of the tournament.
Renowned music artists like Davido, Aisha, Ozuna, Gims, Nora Fathi, Balqees, Rahma Riad, and Manal wowed spectators with their thrilling performances and were applauded by football fans from all over the globe.
However, the aforementioned musicians were not the only stars the 2022 FIFA World Cup Qatar organizers had approached.
Rap legend Marshall Bruce Mathers III popularly known as Eminem was one of the many musicians who was offered a chance to be a part of history.
However, it was recently revealed that the 50-year-old Missouri-born rapper declined an attractive proposal to perform at the 2022 FIFA World Cup.
The revelation was made by another hip hop icon and mogul 50 cent, who is a close associate of Eminem.
The G-Unit boss appeared on Big Boy's Neighborhood to launch the new edition of his hit TV show 'BMF'.
50 cent revealed that he and Eminem received a $9 million offer to appear at Qatar's 2022 FIFA World Cup, saying that if Eminem had accepted, he would have kept the remaining $1 million for himself.
In addition, 50 Cent said that if someone wished to provide a "one-off" performance, they should go to the "largest live sporting event in the world."
When the offer came in, 50 contacted Paul Rosenberg, manager of Eminem, to negotiate it but it was ultimately turned down.
AFP
At the moment, it is still unknown if Eminem was informed of the offer personally or why the offer was eventually declined.
However, this is reportedly not the first time Eminem has turned down lucrative offers worth millions during his illustruous rap career.
'Em', as he's fondly called, would have no doubt given the fans globally an exceptional performance as music and sports once again collaborate to provide the ultimate entertainment experience.
Who performed at the 2022 FIFA World Cup Closing Ceremony?
AFP
Argentina won the tournament, capping off a thrilling 2022 FIFA World Cup.
However, before the Final kicked off on December 18, a group of artists took centre stage for the closing ceremony at the Lusail Iconic Stadium in Qatar.
The biggest lure was the multi-award winning Nigerian music star Davido, who made his comeback to the public scene following the tragic passing of his son Ifeanyi.
AFP
Davido produced a quite remarkable performance, singing his popular World Cup song, "Hayya Hayya," alongside Aisha, while dawning a shimmering silver outfit that got fans salivating on social media.
Moroccan singer Manal's performance was also appreciated by the fans following the incredible performance of the Atlas Lions throughout the competition.
Lusail Stadium also saw a host of other performances from renowned artists light up the stadium including two-time Latin Grammy honoree Ozuna, who led a spirited dance group while wearing matching bright yellow attire.
More from category
Hakimi teams up with Rema at Joy Awards

Super Eagles stars, Oshoala, others celebrate Orlando Pirates star Olisa Ndah on 25th birthday

SUPER EAGLES: Odion Ighalo shows off style with new pictures