FINALISSIMA
'Una wan tear Messi shirt?' - Messi, Di Maria shine as Argentina beat Italy in clash of champions
Di Maria recreates Olympic goal against Nigeria, see reactions as Chiellini, Bonucci and Italy defenders embarrass themselves trying to steal Messi's shirt.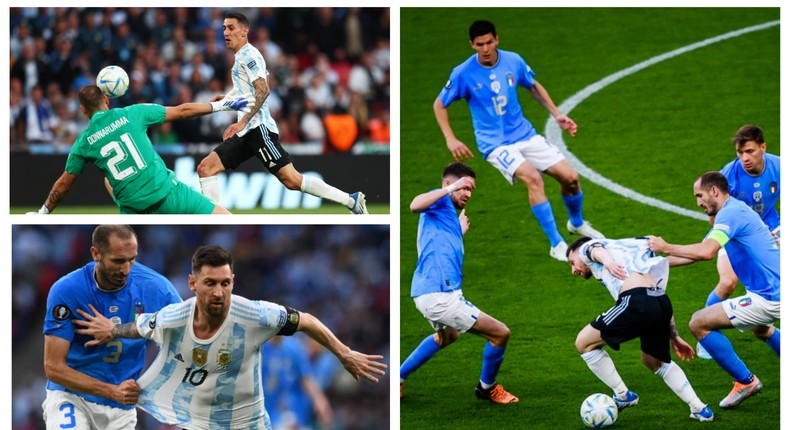 Argentina defeated Italy 3-0 to win the clash of champions (FINALISSIMA) on Wednesday, June 1, 2022.
Argentina are the reigning South American champions while Italy are the reigning European champions.
Two of the prestigious football countries met in a final with a trophy at stake for the winner.
FINALISSIMA
Argentina went in front as early as the 28th minute when Inter Milan forward Lautaro Martinez converted a ball through to him by Paris Saint-Germain star Lionel Messi.
In the 45th minute, Angel Di Maria chipped the goalkeeper from a ball by Martinez to put Argentina two goals up at the halftime break.
The second half did not have clear cut chances as Argentina held on to their lead.
Pulse Nigeria
Messi's shirt
Messi again was the catalyst for Argentina to win the game, although the former Barcelona man was not on the scoresheet he was pivotal in carving out Italy's defense.
Messi's tenacity and willingness to drop deep meant he received strict attention from both Italy's midfield and defense.
Over the course of the game, Italian players on several occasions were trying to stop Messi by holding on to his shirt attempting to slow him down.
The pictures of several Italian defenders such as Giorgio Chiellini, Leonardo Bonucci pulling Messi's shirt went viral.
Pulse Nigeria
Pulse Nigeria
Pulse Nigeria
Pulse Nigeria
Pulse Nigeria
Pulse Nigeria
Pulse Nigeria
More from category
Hakimi teams up with Rema at Joy Awards

Super Eagles stars, Oshoala, others celebrate Orlando Pirates star Olisa Ndah on 25th birthday

SUPER EAGLES: Odion Ighalo shows off style with new pictures