'Its Over!!' - Fans troll Conor McGregor for liking erotic video of man on Twitter
The popular UFC superstar has received backlash from fans following his recent activity on the popular social networking site.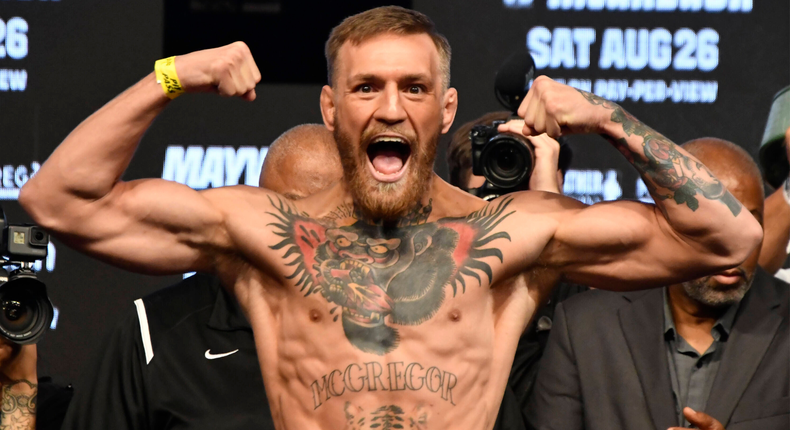 Conor McGregor is certainly one of the most controversial athletes on social media.
The famous UFC superstar has a habit of posting wild and controversial content on his social media pages.
However, the Irish superstar has once again caught the attention of fans over his recent activity on the popular social media website.
McGregor (34) who is the most-followed MMA fighter on social media has often been found guilty of either posting or bringing adult content to the social media feed of his followers.
Earlier today, the fighter was reportedly found out after liking an erotic video on Twitter, triggering widespread reactions from fans as they took turns in trolling the Irish fighter.
Twitter, unlike other social media platforms, has the page "likes" activity option visible to the public, meaning every liked tweets of a public account are visible to users.
 Fans had noticed that McGregor's recent history showed the fighter had liked a video of a man pleasuring himself.
Although he quickly un-liked the video, the deed had already been done as fans in turn quickly made snapshots of his activity.
Fans react to Conor McGregor's recent controversial Twitter activity
AFP
Following McGregor's recent activity, here's how a section fans have reacted on social media:
Conor McGregor UFC Career Timeline
AFP
The 34-year-old Irishman is a former Ultimate Fighting Championship (UFC) featherweight and lightweight double-champion.
He is also the first UFC fighter to hold UFC championships in two weight classes simultaneously. He is a former Cage Warriors featherweight and lightweight champion.
Although he was defeated by boxing legend Floyd Mayweather Jnr in his debut professional boxing match, he remains the biggest pay-per-view (PPV) draw in MMA history, having headlined the five highest-selling UFC pay-per-view events.
His boxing match with Mayweather drew 4.3 million PPV buys in North America, the second most in combat sports history.
AFP
His bout with UFC icon Khabib Nurmagomedov at UFC 229 drew 2.4 million PPV buys, the most ever for an MMA event.
After the conclusion of UFC 223 on 7 April, McGregor was stripped of the UFC Lightweight Championship due to inactivity and Khabib Nurmagomedov was crowned the undisputed champion after defeating Al Iaquinta at the event.
In March 2019, McGregor announced his retirement on social media but returned the following year to face Donald Cerrone in a welterweight bout in January 2020 at UFC 246.
McGregor became the first UFC fighter to hold knockout finishes in the featherweight, lightweight, and welterweight divisions after winning the fight via technical knockout 40 seconds into the first round.
Later in June that year, he announced he was retiring again but returned the following year to face former UFC Lightweight Championship challenger Dustin Poirier in a rematch of their 2014 bout at UFC 257 .
However, he lost the fight via technical knockout in the second round, marking the first knockout loss in his career.
AFP
McGregor faced Dustin Poirier for a third time in July 2021 at UFC 264 but lost the fight via technical knockout in round one after the ringside doctor stopped the bout.
McGregor had a broken tibia, which rendered him unable to continue and is yet to return to the Octagon till this day.
In 2021, McGregor was ranked as the world's highest-paid athlete by Forbes , earning a reported $180 million.
He also featured in the list in 2018, when he was ranked fourth, with a reported income of $99 million.
More from category
Hakimi teams up with Rema at Joy Awards

Super Eagles stars, Oshoala, others celebrate Orlando Pirates star Olisa Ndah on 25th birthday

SUPER EAGLES: Odion Ighalo shows off style with new pictures