WHAT'S BUZZIN
Guardiola insists Manchester City will not celebrate Real Madrid's La Liga triumph
Manchester City boss Pep Guardiola has stated that his side will not give Real Madrid a guard of honor when both sides meet in a second leg UEFA Champions League semi final fixture scheduled for Wednesday, May 4, 2022.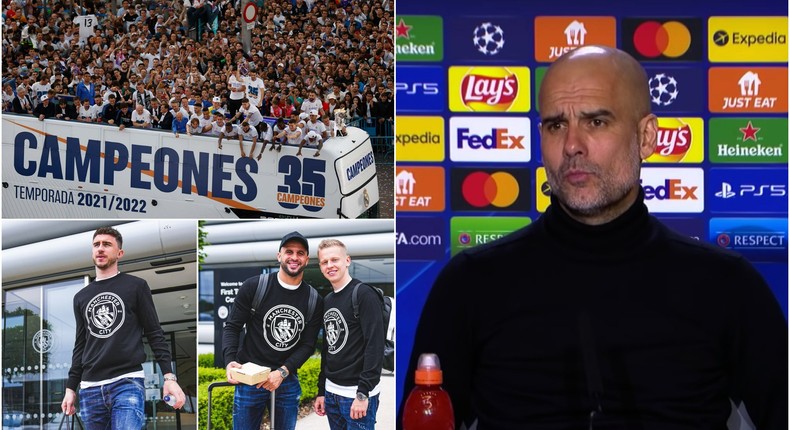 Real Madrid defeated Espanyol 4-0 at the weekend to be crowned 2021/22 La Liga champions.
Manchester City recorded a 4-3 victory at the Etihad against Real Madrid as both sides face off again at the Santiago Bernabéu Stadium.
At the pre-match press conference, Guardiola gave his thoughts on Real Madrid's triumph as champions of Spain.
A reporter from Spain then went on to ask Guardiola, a former player and manager if his Manchester City team would celebrate Real Madrid's triumph with a guard of honor.
Guardiola responded that his team will not give Ancelloti's team a guard of honor before a crucial champions league fixture.
The guard of honor is a tradition in England reserved for the winners of the league.
As the champions make their way to the pitch players from the opposing team create two parallel lines while clapping.
Guardiola on Guard of Honor
When asked about the guard of honor, Guardiola responded, "What? No, I don't have an opinion on that. I'm not concerned with La Liga. This is a match in the Champions League."
Pulse Nigeria
"Us? That's a question for UEFA. I understand you asked me something about La Liga, about Real Madrid becoming champions.
"As spokesman for the club, which is what I am, we congratulate them. But this is the Champions [League]."
Atletico Madrid have confirmed that they will not give their city rivals Real Madrid a guard of honor when both sides meet in a La Liga fixture scheduled to take place this weekend.
Recommended articles
Despite home debut heroics, Forest transfer spree means Awoniyi can never relax
'He hasn't achieved anything'- Mikel's former agent cautions Osimhen
Gameweek 3: Best captain options for your Fantasy team this weekend
Alhassan Yusuf talks about life at Antwerp, praised by ex-Tottenham star
Meet Nottingham Forest's 'sugar daddy' who has spent over £150m on Awoniyi, Dennis and other signings
John Shittu Exclusive: Renowned football agent speaks on Nigerian talents, relationship with Mikel and move to Chelsea