Total Drama AFCON Series: Best highlights of the opening rounds
This series curates the most interesting and dramatic moments from the AFCON tournament in Cameroon.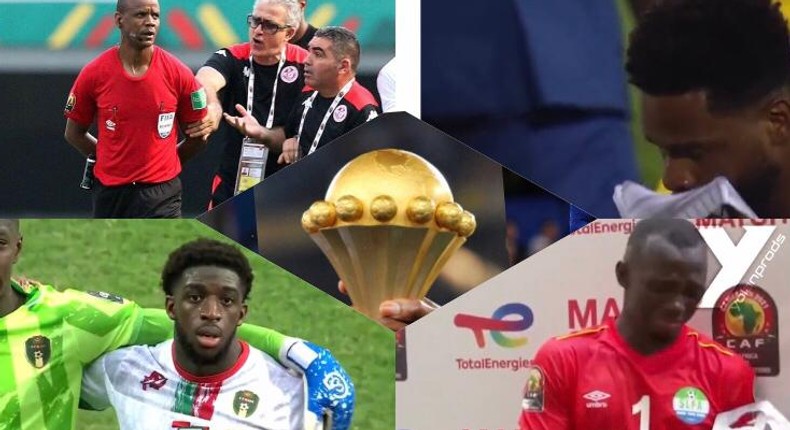 Like every other tournament, the 2021 CAF Africa Cup Of Nations produced some interesting moments in it's opening week.
From brutal tackles to non-chalant studs showing left and right to ridiculous refereeing as well as VAR madness- it was truly a series worth waiting for as every moment heats up for intense suspense and possible upsets.
Here are the best highlights from the Total Drama AFCON Series - you can't just write scripts like these :
Week One - Episode 1: Senegal vs Zimbabwe
All was well in the opening fixture in Group B between Senegal and Zimbabwe until the 11 second highlight between Senegal's Bouna Sarr and Zimbabwe's center back, Gerald Takwara.
The two initially went down in a tackle that took them both out of play, fortunately for us, Senegal's Bouna Sarr was only looking for content on the day as his retaliated nod to the back of Zimbabwe's Takwara was deemed as cheap joke afterall, going from his facial expression after the intentional act.
Poor acting really is all we can call this - Might need a lesson or two from Idris Elba maybe.
Episode Title : Cheap Thrills
Week One - Episode 2: Tunisia vs Mali
The continent nearly erupted after a match officiating madness just over 3 minutes before standard stoppage time of the Group F opener between Mali and Tunisia.
You would be the biggest joker if you thought the drama ended there because more drama followed when referee Janny Sikazwe restarted the match at the 87th minute and handed a red card to a Malian player.
That's not all, it got more interesting when the Tunisian post-match press conference was interrupted by CAF officials who instructed the Tunisians return to play the final minutes.
More drama ensued as the Tunisian players refused to return to the pitch, they probably decided the jokes was enough especially following a VAR controversy that saw the Tunisians get awarded a penalty which they ultimately lost prior to the genesis of the stoppage time blunder.
As much as it provided a comic relief, World War Z nearly broke out in Cameroon which more or less describes the whole scenario.
Episode Title: World War Z
Week One - Episode 3: Algeria vs Sierra Leone
Sierra Leone pulled off one of the biggest upsets in the opening week of the AFCON , holding defending Champions Algeria to a 0-0 draw courtesy of incredible heroics by Mohamed Kamara.
The Sierra Leone goalkeeper was incredible on the day repelling every attack Les Fennecs threw at them and it earned him a much deserved man of the match after making an impressive 7 saves.
Not bad to begin their first AFCON tournament since 1996.
Episode Title : Kamara- No way Goal
Week One - Episode 4 : Morocco vs Ghana
The Black Stars of Ghana lost their opening group C game to high-flying Morocco 1-0.
Amongst the many thrills and moments, one of the most popular highlight was when Morocco's Sofiane Boufal deftly lifted the ball away from Ghana's Abdul Fatawu Issahaku who had just come into the game in the 86th minute.
Ghana's Fatawu felt he was disrespected and ensured Boufal got punished when he bamboozled the Moroccan seconds after the humiliation.
It's obvious Fatawu was hurt and who wouldn't be really?.......but violence is never the answer neither can it change the fact that he had just been done dirty there.
Episode Title: Mad Fatawu Fury
Week One - Episode 5 : Gabon vs Ghana
Ghana were looking to finally pick up a win in their second Group C game against Gabon and took the lead courtesy of Captain Andre Ayew's brilliant individual effort.
However, the Black stars were ultimately denied a win in the 88th minute when Jim Allevinah levelled matters for the Gabonese side.
It wasn't until when the full time whistle was blown and to the disappointment of the Black stars, they dropped crucial points one again.
Frustration and tempers flew in the air and an epic clash between players of the two teams evolved into a brawl.
Although the spotlight whether wanted or unwanted, was stolen by Ghana's Benjamin Tetteh who got really physical and was rightly booked for violent conduct even when he appeared to disappear down the tunnel.
But South African referee appears to have had a "photographic" memory as he remembered specifically the jersey Number 25 belonging to Tettey when the Ghanaian attacker refused to come out and receive his unwanted gift.
It must've been a tough decision for the producers naming this episode between "Afconers - Civil War" and "Ghana Has Fallen", but the full-time madness highlighted clearly which team, the result really affected.
Episode title : Ghana Has Fallen
Week One - Episode 6 : Mauritania vs Gambia
It was truly an awkward moment as the Mauritanian National team set an unwanted record in this January's edition of AFCON in Cameroon.
They became the only team in the opening group fixtures that were forced to sing their national anthem without music after the wrong anthem was played three times for them to sing to.
It's actually the way the announcer said ,"Ladies and Gentlemen, It is time for the National Anthem of....Mauritania" for us though.
Who could've thought such heartbreak would be dealt on even before they kicked the ball ?
It was an incredibly embarrassing moment both for CAF and the Mauritanian National team who must've been asking the heavens why...why exactly did it have to happen when it was their turn?
Episode title : Anthem Impossible
So there you have it guys , the best highlights from the Total AFCON Drama 2021 week one edition.
It remains to be seen what surprises the second round of fixtures will bless us with but rest assured, we'll update you on the best highlights from fresh episodes next weekend.
More from category
Olusanjo Olutayo appointed Sporting Lagos 1st-team coach

Super Falcons touch down in Morocco for 2022 WAFCON

Asisat Oshoala models new Barcelona away jersey for 2022/23 season [Photos/Video]
Recommended articles
Super Eagles star Odion Ighalo unlocks a new achievement in his 15-year-old career
Odion Ighalo scores 2 goals as Al-Hilal beat Al-Faisaly to win league title in Saudi Arabia [Photos/Video]
Legendary heavyweight set to return against current champion Francis Ngannou
Russell remains cautious ahead of British Grand Prix
'The divisions are not the same'- Former Heavyweight champion teases return to the ring
Israel Adesanya reveals key plan ahead of title defence against Jared Cannonier