Warriors star has the biggest deal in NBA history
Since his last contract, the 29-year-old has been a two-time NBA champion, two-time NBA MVP and four-time All-Star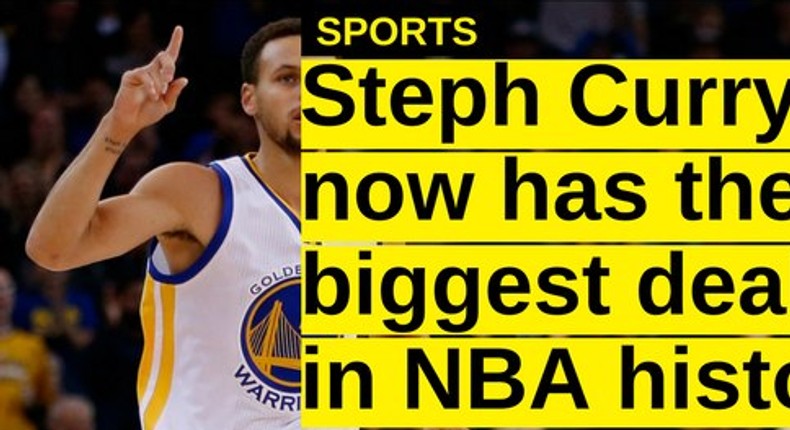 Curry who was the seventh overall pick in the 2009 NBA Draft earned $44m across four years – $12.1 million a year, the 85th highest deal in the NBA.
Since his last contract, the 29-year-old has been a two-time NBA champion, two-time NBA MVP and four-time All-Star.
His new status as one of the top players in the NBA has seen him being rewarded with a mega rise.
Curry's new deal with the Golden State Warriors is the biggest in NBA history surpassing the five-year £ $153 deal Mike Conley signed in 2016 with the Memphis Grizzlies.
After congratulating Curry, another NBA top gun LeBron James took to Twitter to state that his rival is still being unpaid.
James questioned the salary-cap rule of the NBA and said that Curry deserves more.
"So tell me again why there's a cap on how much a player should get?? Don't answer that. Steph should be getting 400M this summer 5yrs," the Cleveland Cavaliers star wrote.
More from category
Shapovalov, Tsitsipas face a tricky opening round clash as Halep headlines Women's action in the French Open

Cameroon's FAP and Angola's Petro de Luanda move on to semifinals

Udoka's Celtics beat down Heat to tie Eastern Conference Finals
Recommended articles
Shapovalov, Tsitsipas face a tricky opening round clash as Halep headlines Women's action in the French Open
Tunisia's US Monastir and Egypt's Zamalek advance to semifinals
Cameroon's FAP and Angola's Petro de Luanda move on to semifinals
Kurt Zouma and brother Yoan to appear in court today over cat-kicking footage
Udoka's Celtics beat down Heat to tie Eastern Conference Finals
FestivalofTT2022: How Nigerians dominated ITTF Africa Western Region Championships