Cavs flex muscles to bounce back in NBA Finals
Home court provided welcome relief for the Cleveland Cavaliers, who avoided a third consecutive defeat to the Golden State Warriors by triumphing 120-90.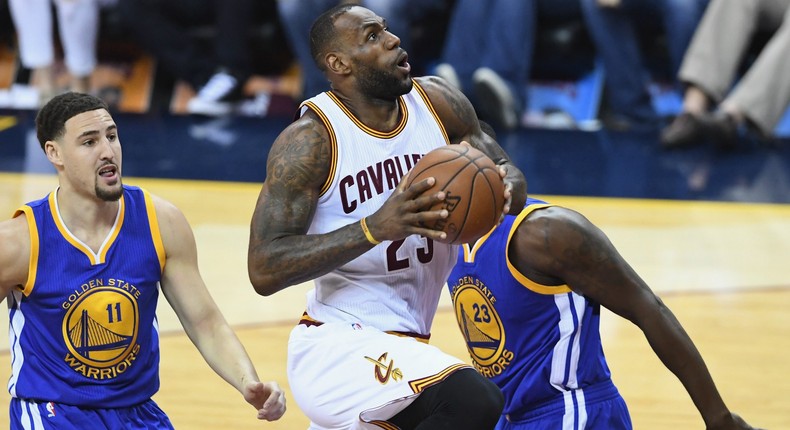 Home court provided welcome relief for the
The Cavs were torn apart by the Warriors in game two in Golden State last week, condemned to a 33-point defeat on Sunday, having lost the opener by 15 four days earlier, as the defending champions threatened to run away with the best-of-seven championship series.
But back in Cleveland for the first time on Wednesday, the Cavaliers gave the Warriors some of their own medicine, despite the absence of big man Kevin Love due to injury.
LeBron James (32 points, 11 rebounds), Kyrie Irving (30 points) and J.R. Smith (20 points) all erupted for the Cavs, as Stephen Curry (six-of-13 for 19 points) and Klay Thompson (four-of-13 for 10 points) struggled from the floor like they did in game one.
Curry, Thompson and the Warriors were spared by their bench players in the opener, but that was not the case in Cleveland, where the Cavs came out all guns blazing in front of a vocal home crowd.
Irving set the tone in an electrifying first quarter, posting 16 points, having managed just 10 in game two, with the Cavs leading 33-16 at the first change.
The Warriors regrouped somewhat, outscoring the Cavs 27-18 to close within eight points at half-time, but Curry's form was cause for concern with just two points, three turnovers and three fouls heading into the third period.
That is as good as it got for the Warriors, who saw the Cavs pile on 38 points in the third and another 31 in the fourth to kick-start their campaign ahead of Friday's game four.
More from category
FestivalofTT2022: How Nigerians dominated ITTF Africa Western Region Championships

Hennessy revitalises Festac Park 23 Basketball Court with "In The Paint" initiative

Zverev straight sets win, Muguruza to edge past Kanepi on day 1 of the French Open
Recommended articles
FestivalofTT2022: How Nigerians dominated ITTF Africa Western Region Championships
Hennessy revitalises Festac Park 23 Basketball Court with "In The Paint" initiative
Arsenal suffer a blow as Osimhen makes his transfer decision
Gucci unveil Man City flop Jack Grealish as Brand Ambassador
Top 5 transfer flops of the just concluded Premier League season
Top 5 successful transfers of the just concluded Premier League season