WNBA star Liz Cambage calls D'Tigress 'Monkeys' in friendly game [Video]
Liz Cambage's father is from Nigeria but called Nigeria's D'Tigress MONKEYS in friendly game.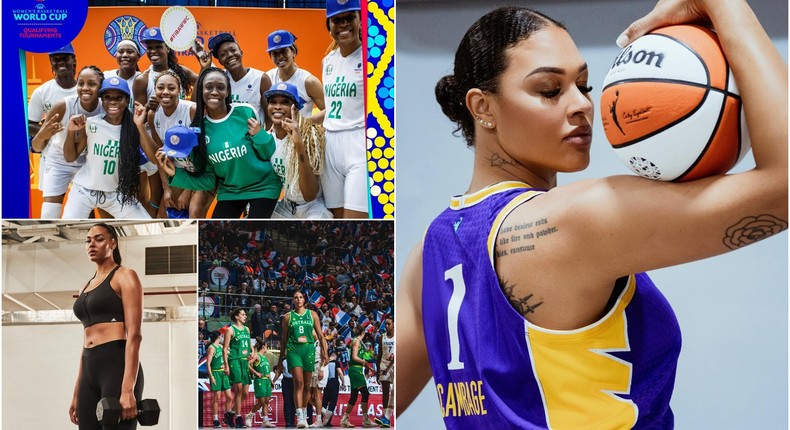 A viral video on social media has hinted that WNBA star Liz Cambage called members of D'Tigress monkeys.
The incident reportedly happened in Las Vegas, United States of America (USA) last year when Cambage was playing for Australia against D'Tigress.
According to several reports, a Nigerian player has come forward to reveal that Cambage used a racial slur in the scrimmage.
Los Angeles Sparks center Liz Cambage pushed back Sunday against a report from an Australian newspaper that she directeda racial slur toward the Nigerian women's basketball team during a pre-Olympic scrimmage last year in Las Vegas.
Cambage reacts to racist allegations
Cambage took to her official Instagram account to post a statement stating her version of what happened.
She said, "The incident that took place in the pre-Olympic scrimmage with the Nigerian national team was handled privately almost a year ago,
"I am very disappointed and hurt by the events and accusations that have unfolded in the Australian media. The account of what took place is inaccurate and misleading. I did not use the racial slur toward the Nigerian team that has been circulating.
"After I unintentionally fouled a Nigerian player on court, I was then physically assaulted by this player on the sideline of my bench. I was hit in the face and pushed to the ground, but I walked away.
"We did not have professional referees to manage and prioritize both teams' safety during this highly physical scrimmage.
"This is not an excuse of justification to the events that unfolded or my actions, however, I feel that a full picture of the environment that led to this outcome must be shared.
Pulse Nigeria
"I have taken responsibility and accountability for my involvement in what occurred. I genuinely apologized to the Nigerian team and I once again am sorry that these events are being rehashed.
"I truly hope that I can move forward from this incident and apply actionable effort to be my best self."
Nneka Ogwumike a player of Nigerian descent is teammates in the WNBA with Cambage,
Ogwumike's younger sister Erica was part of the D'Tigress team to the Olympics last year and featured in the friendly game against Australia.
Pulse Nigeria
In a video call, Ogwumike stated that Cambage had a discussion with her teammates and they have moved past the issue.
She said, "We're past it. Whatever agenda is happening with it resurfacing, that's other people's business.
"Quite frankly, we talked about it before she came to the team. And, granted, people have their own accounts of what happened. But we addressed it. We talked about how important it is for us to be together, be transparent, and also the power of giving people second chances."
Recommended articles
'No one can compete with him' - Guardiola heaps praise on Erling Haaland
Mikel says Mourinho changed his position at Chelsea because of ex-Real Madrid star
Bet9ja odds & Betting tips for English Championship today
Super Eagles forwards could get ex-Real Madrid & Liverpool boss as new coach
'I don't regret' ditching United for Chelsea, ex-Eagles captain Mikel says
Bet9ja odds & Betting tips for today's UEFA Champions League games