F1 champ celebrates with British singer, Sir Elton John
Lewis Hamilton said he was honoured after Sir Elton John joined him on the podium to celebrate his Formula One championship win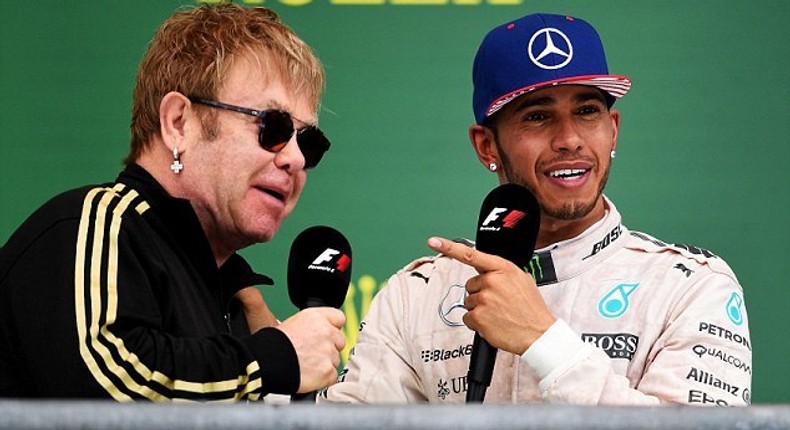 After bagging his third Formula One Championship, Lewis Hamilton celebrated with one of his idols, British singer, Sir Elton John.
After his win, Elton John join Hamilton on the podium to conduct an interview much to the surprise of the Formula one star.
"I can't believe you're here," Hamilton, told Sir Elton.
Sir Elton is in town for a concert which Hamilton revealed he was going to attend later.
The British star who drives for Mercedes has been told to  target Michael Schumacher's record of seven world titles.
With his third win, Hamilton is now at level with racing greats Sir Jackie Stewart and Ayrton Senna.
1992 Formula One champion Nigel Mansell has urged Hamilton to target Schumacher's record of seven titles.
"Lewis is hot favourite for the 2016 and even the 2017 championship," Mansell told BBC Radio 5 live.
"In the present day, no one can touch Lewis. He deserves every accolade. There will be jealousy that he is in the best team.
"It is the start of even bigger and better things to come. I would say [to Hamilton]: Focus on Michael Schumacher's record.
"There is no reason why he cannot win more back-to-back titles. Schumacher has the most reliable car in F1 history, he won three world championships on reliability alone."
Watch this Lewis Hamilton video, below:
More from category
Giannis Antetokounmpo records triple-double as Bucks outlast Raptors

Aruna Quadri to start 2023 with WTT Contender Durban

3 fight plan for Anthony Joshua to become 3-time heavyweight champion