Boxing legend was hero for Nelson Mandela
If proof of Muhammad Ali's ability to transcend sport was ever needed, his death has prompted memories that he was an inspiration to none other than Nelson Mandela.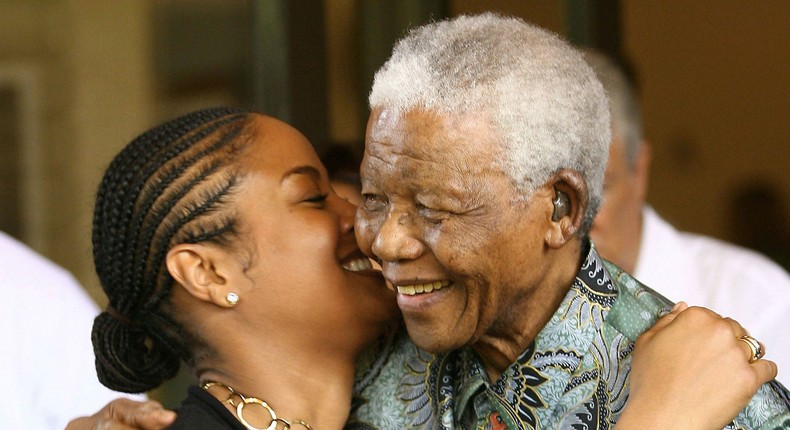 Boxing icon Ali passed away at the age of 74 on Friday after a three-decade-long battle with Parkinson's disease.
Tributes have poured in from around the globe as people pay respect to the three-time world heavyweight boxing champion, widely regarded as one of the finest sportsmen in history.
A noted sports fan, Mandela was quoted in 1990 saying his only regret in life was "that I never became the boxing heavyweight champion of the world".
When Mandela died in 2013, Ali hailed the former South African president's legacy, with both men doing so much in their lives to break down racial barriers in their home countries.
Ali said: "He inspired others to reach for what appeared to be impossible and moved them to break through the barriers that held them hostage mentally, physically, socially and economically."
And a statement from the Nelson Mandela Foundation released on Saturday read: "Ali was a legend, both as a sporting great and as a public figure willing to make sacrifices for his beliefs. He will be missed around the world.
"It was no accident that a photograph of the two men together was positioned right next to Madiba's desk in his office at the Nelson Mandela Foundation.
"Nor is it surprising that in Madiba's latter years his favourite book at the office was an autographed copy of the outsize Ali biography, 'Greatest of All Time'."
Foundation CEO Sello Hatang added: "Nelson Mandela, a boxing enthusiast most of his life, acknowledged Ali as his boxing hero.
"Madiba had great respect for his legacy and spoke with admiration of Ali's achievements."
More from category
Qatar 2022: Super Hwang strokes Korea into the round of 16

World Cup Day 13 Live Blog - Cameroon vs Brazil, Serbia vs Switzerland

Suarez hurts Ghana at the World Cup again as Uruguay beats Black Stars 2-0
Recommended articles
World Cup Day 13 Live Blog - Cameroon vs Brazil, Serbia vs Switzerland
Qatar 2022: Super Hwang strokes Korea into the round of 16
Suarez hurts Ghana at the World Cup again as Uruguay beats Black Stars 2-0
'Nigeria would have done better' - Reactions to Ayew penalty miss, Luis Suarez cries as Uruguay and Ghana knocked out
Ghana vs Uruguay live, South Korea vs Portugal live
Basketball: 4 Nigerians to join top WNBA stars & coaches at the 4th NBA Academy Women's Camp Africa in Dakar
WNBA stars and coaches to lead top African prospects at 4th NBA Women's Camp in Senegal
Move aside Ronaldo, Bruno Fernandes is Portugal's new star
Super Eagles forward named player of the month for November in Serie A club