UFC 276
Israel Adesanya defeats Jared Cannonier to retain title
'One of the easiest fights of Izzy - 'Undertaker inspired Adesanya beats down Cannonier to win 12th straight fight and retain title at UFC 276.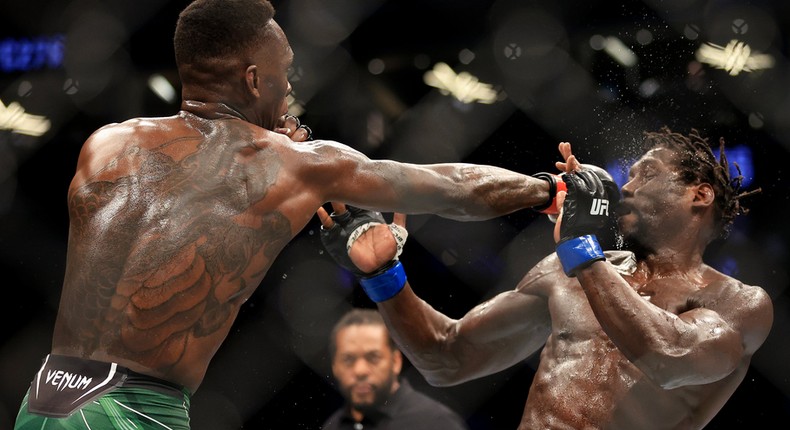 In the early hours of Sunday, July 3, 2022 Adesanya recorded a victory against Cannonier at Ultimate Fighting Championship (UFC) 276.
Adesanya the reigning UFC middleweight champion rose to the top of the trends for his walk out into the octagon.
Adesanya defeats Cannonier
The opening rounds were dominated by Adesanya as he walked down Cannonier on several occasions while staying center of the ring.
Pulse Nigeria
Adesanya retains title
Adesanya had a methodical approach to control the pace and break down Cannonier.
It started with kicks to the legs and body then punches top to the head to destabilize his opponent.
Cannonier's right eye as Adesanya showcased his blistering speed connecting with his right hand on several occasions.
Twitter
After five rounds the judges scored the fight 49-46, 49-46 and 50-45 for Adesanya.
Adesanya hailed Cannonier for taking him the distance and set sights on his next challenge.
He said, "I'll tell you one thing, they had an excellent game plan.
"It was really hard to get my follow ups going, my second phases going because they had a good game plan."
Recommended articles
Our success does not rely on Osimhen - Spalletti, Napoli at peace over injuries
Super Eagles star Victor Osimhen resumes training with Napoli
Maguire Again! England & Germany's comedy of errors ends in 6-goal thriller
Reactions as 'inevitable' Maguire steals headlines in England vs Germany 6-goal thriller
Super Eagles coordinator wants more home-based players, forgotten stars to combat injury crisis
Osimhen destroyed Van Dijk in just 45 minutes - Top Italian journalist hails Super Eagles star