Sunderland striker played and scored with a cracked rib against Bournemouth
Anichebe netted an equalizer for Sunderland as they went on to secure their first three points of the season.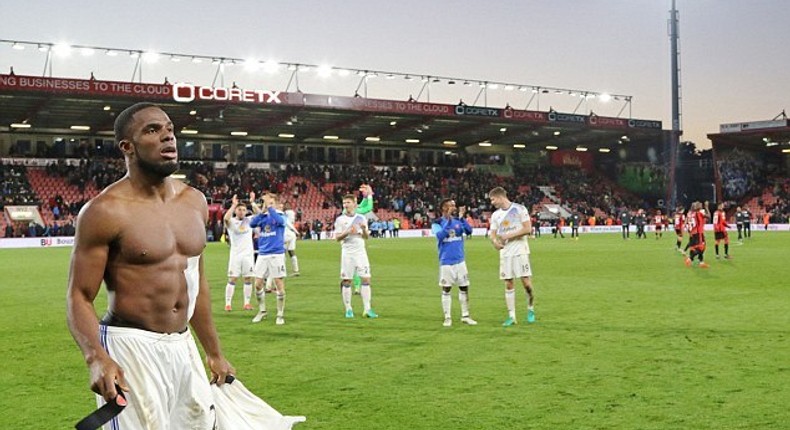 After the game, the striker was seen with a strapping across his midriff which he revealed was as a result of a cracked rib.
"In the first half I cracked my rib, I couldn't move properly," he told Sky Sports after the game.
"We did this for the manager, over the last few weeks we have not done him justice.
"For all the work the manager has done, this one was for him. He is the one who has been getting the blame, even though we are the ones on the pitch.
"You could see by the reaction at the final whistle. We have wanted this result for so long. It was a must-win game, even when we were down to 10 men, we didn't sulk we grinded it out."
The 28-year-old mistakenly posted a tweet along with an obvious instruction to share the message for Sunderland fans.
His Twitter post started with the message "Can you tweet something like,".
Anichebe responded to the gaffe by tweeting; '"Can you put something like!" What a result!!! Strong character from the team, and the fans were amazing!! #safc."
Sunderland next face Hull City on Saturday, November 19.
More from category
Benzema, Casillas model new Real Madrid home jersey for 2022/23 season

What Erik Ten Hag said about the future of 'ambitious giant' Ronaldo

RS Berkane shock TP Mazembe with 11-minute comeback to reach Confederations Cup final
Recommended articles
Benzema, Casillas model new Real Madrid home jersey for 2022/23 season
What Erik Ten Hag said about the future of 'ambitious giant' Ronaldo
RS Berkane shock TP Mazembe with 11-minute comeback to reach Confederations Cup final
Orlando Pirates survive last-minute scare against Al Ahli Tripoli to reach Confederations Cup final
No Ndidi, Iheanacho: Revealing Nigeria's best XI for the 2021/2022 season
Watch Cyriel Dessers score 21st goal of the season for Feyenoord against FC Twente