PREMIER LEAGUE
Why Taiwo Awoniyi's Nottingham Forest played with a blank shirt against Newcastle
Nottingham Forest played their Premier opener against Newcastle without a shirt sponsor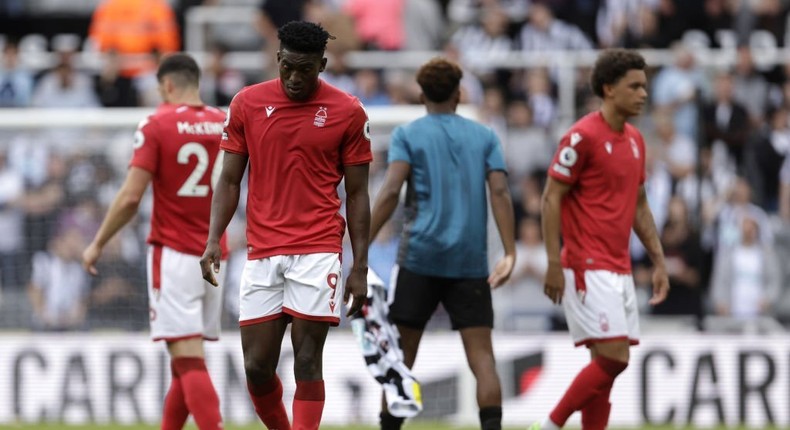 Nottingham Forest made their long-awaited return to Premier League football with a 2-0 defeat to Newcastle at St James' Park.
Although Forest were playing their first Premier League game in 23 years, their players looked strange for an entirely different reason.
Why were the Nottingham Forest jerseys blank?
Nottingham Forest wore a blank shirt to start the 2022/23 season which seemed odd because they played with a shirt sponsor 'BOXT'.
ALSO READ
However, their deal expired and Nottingham Forest refused a renewal because they wanted a better shirt deal but so far no deal has been agreed with any potential partner.
According to reports, Forest chairman Evangelos Marinakis is holding for a £10m-a-season deal and was willing to start the campaign without a sponsor if his demands were not met.
Will they get a sponsor?
Their unrealistic expectations are why Nottingham Forest remain without a shirt sponsor and may yet continue to be so according to Sheffield Hallam University finance expert Dr Dan Plumley.
Twitter
Hallam told Football Insider, "It's ambitious. We have to look at benchmarks. West Ham and Everton's are around £10m or £11m. Newcastle and Leeds meanwhile are closer toward £7.5m. That is the region we're looking at."
"For a newly-promoted club, you are probably setting your sights towards £6m or £7m. So, Forest are going for above the benchmark there." Hallam said advising Awoniyi's new club.
Recommended articles
Leicester City provide an update on Ndidi after pulling out of Nigeria's squad
Adebayo Adeleye's chance to usurp Maduka Okoye plus Super Eagles stars to watch against Algeria
England to face Germany without best RB, Tomori as Southgate names squad
'Tuchel In, Southgate Out!' Reactions as England fans want Ex Chelsea manager ahead of World Cup
PHIL-ING GOOD! Foden to sign BUMPER contract at Manchester City
18-year-old James Nnaji extends with Barcelona until 2027