QATAR 2022: 'Juju may have been involved' - Leon Balogun opens up on why Super Eagles lost World Cup ticket to Ghana
Super Eagles star Leon Balogun has shared his honest thoughts on what went wrong for Nigeria in failing to qualify for the 2022 World Cup in Qatar.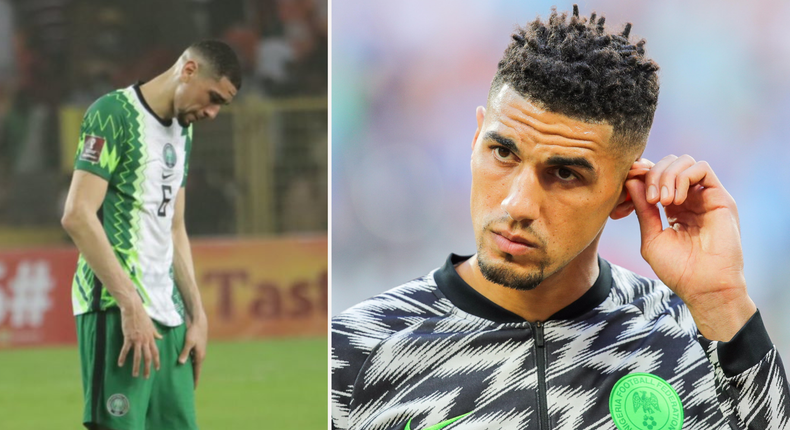 The Super Eagles missed out after failing to defeat the Black Stars of Ghana in a two-legged qualifier in March this year.
The Eagles played out a goalless draw in Kumasi before narrowly being held to a 1-1 draw against the Black Stars of Ghana in Abuja in the reverse fixture. The result would see Ghana edge Nigeria for a spot in the 2022 World Cup based on the away goal rule.
Balogun has now revealed what went wrong for Nigeria in the World Cup playoffs.
"I think it's the first-leg. We did not score. That would have changed the whole picture probably," the 34-year-old QPR defender said in an exclusive interview on The Beautiful Game Podcast.
"It's funny because that season, the away goal ruled had been scrapped everywhere. I don't know why they didn't do it in Africa…I have no clue. Until this day, I don't understand."
Balogun continued: "We did go to Ghana to play the first leg and it was a tough game. You know there was this whole fuss about them changing the stadium at the last minute on Tuesday when they've never lost and they say whether Juju may or may not have been involved also or whatever.
"It was tough for us. I can't lie... It was really tough and we ended up playing nil-nil.
"I just remembered we had a meeting one or two days after (the draw) and one of the staff said we're 70% true and I thought to myself… That can't be right. We played a goalless draw away from home. If that can be helpful to anyone, then it's Ghana.
"We said we had to pour our hearts out for that game (second leg) and I can't lie, driving to the stadium on that day I was holding back tears because I was touched by the support. I've played with great support, I'm not trying to be disrespectful to any other place we've played with the national team before but Abuja that day was packed and I saw little boys, girls, families, elders, everybody rooting for us. The stadium was packed, it was unreal and I said to myself, 'Just for them we have to make it.'
"Obviously it was heartbreaking when we conceded that first goal, it was a tough one to take, and came back with a penalty, but we couldn't just break them down. We had a few chances but nothing that really got them shook. In the end, you have to say that Ghana just deserved it.
"We came out for them but second half they changed their shape and that was pretty much what took a bit of the wind out of us," Balogun submitted.
Balogun opens up on his post-match gesture following Jollof Derby loss
AFP
The Super Eagles star was also asked about the motive behind his gesture following the match at the Abuja Stadium. After the match, he went to the Ghana dressing room to congratulate the Black stars team on securing their qualification for the Qatar showpiece.
"Probably that was my last chance of being in a World Cup as well looking at my age. I mean never say never but we have to be realistic you know.
"I thought to myself and said it would be the first World Cup for most of them and I remember how happy I was that day. And I thought i should go over, shake hands and congratulate them because I thought they deserved to go and at the end of the day we didn't have enough questions for them to break down. I just thought that was the right thing to do," Balogun said.
"At the end of the day, it's about fair play as well. Obviously, I knew their manager Otto Addo from Germany. So I spoke to him a bit afterwards. He's a young manager that had just taken over the job, so it was really just to wish them well, And I told them to do Africa proud, West Africa proud because, it's in their hands now," he added.
Balogun has since returned to club action following his exit from Scottish Premier ship side Rangers FC in the summer.
The 34-year-old signed for English championship club Queens Park Rangers in June and has already featured 12 times with a goal to his name so far this season.
More from category
Super Eagles stars, Oshoala, others celebrate Orlando Pirates star Olisa Ndah on 25th birthday

SUPER EAGLES: Ahmed Musa is ready to save Sivasspor from relegation

COMMENT: What next for the prima donna Dennis?