EXCLUSIVE
Ayo Obileye jokes about hairstyle, tells Pulse Sports why he went from this to that
High-flying Livingston defender, Ayo Obileye tells Pulse Sports Nigeria why he switched to a radical look in a light-hearted exclusive.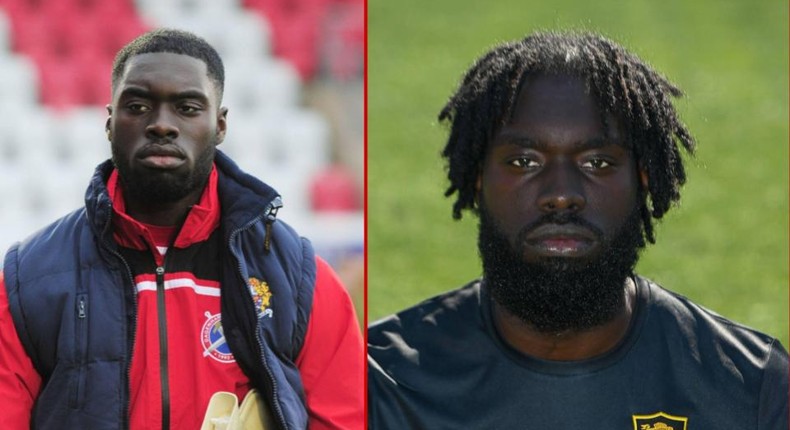 The centre-back is developing a reputation for being a ball-playing centre-back with a keen eye for goal, having netted 15 times for Queen of the South FC and Livingston combined in the last two seasons since moving to Scotland.
Obileye's quest to stand out
When quizzed about the dramatic change in his hairstyle and appearance by extension, Obileye responded jovially, "I knew this question would come [laughs]."
ALSO READ
"You know, I don't really know. I used to like my hair in the fade I used to look totally different, I used to look good," Obileye said with a reminiscent smile.
Imago
The London-born defensive stalwart went on to explain the reason for the change in his looks, stating the need to stand out as the major motivation.
"You know I just decided to go for a change and not to look like everybody else, but now everyone got dreads so I might need to get another change," Obileye said exclusively to Pulse Sports.
Imago
The trademark
Although Ayo Obileye hinted that another appearance change may be in the works, he would probably do well to keep this going.
Imago
His current look is unique and is fast becoming what he's known for even before football as it also lends credence to that 'Lion of Livingston' alias.
The appearance carries a bit of menace that perhaps lets opposition strikers know they are not about to be in for an easy ride.
Topics:
More from category
'This is my Christmas gift' - Cyriel Dessers' first words after joining Cremonese

Super Eagles' Lookman reacts to first training session at Atalanta [Photos]

"Chidi improves every training session" - Hertha Belin head coach in awe of Chidera Ejuke
Recommended articles
Fans troll 'unserious' Rudiger for bench role in Real Madrid Super Cup win
Chicharito give Manchester United fans important advice about Ten Hag's era
5 things you should know about Liverpool's new boy Oludare Olufunwa
'This is my Christmas gift' - Cyriel Dessers' first words after joining Cremonese
All you need to know about CAF's newly-created Africa Super League
Super Eagles' Lookman reacts to first training session at Atalanta [Photos]