Unlike the Premier League, not many Nigerians have set foot in Italy to play top-flight football. In fact, prior to former Super Eagles midfielder, Sunday Oliseh's move to Reggiana in 1994, no Nigerian footballer had played in the Serie A.
However, the story has changed over the years. From Sunday Oliseh to Taribo West, Italy has been home to some of Nigeria's finest talents, who have gone on to add glamour to the Italian league.
This list profiles the five greatest Nigerian players that have played in the Italian Serie A.
Obafemi Martins (Inter)
Here is the pick of the bunch. Without any speck of doubt, Martins remains the greatest Nigerian to ever play in Italy.
At the turn of this Millennium, Italian clubs turned their attention to young footballing talents from Nigeria, this trend saw 15 year-old Obafemi Martins leave his local football club, F.C. Ebedei in year 2000, to sign a youth contract with A.C. Reggiana - a side plying their trade in the third tier of Italian football at the time.
Obafemi Martins won four titles at Inter. [Inter.it]
ALSO READ: All the Nigerian players that have played in Inter's colours
Martins broke into the Reggiana first team squad immediately, and began to attract interests from big sides, among them, Inter Milan. In 2001, Obagoal, as fondly called, made the switch to the Black and Blue side of Milan in a deal that saw Inter cough up €750,000 in transfer fee.
Martins quickly blossom to life at Inter, helping the youth team to win the Campionato Nazionale Primavera (Italian football youth competition) in 2001–02 season by contributing 23 goals. His feat with the youth team got him promoted to the first team the following season when he made his Serie A debut in a match against Parma on October 23.
With the presence of heavyweights like Christian Vieri, Alvaro Recoba, Hernan Crespo, Gabriel Batistuta and Mohamed Kallon, it was inevitable that young Martins would struggle for playing time in the first team. Notwithstanding this challenge, Obagoal still went on to make his Champions League debut and scored his first goal in the competition in a group game against Bayer Leverkusen.
However, it was his goal against AC Milan in a second leg Semi-Final clash that truly announced his arrival to the big stage. The first leg had ended in a stalemate and Inter were trailing by one goal before Martins was brought on. On 83rd minute, he latched onto a loose ball to level the score on the night.
Although the tie finished 1-1 after 180 minutes and Inter lost on away goals rule, Martins' goal and his signature acrobatic celebration remains indelible in the mind of many football fans.
Martins finished the 2002-03 season with four goals across all competitions and footage of his celebratory somersaults were subsequently used by UEFA to advertise the following season's competition.
In 2003-04 season, with Crespo, and Batistuta gone, Obagoal became a regular fixture in the first team. His goal in the Champions League against Arsenal at Highbury remains one of the highlights of his career. With the arrival of Adriano in January 2004, and Julio Cruz also in the mix, Martins was presented with a serious competition for playing time, but will still finish the season with 37 appearances and 11 goals across all competitions.
The following season was Martins' best in Inter Milan jersey. He was able to double his goals tally from the previous season by playing nine games more. His goal against Anderlecht in the 2004-05 Champions League group stage made him the first ever teenager to score in three consecutive Champions League seasons.
His six goals in the Coppa Italia, including a hat-trick against Bologna, helped Inter Milan to win the competition. He remains the first and only Nigerian to have scored a hat-trick for an Italian team.
In 2005-2006 season, Martins played three matches short of his 46 games haul in the previous campaign and managed just 13 goals but his input was enough to propel Inter Milan to another Coppa Italia success and a second place finish in the league behind Juventus.
However, Inter Milan were later declared the winner of Serie A after Juventus were relegated following their involvement in the Calciopoli scandal.
This makes Martins the only Nigerian player with a Serie A medal to his name, and also finished the season with a domestic treble having won the Supercoppa Italiana.
Martins' stint at Inter ended with four trophies (1 Serie A, 2 Coppa Italia and 1 Supercoppa Italia) a feat that decorates him as the most successful Nigerian with an Italian club.
Taribo West (Inter and AC Milan)
Taribo West won the UEFA Cup with Inter (Getty Images)
Taribo West has a place in the illustrious list of players who have played for the two Milan clubs.
West joined Inter Milan in 1997 having helped Nigeria to win Gold medal in the football event of the Atlanta 1996 Olympics and also played a huge role in the Auxerre team that secured the club's first and only French league title in 1995-1996 season.
With this bag of exposure at top-level football, it was no surprise that Taribo hit the ground running at San Siro. He instantly warmed his way into the hearts of Inter Milan faithful due to his energetic display coupled with his colourful hairstyles.
The Beneamata were in search of a league title following an eight year drought and Taribo played a major role as they came agonisingly close. He stood like a rock in the defence in all the 23 league games he played but his efforts was only enough to see Inter finish second behind Juventus.
Inter, however, achieved success in Europe by winning the UEFA Cup - now known as UEFA Europa League - in that same season and West contributed massively by scoring an extra time winner against Schalke 04 in the quarter finals, his second goal for the team having scored against Atalanta in a Serie A game.
Although Taribo became a villain in the final against Lazio after he was sent off, Inter still went on to win the competition and this made West - alongside Kanu Nwankwo - the first Nigerians to win a trophy with an Italian club.
Internazionale were not as successful in West's second season as the first. The team finished 8th in the league thus, failed to secure a spot in UEFA competitions. They were also eliminated from the Champions League in the Quarter Finals by eventual winners, Manchester United.
Taribo's total appearances also reduced from 34 in all competitions in the previous campaign to 30 and he failed to score a single goal.
West had series of altercations with the then Inter Milan coach, Mircea Lucescu, and it became clear his future at the club was in serious doubt.
Things went south for the hard-tackling defender in the 1999-00 season as he was limited to just three appearances on the bench before being shipped out to the City rivals AC Milan during the 2000 winter transfer window.
Taribo's stay at the Red and Black side of Milan was short and uneventful as he featured only four times for the Rossoneri with a goal to his name.
In a 2019 interview with Scores Nigeria, West alleged that the Italian Mafia were responsible for his brief stay at Milan.
"The Mafia would do anything in their powers to make sure I was done away with at Milan."
He also claimed that the Mafia were uncomfortable with the possibility that an African player could dislodge Italian legends like Franco Baresi, Alessandro Costacurta and Paolo Maldini from the first team and they went ahead to cook up story in the press that he was injured.
"They cooked a vicious story in the press that I was injured in the desperate bid to send me out of Milan," he said.
"The doctors were bribed to say I was injured, but it was a lie. They did that because they felt it was unthinkable for an African player to take the place of those three ageing defenders."
Taribo left Italy with 68 appearances and three goals in all competitions for the two Milan clubs.
Sunday Oliseh (Regina and Juventus)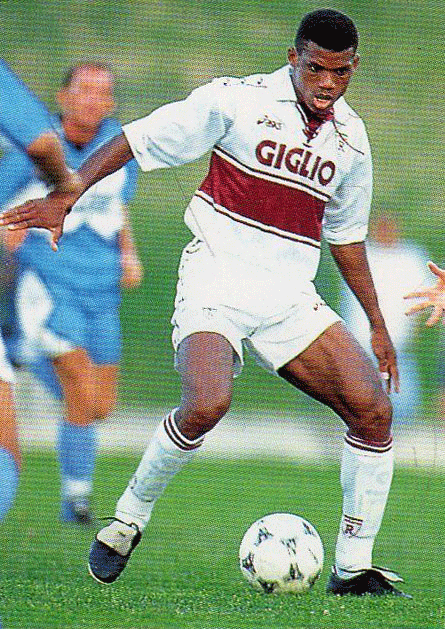 Sunday Oliseh first played in Italy with Regina [sundayoliseh]
Oliseh belongs to the golden generation of Super Eagles squad that won the 1994 Africa Cup of Nations in Tunisia and also helped Nigeria to secure qualification for her first FIFA World Cup the same year.
He was voted the player of the tournament by France Football in Tunisia following his impressive displays for the Super Eagles. Sunday provided the assist for the late Rashidi Yekini to score Nigeria's opening goal in the competition and also gave Emmanuel Amuneke the pass to score the winning goal in a 2-1 victory over Zambia in the final.
His performances, however, didn't go unnoticed as Reggiana came for his signature which made him the first Nigerian footballer to play in Serie A.
Oliseh was bought to help solidify the team having barely escaped relegation the previous campaign. The midfielder missed only four league games and scored a goal as Reggiana battled to remain in the top-flight.
Unfortunately, Oliseh's effort was not enough to keep them up. Reggiana relegated after a dramatic 1994-1995 season that saw them use three different managers.
Sunday Oliseh wasn't that great at Juventus but managed some fine performances . [Wikipedia]
Oliseh left Italy after just a season but will return four years later with Juventus for whom he featured eight times in Serie A as they came painfully close to winning the league.
Juventus had led for most part of the 1999-00 campaign but lost the title on the final day following a 1-0 loss to Perugia. They however finished the 1999-00 season with only the UEFA Intertoto Cup trophy - Oliseh's only title with the club.
Oliseh had a better run for Juve in the 2000-01 season with 22 league games but Juventus again failed in their quest to win the Serie A as AS Roma continued the Capital city's dominance following Lazio's win the previous year.
His last campaign in Italian football ended with one goal in 18 matches in the league and another barren year on the trophy front.
Kanu Nwankwo
In 1996, Inter Milan paid around $4.7 million to sign the young Papillo from the Dutch giants, Ajax.
Kanu arrived Milan with plenty hopes and expectations following his brilliant showing for Nigeria at the Atlanta Olympics where he helped the Dream Team I to a gold medal with heroic performance in a comeback win against South American giants, Brazil in the Semi final.
Kanu Nwankwo's career at Inter didn't go as planned (Getty Images)
However, the hope quickly faded away when medical examinations detected a heart defect which required Kanu to go under the knife in November 1996 to replace an aortic valve. He came back to the club in April 1997 but failed to make any appearance in his first season.
Kanu was fit and ready for the 1997-1998 campaign but competition for a regular place in the team had become stiff. With the presence of strikers like Ronaldo de Lima, Ivan Zamorano and Alvaro Recoba, he could only manage 11 league games scoring one goal in the process.
He also played a part in Inter's run to winning the UEFA Cup by playing five matches.
Kanu struggled again the next season and eventually left Inter in February 1999 to join Arsenal.
Ogenyi Onazi
After a brilliant showing for the Golden Eaglet at the 2009 FIFA U-17 World Cup, in which Nigeria reached the final on home soil, losing to Switzerland, Onazi got trials in England and Greece before Lazio eventually snapped him up in 2011.
He was initially sent to Lazio's youth team but quickly got elevated during the 2011-2012 season. His Serie A debut came in the penultimate match of the campaign, replacing Senad Lulic in the 90th minute as Lazio ran out 2-0 winner against Atalanta.
Onazi continued his growth in the first team the following 2012-2013 season featuring 11 times in Europa League as Lazio reached the quarter finals. He also recorded 15 appearances in Serie A and scored his first league goal in a 3–1 win over Inter Milan on 8 May 2013.
Ogenyi Onazi was a consistent performer for Lazio [Goal]
He added two more appearances in the Coppa Italia to finish the season with 28 matches and two goals in all competitions having scored his first Lazio goal against Stuttgart in the last sixteen of the Europa League.
The combative midfielder was also impressive in the 2013-2014 campaign playing 29 times in Serie A and eight in the Europa League as Lazio were eliminated in round 32 by Ludogorets Razgrad.
In total, Onazi managed 40 appearances in all competitions for Lazio again scoring twice.
The following campaign saw a decline in the midfielder's performance as he could only muster 19 appearances. However, Onazi scored an 88th-minute winner against Napoli to help Lazio secure the last Champions League place.
This will prove to be his only goal in the 2014-2015 season.
In 2015-2016 season and Onazi's last at Lazio, he made 22 appearances and scored two goals as Lazio failed to impress both in the league and in Europe.