Pulse List: Top 15 highest-paid Nigerian footballers
A look at the top 15 highest-paid Nigerian players.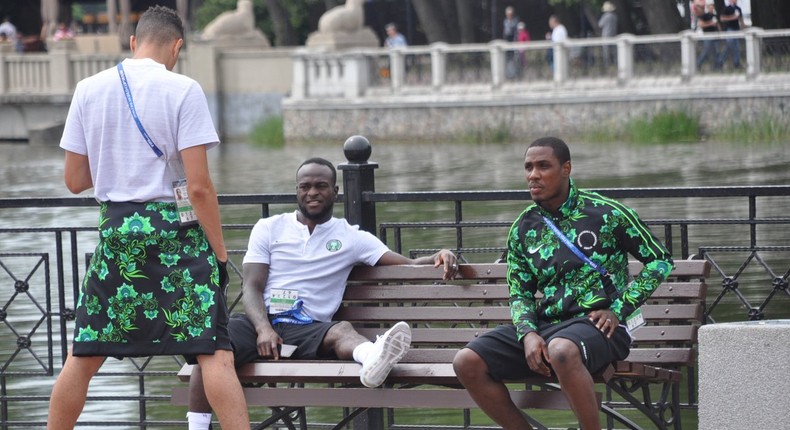 Nigerian footballers, like their colleagues all over the world, are considered to be elite earners.
From their social media pages, it is easy to see how rich these guys are; from the latest cars to posh homes in choice areas, Nigerian footballers are truly paid well to enjoy the fine things of life.
However, many do not know in real terms how much these guys earn. For this Pulse List, we look at the top 15 highest-paid Nigerian players.
It's not easy getting the real numbers so Pulse has done a lot of research on the internet, interviews with some agents and sports business experts to come up with this list.
This is the most authentic list of this kind you will find anywhere because of the work that was put into it.
Note: Conversion rate; N1= £557, €498
1. Odion Ighalo/Manchester United-£130,000 (N71M)
Striker Odion Ighalo might have been on top of this list by a wider margin if he never took a pay cut to join Manchester United on loan from Chinese side Shanghai Shenhua in January 2020.
Ighalo will play for Manchester United until January 2021 after he extended his loan deal.
2. Victor Moses/Chelsea, Inter-£110,000 (N60M)
Instagram
Victor Moses is a well-travelled footballer but while he has been in Turkey and now Italy, on loan from Chelsea, his wages remain £110,000 per week after he signed an extension with the London club in March 2017.
He has been on that pay while he played for Fenerbahce and Inter on loan from Chelsea. That contract runs out in the summer of 2021.
3. Wilfred Ndidi/Leicester City-£75,000 (N41M)
Getty Images
Nigerian midfielder Wilfred Ndidi has enjoyed a remarkable career in the Premier League with Leicester City. Ndidi joined the Foxes in January 2017 and was good right away.
Since then, he has proven to be one of the most consistent midfielders in the whole of Europe. He was rewarded with a six-year contract in August 2018. With that contract, the 23-year-old is on £75,000 per week.
4. Ahmed Musa/Al-Nassr-£60,000 (N33M)
Twitter
After impressing in the 2018 FIFA World Cup, Saudi Arabia went all out to get Nigerian forward Ahmed Musa.
Musa had not been a success in the Premier League and Leicester City were more than happy to get more than the club record £16.6 million that they had signed the Nigerian for. That was how highly Al Nassr rated the Nigerian forward.
The club also gave the Nigerian a deal that would earn him £60, 000 on a weekly basis.
5. Kelechi Iheanacho/Leicester City-£60,000 (32.9M)
Reuters
Kelechi Iheanacho joined Leicester City in the summer of 2017 as a highly-rated teenager for the reported sum of £25 million. The striker was put on a weekly salary of £60,000 which makes him one of the top-earning Nigerian players.
There's a report from the UK Sun that suggests that the Nigerian international earns more than £100,000 per week but that sum has not been quoted anywhere else.
6. Alex Iwobi/Everton-£50,000 (N27.3M)
Getty Images
Nigerian midfielder Alex Iwobi in the summer of 2019 left his boyhood club Arsenal to join Everton. The move didn't give Iwobi a bigger pay, instead, he remained on the same weekly salary he was at at Arsenal.
7. Moses Simon/Nantes-€37,500 (N18.3M)
Twitter
Nigerian forward Moses Simon in the summer of 2019 joined Nantes on loan from Spanish side Levante. He remained on his €37,500 per week which he was at Levante to become the highest-paid player at Nantes.
After impressing while on loan and finishing the 2019/2020 season as the club's Player of the Year, Simon was given a permanent contract based on that same salary.
8. Ola Aina/Torino-€35,500 (N17.1M)
Pulse Nigeria
Coming through the ranks at a club like Chelsea and being on the fringes of the first team kind of increases your value which goes on to aid your career. This is what happened to Ola Aina who got a €35,500 per week deal when he joined Torino from Chelsea.
9. Isaac Success/Watford- £30,000 (N16.4M)
Getty Images
Isaac Success joined Watford in the summer of 2016 after coming through at Spanish side Granada. He was put on £30,000 per week. He hasn't delivered at all at Watford but playing in the Premier League means his wage is not an issue for the club. That said, he is expected to leave Watford after this season.
10. Henry Onyekuru/Monaco, Galatasaray- €32, 500 (N16M)
Instagram
Monaco have one of the highest wage bills in Ligue 1 and Nigerian forward Henry Onyekuru enjoys the benefit of that. Onyekuru joined Monaco in the summer of 2019. Despite leaving on loan to Galatasary, the Nigerian is still on his €32, 500 per week salary.
11. Victor Osimhen/Lille-€25,000 (N12.2M)
AFP
Victor Osimhen joined Lille in the summer of 2019 with a point to prove on a weekly salary of €25,000. Osimhen is not among Lille's top earners but he smashed expectations at the club and finished as their highest goalscorer and Player of the Year.
The 21-year-old is expected to leave Lille very soon or get an improved contract which will make him move higher on this list.
12. Kenneth Omeruo/Leganes-€20,000 (N10M)
Getty Images
Kenneth Omeruo has been playing at Leganes since 2018. The first season at the La Liga club was on loan before it was made permanent. He is on €20,000 per week salary at the Spanish club.
13. Leon Balogun/Brighton/Wigan-£18,269 (N10M)
Twitter
Super Eagles defender Leon Balogun joined Premier League side, Brighton, in the summer of 2018 but struggled to make any impact. He joined Wigan to play out the remainder of the 2019/2020 season. His £18,269 weekly salary is expected to be cut as he has left Brighton permanently after the expiration of his two-year contract. His next salary will be dependent on where he plays next.
14. Anthony Nwakaeme/Trabzonspor-€16, 666 (N8.1M)
Twitter
Next on the list is forward Anthony Nwakaeame who recently got a new contract from Trabzonspor which prevented him from leaving for a club in China. Nwakeame joined Trabzonspor in the summer of 2018 and has impressed at the club.
15: Willian Troost-Ekong/Udinese-€14,250 (N7M)
Instagram
Super Eagles defender William Troost-Ekong joined Udinese in the summer of 2018 and has been one of their most consistent players. He recently signed a new contract with Udinese and that is expected to increase his salary from June 1.
More from category
Qatar 2022: Captain America, the World Cup's breakout star and more to look out for when Nertherlands take on USA

Qatar 2022: Ghana drags Uruguay out of Qatar, Cameroon books early flight as Korea, Switzerland qualify

Qatar 2022: An indomitable performance not enough as World Cup favourites crash out in group stage after loss to Brazil
Recommended articles
Qatar 2022: Captain America, the World Cup's breakout star and more to look out for when Nertherlands take on USA
Qatar 2022: Ghana drags Uruguay out of Qatar, Cameroon books early flight as Korea, Switzerland qualify
Qatar 2022: An indomitable performance not enough as World Cup favourites crash out in group stage after loss to Brazil
National Sports Festival: Medals rush on day two as Delta wins gold in table tennis
World Cup Day 13 Live Blog - Cameroon vs Brazil, Serbia vs Switzerland
Qatar 2022: Super Hwang strokes Korea into the round of 16
Suarez hurts Ghana at the World Cup again as Uruguay beats Black Stars 2-0
'Nigeria would have done better' - Reactions to Ayew penalty miss, Luis Suarez cries as Uruguay and Ghana knocked out
Ghana vs Uruguay live, South Korea vs Portugal live